Tennis matches can be won and lost in the head as much as on the court. Just ask Johanna Konta and Laura Robson. While Konta reached the second round of the US Open here in New York, underlining the improvement she has made since seeking the help of a mental coach, her fellow Briton let a match-winning position escape from her grasp.
Robson led Russia's Elena Vesnina 4-0 in the final set before slipping to a 3-6, 6-3, 7-5 defeat. In some ways it was an encouraging performance by the former Wimbledon junior champion, who is rebuilding her career after a 16-month absence with a wrist injury, though 12 double-faults told their own story.
Konta, in contrast, has been playing the best tennis of her life this summer. Her 6-3, 6-0 victory over Louisa Chirico, the world No 119, was her 14th win in succession and she played with the confidence you would expect of a player on such a run.
The world No 97 hit some fine passing shots when Chirico tried to venture forward, but for the most part her success was built on consistent ball-striking and sound point construction. Konta made only 14 unforced errors to Chirico's 29 and played the big points particularly well. The 19-year-old American had more break points (10) but converted just one of them, whereas Konta took five of her eight.
Konta won the first eight points of the match and, although Chirico recovered to 2-2, Konta soon broke again before serving out for the set. Once she had saved four break points in the second game of the second set Konta never looked back.
US Open 2015 in pictures
US Open 2015 in pictures
1/4 First Round

Novak Djokovic celebrates his victory over Joao Souza

Getty Images

2/4 First Round

Serena Williams consoles Vitalia Diatchenko after beating her in the US Open

Getty Images

3/4 First Round

Heather Watson suffered an early exit to Lauren Davis in a 7-6 7-6 defeat

EPA

4/4 First Round

Kei Nishikori lost to Benoît Paire 6-4 3-6 4-6 7-6 6-4

Reuters
The 24-year-old Briton has suffered with nerves in the past but has benefited from the assistance of Juan Coto, a mental coach, since the end of last year. Coto, a Spaniard based in London, works with both tennis players and  high-flying business people in the City.
Konta, whose coaches Esteban Carril and Jose-Manuel Garcia are also Spanish, said: "It's not so much about releasing [tension], it's managing it. I'm a certain personality and it's about taking the goods from that but also managing the things that are not so helpful towards me.
"I'm happy with my management of things, more so now than before, but I keep stressing that it is a process. This is not something that happens overnight. In my case, it didn't just click. It's something that I need to make into a habit and that's what I'm doing every single day right now."
Konta's last defeat was against Maria Sharapova in the first round at Wimbledon. She has since won two tournaments on the International Tennis Federation circuit, which is the level below the main tour, and four matches here, having come through qualifying. The last British woman to win 14 matches in a row was Anne Keothavong in 2005.
Her win guarantees Konta prize-money here of $68,600 (about £44,800), which would be the biggest of her career. It should also take her into the world's top 80, putting her within touching distance of the top-ranked British player, Heather Watson, who could fall from her position at No 61 after losing in the opening round on Monday. In the second round Konta will face the winner of the later match between Garbine Muguruza, the Wimbledon runner-up, and Germany's Carina Witthöft.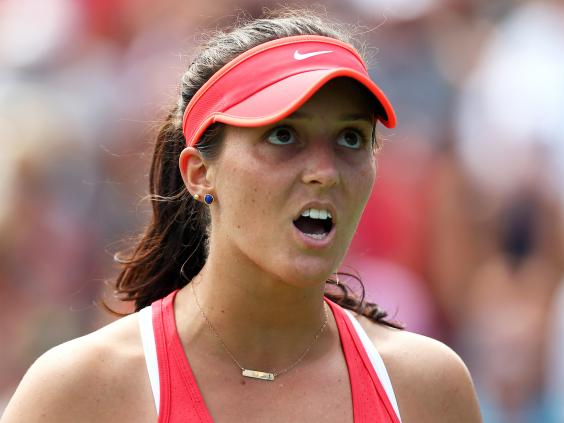 Robson began her comeback at Eastbourne three months ago. With just two victories in the seven tournaments she has played this summer it is clear that the world No 618 has some hard work ahead of her. Robson had also let slip a winning position in her previous match, having lost to Christina McHale in qualifying in New Haven last week after leading by a set and 5-3.
While there were signs of her undoubted strengths – a potent left-handed serve and thumping groundstrokes – it was also clear that some problems remain. As she has done in the past, she served too many double-faults.
Having made the only break of the first set in the third game, Robson lost the second after Vesnina raced into a 3-0 lead. In the decider, however, Robson appeared to be in control when she went 4-0 up, only to lose the next four games as she started to play too conservatively.
Robson held her serve to lead 5-4 and twice went within two points of victory in the  following game. At 5-5 and 0-15, however, she hit two double-faults in succession as Vesnina broke and then served out for the match.
"I should have won," Robson said. "I decided to let her lose the match rather than me go out and win it."
She added: "I didn't feel overly nervous but I just took 5 per cent off all my shots and that was enough to let her back into the match. She wasn't going to give up, so just that 5 per cent made all the difference and it didn't quite work out."