As if Rafael Nadal did not have enough going for him, the world No 1 will have a new weapon at his disposal within the next year. Babolat, the innovative French equipment manufacturers, have developed computerised "smart rackets" which feed back to players and coaches technical data on every ball struck. Nadal, who plays with a Babolat and has always been open to new ideas, is expected to be one of the first to benefit.
The International Tennis Federation had previously outlawed the rackets in competition, but players can now use the technology, which is the product of 10 years of research and development. The rackets are designed to help players of all levels, from beginners to club enthusiasts and top professionals.
Sensors in the handle of what Babolat call their "connected" rackets record a large amount of information, from the number and range of shots hit to the power and amount of spin. By analysing the data a picture can be built up assessing shot selection, the balance between defence and attack and even whether a player is putting in enough physical effort.
At the end of a match or training session the information can be downloaded onto a computer, smart phone or other hand-held device. The ITF will not allow data to be transmitted during a match.
Eric Babolat, the company's president and chief executive officer, believes that players will start using the rackets in competition "within days or at most within weeks". The technology has initially been fitted into Babolat's "Pure Drive" rackets, which are used by, among others, Fabio Fognini, Julien Benneteau and Sara Errani. The next racket to be adapted – in time to be used next season – will be the "AeroPro Drive", which is the weapon of choice of Nadal, Jo-Wilfried Tsonga and Caroline Wozniacki.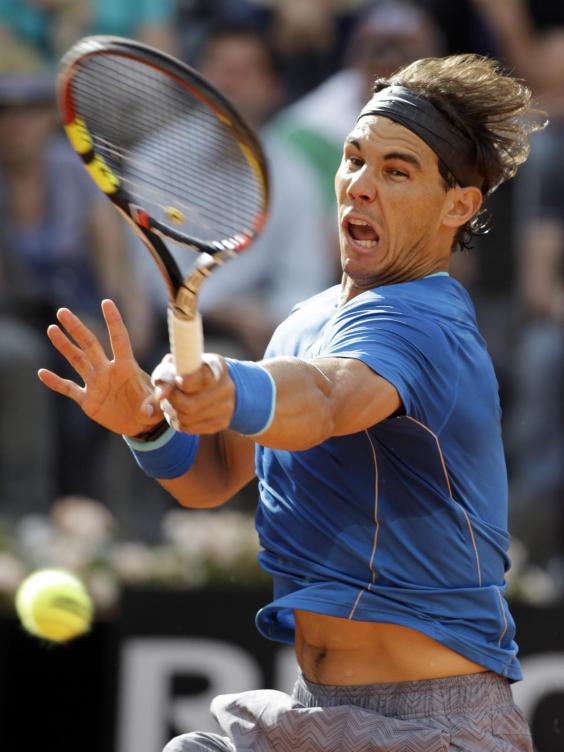 "The top players have told us what they want the technology to do for them," Babolat said in Rome at a launch of the rackets. "For example they want to see basic information about their forehands and backhands, even simple things like the number of shots they have hit.
"Today you see people sitting beside the court taking note of things like that. It might seem like basic information, but it is very useful. The sensors record a huge amount of other information as well. Our biggest problem has been deciding which is the best and most useful data."
Nadal and his uncle and coach, Toni, have taken a particular interest in the project. "Rafa was the first player we talked to," Babolat said. "One of the things that is so great about Nadal and his team is that they are always ready to challenge themselves. They have always challenged us to do more. They have a very open mind, which you don't always have with top pros.
"The black strings that Nadal uses were developed by us in 2011. Toni had come to us and said he wanted to improve Rafa's top spin. He asked us if we could find a string that would help that. We did a lot of testing and we came up with something that he liked.
"It was all a question of feel. We didn't have a way of measuring things. Rafa just told us what felt right. Now we will be able to say exactly what certain strings do. We will be able to offer much better advice to players about their strings and their rackets."
One key piece of information that the technology has already uncovered is the fact that the "sweet spot" on Babolat's rackets is not exactly where the company thought it was. Rather than in the centre of the strings, it is higher up the racket face.
Babolat is surprised that the sport has not exploited such technology before. "How come players don't have information about the most important thing they do every day, which is to hit the ball with their racket?" he said. "Players choose what rackets they play with because of how they feel. Of course that's important, but it's so much better if you also have data on which to base your choice."
The Babolat company, which originally made strings for musical instruments, was the first to invent strings for tennis rackets, in 1875. It moved into racket production only in 1994. Within four years Carlos Moya had won the French Open using a Babolat racket and strings.
Work on the current technology began simply to help Babolat researchers in their manufacture of rackets. At first it worked only with rackets connected to backpacks, which clearly meant it could not be used in competition, but technological advances have been such that the hardware can now be installed inside the handle, without affecting the racket's weight or balance.
Without the technology, a "Pure Drive" racket costs about £160. With it, the cost will be about £350. Babolat does not think other manufacturers are developing similar technology but believes that "in 10 years all rackets will be connected".
He added: "In some ways connected rackets can be more useful for a club player who doesn't have a coach than for a pro who might concentrate on specific areas. I strongly believe that they can bring a lot to beginners because tennis is difficult to learn and can be quite frustrating. To be able to measure your first steps can be very useful."
Babolat's aim is to build a "community" of players who use the technology, enabling individuals to compare their game with anyone else's, including the top players. The software measures different aspects of your game – such as technique, power and endurance – and gives you a percentage mark for each of them. Players like Nadal have been happy so far to provide their personal data, though it remains to be seen whether they will do so once they are using the technology in competition.
Babolat thinks it could be used elsewhere. "Players in all sports want to improve," he said. "In order to improve it is better to have accurate data than just a feeling. I think this could be a big step forward for all sports."