Shortly after stepping off Wimbledon's Centre Court on Friday, where he recorded yet another comfortable straight-sets victory, Novak Djokovic was asked what goes through his mind when he plays. His reply was telling.
"I try to put myself only in the present moment, not fight against the thoughts and the pressure and the excitement, but just acknowledge them and be aware of present thoughts but also try to keep my composure and calm," the defending champion said. "I try to just be in the moment and enjoy."
Djokovic is often regarded as one of the sport's strongest players when it comes to mental toughness. It is a technique he has refined through meditation and, when he is at Wimbledon, he uses a nearby Buddhist temple as his refuge.
The Buddhapadipa Temple is on a leafy suburban street only a five-minute walk from the All England Club. Djokovic, who has been using the four-acre site for quiet contemplation for several years, is its most famous visitor.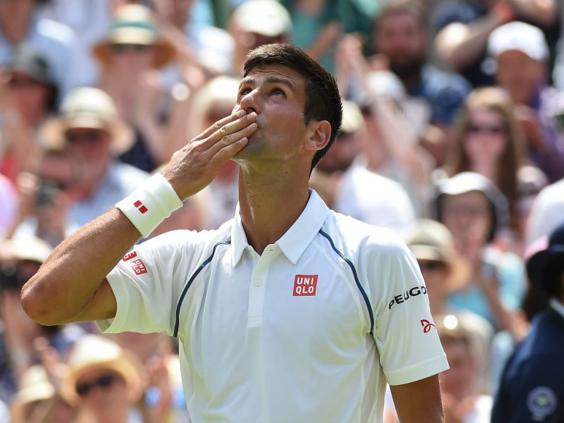 "We've known him for quite a while now," said orange-robed Phramaha ("Great Monk") Bhatsakorn Piyobhaso, sitting on a bench overlooking the temple's lake. "Novak came here on his own. He just walked in and said hello to the people here and went on to meditate on his own."
Staff at the temple, which has been on the site since 1976, recognised the Serbian player but they try not to bother him when he comes to mediate, usually early in the morning when the grounds are quiet. He is respectful of the surroundings but does not speak to the monks.
"Sometimes he asks our staff to open the main temple for him, so he can get inside and sit still for a while there," said the Phramaha, one of seven Buddhist Monks who live there full time. "I think he's learned how to meditate on his own. He walks around the temple and spends one or two hours alone. He just comes to the temple to enjoy nature, the peace and the beautiful environment. "
It is easy to see why the world  No 1 chooses to visit. Beginning at a red bell tower, a shady walkway weaves between trees and across several arched wooden bridges before ascending a grand, white staircase to the red-and-gold temple overlooking the site.
Wimbledon 2015 - in pictures
Wimbledon 2015 - in pictures
1/74 Day 13

Novak Djokovic celebrates with the Wimbledon title alongside beaten finalist Roger Federer

GETTY IMAGES

2/74 Day 13

As per usual, Djokovic eats a bit of the SW19 grass in celebration

GETTY IMAGES

3/74 Day 13

Novak Djokovic celebrates winning Wimbledon

GETTY IMAGES

4/74 Day 13

Novak Djokovic wins a point

GETTY IMAGES

5/74 Day 13

A downbeat Roger Federer reacts in the final

GETTY IMAGES

6/74 Day 13

Novak Djokovic plays a strong return

GETTY IMAGES

7/74 Day 12

Williams and Muguruza show off their respective winner and runner-up trophies

Getty Images

8/74 Day 12

Serena Williams with the Wimbledon title

Getty Images

9/74 Day 12

Muguruza and Williams embrace after their Wimbledon final

Getty Images

10/74 Day 12

Serena Williams celebrates winning a point against Garbine Muguruza in the Wimbledon final

Getty Images

11/74 Day 12

Serena Williams celebrates winning a point against Garbine Muguruza in the Wimbledon final

Getty Images

12/74 Day 11

Roger Federer rolled back the years to produce a brilliant display to set up a final against Novak Djokovic

Getty Images

13/74 Day 11

Andy Murray reacts after losing a point to Roger Federer

Getty Images

14/74 Day 11

Novak Djokovic celebrates after easing into the final with a win over Richard Gasquet

Getty Images

15/74 Day 11

Richard Gasquet rarely troubled Djokovic in a straight sets defeat

Getty Images

16/74 Day 10

Serena Williams celebrates victory over Maria Sharapova in the semi-finals

GETTY IMAGES

17/74 Day 10

Garbine Muguruza clinches semi-final victory

GETTY IMAGES

18/74 Day 9

Roger Federer celebrates his win over Gilles Simon

GETTY IMAGES

19/74 Day 9

The players embrace after the match

GETTY IMAGES

20/74 Day 9

Andy Murray celebrates his win over Vasek Pospisil

GETTY IMAGES

21/74 Day 9

The Dutchess and Duke of Cambridge look on

GETTY IMAGES

22/74 Day 9

David Beckham and son Romeo watch Andy Murray

GETTY IMAGES

23/74 Day 9

The roof over Centre Court closes during Murray's quarter-final match

GETTY IMAGES

24/74 Day 8

Jamie Murray on his way to the men's doubles semi-finals

GETTY IMAGES

25/74 Day 8

Madison Keys pictured in her defeat to Agnieszka Radwanska

GETTY IMAGES

26/74 Day 8

Maria Sharapova celebrates after coming through her tough quarter-final match against Coco Vandeweghe

GETTY IMAGES

27/74 Day 8

Garbine Muguruza celebrates her quarter-final victory

GETTY IMAGES

28/74 Day 8

Novak Djokovic on his way to victory against Kevin Anderson after their fourth round match resumed

GETTY IMAGES

29/74 Day 7

Roger Federer was in complete control throughout his three-set victory over Bautista Agut

Getty

30/74 Day 7

Caroline Wozniacki on her way to defeat against Garbine Muguruza

Getty

31/74 Day 7

Andy Murray in action against Ivo Karlovic

GETTY IMAGES

32/74 Day 7

Ivo Karlovic in action against Murray

GETTY IMAGES

33/74 Day 7

Murray in action in his fourth round tie on Centre Court

GETTY IMAGES

34/74 Day 7

Andy Murray in action against Ivo Karlovic

GETTY IMAGES

35/74 Day 7

Nick Kyrgios clashes with the umpire during his defeat to Gasquet

GETTY IMAGES

36/74 Day 7

Maria Sharapova during her fourth round win

GETTY IMAGES

37/74 Day 7

Serena is congratulated by sister Venus after their fourth round contest

GETTY IMAGES

38/74 Day Six

Andy Murray was in real trouble for a short time against Andreas Seppi and needed a medical timeout to work on his shoulder

Getty Images

39/74 Day Six

But the Scot rallied and won six games in a row to march into the fourth round

Getty Images

40/74 Day Six

James Ward is cheered off by the home support after losing an epic battle with Vasek Pospisil

Getty Images

41/74 Day Six

Defending champion Petra Kvitova leaves the court in tears after shock defeat to Jelena Jankovic

Getty Images

42/74 Day Six

Angelique Kerber was upset by Garbine Muguruza, who was seeded 10 places below the German

Getty Images

43/74 Day Six

No 5 seed Caroline Wozniacki made quick work of Camila Giorgi

Getty Images

44/74 Day Six

Marin Cilic needed five sets and a 12-10 tie-break to beat American John Isner

Getty Images

45/74 Day Six

Roger Federer Eased to a win over Sam Groth

Getty Images

46/74 Day Six

Wimbledon darling Dustin Brown packs up after defeat to Viktor Troicki

Getty Images

47/74 Day Five

Serena Williams celebrates her triumph over Heather Watson

GETTY IMAGES

48/74 Day Five

Heather Watson wins a point in the third set

GETTY IMAGES

49/74 Day Five

Serena Williams reacts to losing a point

GETTY IMAGES

50/74 Day Five

Grigor Dimitrov was knocked out after losing to Richard Gasquet

GETTY IMAGES

51/74 Day Five

Maria Sharapova celebrates her win over Irina-Camelia Begu

52/74 Day Four

Tennis world number 102 Dustin Brown has shaken Wimbledon by knocking out two-time champion Rafael Nadal

53/74 Day Four

Roger Federer plays a cheeky shot during his second round win over Sam Querrey

GETTY IMAGES

54/74 Day Four

Petra Kvitova celebrates her second round win

GETTY IMAGES

55/74 Day Four

The Duchess of Cornwall meets Rafa Nadal

GETTY IMAGES

56/74 Day Four

Adam Lallana of Liverpool at Wimbledon with Game of Thrones star Kit Harington

GETTY IMAGES

57/74 Day Four

Andy Murray in second round action where he beat Robin Haase in straight sets

GETTY IMAGES

58/74 Day Four

Wimbledon fans feel the heat

GETTY IMAGES

59/74 Day Three

Milos Raonic of Canada serves to Tommy Haas of Germany during their singles match

AP

60/74 Day Three

Grigor Dimitrov of Bulgaria reaches for the ball trying to return to Steve Johnson

AP

61/74 Day Three

Heather Watson impressed to beat Daniela Hanutchova in straight sets

Getty Images

62/74 Day Three

Novak Djokovic eased into the third round with a win against Jarkko Nieminen, who played his last game at the tournament

GETTY IMAGES

63/74 Day Two

Defending champion Petra Kvitova made light work of Kiki Bertens, dropping just one set

Getty Images

64/74 Day Two

Heather Watson booked her place in the second round but upsetting No 32 seed Caroline Garcia

Getty Images

65/74 Day Two

Laura Robson played her first Grand Slam match in 17 months but lost to Evgeniya Rodina

Getty Images

66/74 Day Two

No 10 seed Rafa Nadal was given some problems by Tomaz Bellucci but prevailed

Getty Images

67/74 Day Two

Roger Federer was excellent as he beat Damir Dzumhur in straight sets

Getty Images

68/74 Day Two

Getty Images

69/74 Day One

A blue tit stole the show early on the first day of the tournament

BBC

70/74 Day One

Serena Williams made hard work over her victory over Margarita Gasparyan

Getty Images

71/74 Day One

Novak Djokovic boked his place in the second round with a 6-4 6-4 6-4 win over Philipp Kohlschreiber

Getty Images

72/74 Day One

Liam Broady produced a brilliant fightback from two sets down to beat Marinko Matosevic - a man ranked 43 places above him

Getty Images

73/74 Day One

Maria Sharapova was impressive in beating Britain's Johanna Konta

Getty Images

74/74 Day One

Kei Nishikori reacts after the No 5 seed struggled to a five-set win

Getty Images
Inside are intricate murals and a floor strewn with Buddha statues and candles. The temple is so close to the All England Club that cheers can be heard, perhaps allowing the Serb to visualise his own victory.
Arranged along the path are a series of wooden signs engraved with Buddhist teachings. "One should not pry into the faults of others, into things done and left undone by others. One should rather consider what by oneself is done and left undone," reads one. "Though one may conquer a thousand men in battle, the one who conquers himself is the greater warrior," another says – or in tennis terms: concentrate on your own game.
Professional tennis players often say the best way to play is point-by-point, rather than worrying about the set just lost and the mountain to climb. According to the Phramaha, meditation is helpful for this as it focuses the mind on solving "the problem in front of you".
"I think meditation helps him to develop concentration: to keep focused, especially when playing tennis," he says of Djokovic. "Just focusing on the now: that's the benefit of meditation."
Pre-match rituals
Washing
Rafael Nadal has a cold shower before matches, allowing him to feel his "power and resilience grow".
Repetition
On his way to winning Wimbledon in 2001, Goran Ivanisevic followed the same routine every day, eating at the same table of the same  restaurant and watching an episode of Teletubbies every morning.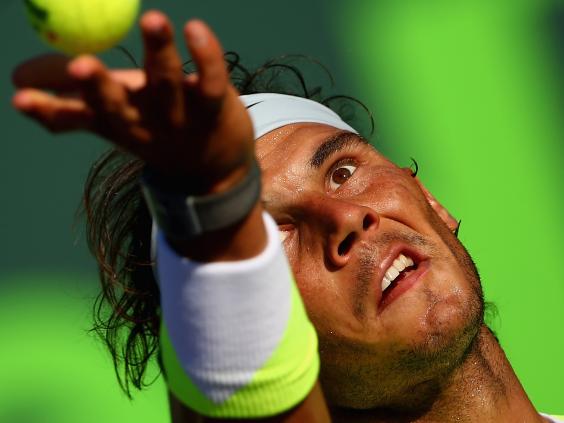 Clothes
Serena Williams has said that she refuses to wash her socks if she is on a winning run of matches – and also ties her shoelaces in a specific way.
Music
Lleyton Hewitt's pre-match listening was Survivor's "Eye of the Tiger".
Psychiatry
Andy Murray recently employed a psychiatrist to help him "genuinely enjoy" playing tennis, after struggling to control his temper on court. The newly married player has also taken to tying his wedding ring to the laces of his trainer.
Reuse content