Students graduating from Trinity College in Cambridge, notched up a record number of firsts this summer as their college topped the university's league table for degree results for the fourth year in succession.
Trinity, the largest college at the university, recorded a 42.9 per cent success rate this summer, up 1.2 percentage points on last summer's performance.
It puts them 6.7 percentage points ahead of their nearest rivals, Pembroke College, which retains that position for the second year running. The gap between them, though, has narrowed from eight percentage points last year.
The figures are revealed in an analysis of degree results carried out exclusively for The Independent every year by Peter Tompkins, himself a former Trinity alumnus who has been compiling the table for the past 30 years.  It is known within the university as the Tompkins Table, and its results are eagerly scrutinised by academics at the university every year.
Mr Tompkins has pointed out that it is a significant achievement for Trinity to register such a high percentage of first degree passes considering it is the largest of the university's 29 colleges.
"Once again, the college had by far the highest percentage of top first class degrees, almost 43 per cent, the highest proportion ever achieved by any college," he added.
This year has seen a number of colleges making significant strides in the percentage of students gaining a first-class degree. In particular, Jesus College has risen from sixth place to fourth, overtaking Emmanuel, a former front-runner, and Churchill colleges in the process.
In addition, Clare College has risen from 11th place to eighth, Magdalene from 15th to 10th and Selwyn from 18th to 13th.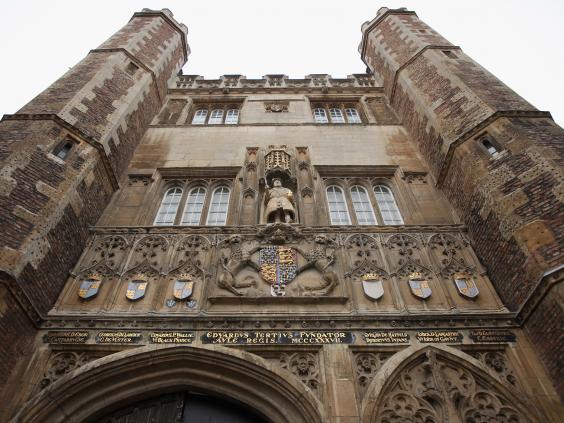 On the slide are St Catharine's College - which held ninth place last year and has now fallen to 21st. Corpus Christi, which dropped from third place to 16th last year, also dropped down the table again this year - finishing in 18th place.
Trinity was established way back in 1546 and boasts the highest number of Nobel prize winners of any Cambridge college, with more than one in four of all those gained by Cambridge alumni. Former graduates include Prince Charles, although he only gained a 2:2 when he graduated in 1970. The college first started admitting female students in 1976. 
Its lowest position in the Tompkins Table was eighth and this is the fifth year, in all, that it has been top.
The college claims its success has been down to its decision not only to play to its traditional strengths in science and engineering but focus on achieving the best results possible in the arts and humanities as well. It has a diverse student population, drawn from all corners of the UK and around the world.
The table ranks colleges on a points score system with five points for a first, three for a 2:1, two for a 2:2 and one for a third. Separately, the colleges are also ranked on the percentage of final degrees they receive.
Tompkins Table 2014
Position(2013 in brackets)      Score        %Firsts
1 (1)     Trinity                 74.53%            42.9%
2 (2)     Pembroke           71.56%            36.2%
3 (3)     Trinity Hall           70.18%            32.7%
4 (6)     Jesus                  68.79%            29.7%
5 (4)     Emmanuel          68.78%            29.4%
6 (5)     Churchill             68.77%            31.1%
7 (7)     Queens'              68.35%            27.2%
8 (11)   Clare                   67.63%            29.2%
9 (8)     Christ's               67.62%            24.8%
10 (15) Magdalene          67.21%            25.8%
11 (12) Downing             66.99%            26.2%
12 (10) Peterhouse         66.49%            26.5%
13 (18) Selwyn               66.28%            24.3%
14 (14) King's                 66.22%            25.0%
15 (17) Gonville & Caius  66.21%            25.2%
16 (13) St John's            65.84%            24.9%
17 (19) Sidney Sussex    64.77%            21.2%
18 (16) Corpus Christi     64.47%            21.8%
19 (20) Fitzwilliam            64.36%            21.4%
20 (22) Robinson            64.28%            20.3%
21 (9)   St Catharine's     64.28%            20.7%
22 (23) Newnham           62.20%            18.4%
23 (21) Girton                 61.13%            16.4%
24 (26) Homerton           59.99%            13.8%
25 (25) Wolfson              59.55%            16.8%
26 (24) Murray Edwards  59.17%            10.3%
27 (27) Hughes Hall         58.73%            12.7%
28 (29) St Edmund's       58.49%            14.8%
29 (28) Lucy Cavendish  54.08%            11.1%
Reuse content