In the quest to get the ball well and truly over the line (and far beyond the fretting of the TMO), elite sports teams like those competing in the Rugby World Cup rely on more than the skill and strength of the players on the pitch. A lot goes on behind the scenes in the build-up to tournaments, and even during matches.
"Increasingly elite sports are looking to sports science to support improvements in performance," says Professor Nick Draper, head of life sciences at the University of Derby. Teams across the international rugby game are recruiting experts in coaching, strength and conditioning, nutritional advice and beyond, he explains. "There are university trained sports scientists working with all the teams, such as Dr Nic Gill with the All Blacks, and Ben Pollard with England."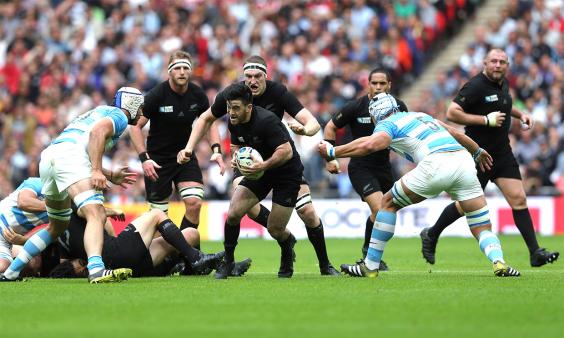 The relationship between elite sport and universities is partly about boosting performance through training, but also making use of technology. Professor Steve Haake, director of the Advanced Wellbeing Research Centre at Sheffield Hallam University, says that getting players to plug in is becoming an integral part of the modern game.
"The hot topic in sport, particularly rugby, is performance sensors," he says. "How do you know when an athlete is on top form, ready to train or compete? There are systems to measure these things, and rugby is really good at it."
Look to the sidelines during matches for proof, Haake continues. "You'll see performance analysts on the sidelines with laptops." They were certainly present during England's opening match, their screens clearly showing video and an analytics dashboard, which, according to Haake, can provide tools such as GPS to track players (using wearable technology); there are even ways to measure the impact of tackles.
Getting players in shape to handle those crunching encounters is another function of sports science. Dr Jonathan Sinclair, course leader for the MSc in sport science, biomechanics and physiology at the University of Central Lancashire (UCLan), explains that 3D biomechanical analysis enables specific rugby movements to be measured very accurately. "This allows coaches and biomechanics specialists to work together to improve performance and reduce injury."
The mental game matters too, Sinclair adds. "Key factors that are related to performance, such as motivation and self confidence, can be manipulated by sport psychologists in order to improve sports performance."
The performance benefits to players are clear (however much they may not be when we're roaring at the TV). However, elite sport's willingness to try new techniques and tech in the quest for the line means students benefit as well, says Haake in conclusion. "Elite sport is an early adopter of new technology. Students like that, because it's real world research and you can see results quickly."
Reuse content