Hillary Clinton was battered for 10 hours on 22 October by Republican Congressmen seeking to blame her for security failings, when she was secretary of state, that led to the murder of United States ambassador Christopher Stevens in the US consulate in Benghazi on 11 September 2012. The Republican purpose in grilling her for so long was a blatant attempt to throw enough mud and make enough insinuations to damage her bid for the presidency. The manoeuvre is wholly cynical, but polls show that it is having an impact on her popularity, if only because it is always possible to throw more accusations than can be rebutted by the accused, however innocent they may be.
Of course, there is a strong case against Clinton's actions in Libya, but they relate to her support for the overthrow of Muammar Gaddafi in 2011 and not the death of Christopher Stevens in 2012. There is no doubt that she played a crucial role, along with President Barack Obama's advisers Samantha Power and Susan Rice, in the decision by the US to intervene on the side of the anti-Gaddafi rebels. Although France and the UK played a more public role, the US termed its strategy as "leading from behind". Clinton was proud of her action, proclaiming in October 2011 after the killing of Gaddafi: "We came, we saw, he died." She said during the recent Democratic presidential candidates' debate that what she did in Libya was "smart power at its best".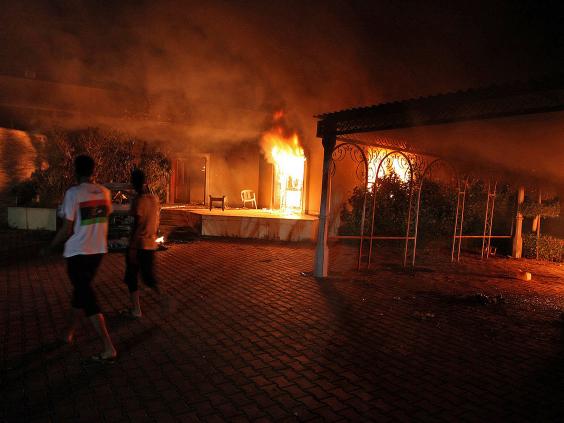 Neither Clinton nor the Republican Congressmen showed much interest in the present calamitous state of Libya, which is divided into fiefdoms ruled by criminalised warlords reliant on terror and torture. Benghazi is partly in ruins and is fought over by rival factions, while Islamic State has carved out enclaves where it decapitates Egyptian Copts and Ethiopian Christians. Nato's military intervention in 2011 was justified by the claim that Gaddafi was about to massacre the people of Benghazi, which cannot be proved or disproved because it never happened. What is more certain is that, if the old regime was still in power, several thousand migrants from north and west Africa would have jobs on Libyan building sites instead of sailing from Libyan beaches and drowning in the Mediterranean.  
Nor was the disastrous outcome as unpredictable as its protagonists now pretend. One of the first policies announced in 2011 by the incoming Libyan transitional government was an end to Gaddafi's ban on polygamy. When a Libyan journalist interviewed a campaigner for women's rights about wearing the veil a couple of years ago, the Libyan Grand Mufti issued a fatwa against him and his television station claiming that they were "promoting the apostate Shiite doctrine and atheism and defaming Islam".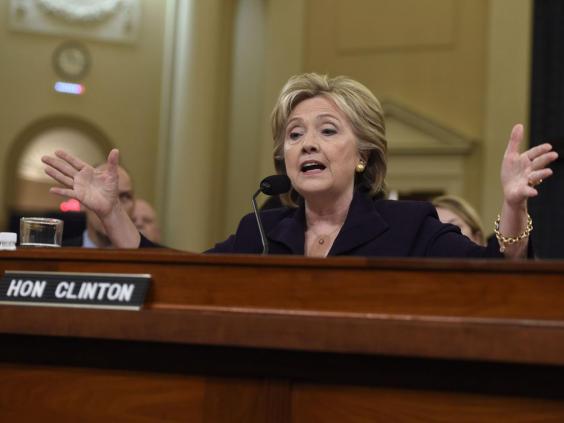 Although Clinton would have been an easy target due to her significant contribution to the disintegration of Libya, her Republican critics avoided the issue. After all, the UN Security Council, Nato, US allies such as David Cameron and Nicolas Sarkozy, and many senior Republicans in the US had applauded military intervention in Libya and would have to take a share of the blame. The political figure who seems to have had the most doubts about becoming involved in Libya was President Obama, who predicted that it might all end unhappily and was only just persuaded to sanction it by Clinton, Power and Rice. Even then, Obama was under the impression that he was backing a humanitarian mission to save the people of Benghazi rather than an all-out effort to achieve regime change. He forecast that any such attempt in Libya would produce a situation similar to Iraq and this is exactly what has happened.
Neither Clinton nor her Republican critics show any real interest in events in Libya in 2011 or in the following years. Their attitude is a perfect example of the degree to which the domestic political priorities of Washington dictate and distort perceptions of developments abroad. This is particularly true of Libya where the Western media was at one in supporting the war in which the brave insurgents would topple the evil dictator Gaddafi and introduce secular democracy. Of course, the perpetrators of these disasters have the advantage that Libya is now so dangerous that few journalists go there to describe the results of the handiwork of the hawks of 2011. 
World news in pictures
World news in pictures
1/30 24 June 2016

A rider rears up on his horse while surrounded by a cheering crowd during the traditional Fiesta of Sant Joan (Saint John) in downtown Ciutadella, on the island of Menorca, Spain

REUTERS

2/30 24 June 2016

A man throws a bucket of water at a motorcyclist as residents join in a water-splashing frenzy to honor their patron St. John the Baptist's Feast Day in San Juan, Metro Manila, Philippines

REUTERS

3/30 23 June 2016

Migrant workers supporting Myanmar Foreign Minister and State Counselor Aung San Suu Kyi wave to her during a meeting at the coastal fishery centre of Samut Sakhon, Thailand

REUTERS

4/30 23 June 2016

A general view shows the financial district of Lujiazui in Shanghai

AFP/Getty Images

5/30 23 June 2016

A cat walks past Muslim women offering afternoon prayers at a mosque at the shrine of Sufi Saint Khawaja Naqashband during the holy month of Ramadan in Srinagar

REUTERS

6/30 23 June 2016

A test launch of ground-to-ground medium long-range ballistic rocket Hwasong-10 in North Korea

REUTERS

7/30 22 June 2016

Family members cry near coffins containing the bodies of Nepali nationals, who were killed when a suicide bomber struck a minibus in Kabul, lined up after being flown from Afghanistan at Tribhuvan International Airport in Kathmandu, Nepal

REUTERS

8/30 22 June 2016

Villagers carry banners which read "Plead the central government to help Wukan" (in red) and "Wukan villagers don't believe Lin Zuluan took bribes" during a protest in Wukan, China's Guangdong province

REUTERS

9/30 21 June 2016

A plane drops retardant on a wildfire as it attacks the flames on a hillside in the San Gabriel mountains near Monrovia, California

REUTERS

10/30 21 June 2016

Aymara indigenous hold up their hands to receive the first rays of sunlight in a New Year's ritual in the ruins of the ancient city Tiwanaku, Bolivia. Bolivia's Aymara Indians are celebrating the year 5,524 as well as the Southern Hemisphere's winter solstice, which marks the start of a new agricultural cycle

AP

11/30 21 June 2016

A resident making his way through a flooded area in a village in Poyang county, in southeast China's Jiangxi province

AFP/Getty Images

12/30 20 June 2016

Seagulls fly as the full moon rises behind the ancient marble Temple of Poseidon at Cape Sounion, southeast of Athens, on the eve of the summer solstice

AP

13/30 20 June 2016

An aerial view shows people practising yoga on a glass sightseeing platform ahead of the International Day of Yoga, on the outskirts of Beijing, China

REUTERS

14/30 20 June 2016

Dessana indigenous shaman Raimundo Dessana holds the Olympic Torch during a ritual at the Tupe Reservation in the outskirts of Manaus, Amazonas, Brazi

AFP/Getty Images

15/30 20 June 2016

An emu runs to escape an approaching wildfire as it burns near Potrero, California

REUTERS

16/30 20 June 2016

Wales' supporters cheer downtown Toulouse, before the Euro 2016 football match of Russia vs Wales

AFP/Getty Images

17/30 19 June 2016

A rescuer grabs a rope to prevent a raft carrying residents from being flushed away as residents are evacuated from a flooded area in Jiujiang, China

REUTERS

18/30 19 June 2016

Palestinians scuffle with an Israeli border policeman as Israeli troops demolish sheds belonging to Palestinians near the West Bank village of Yatta, south of Hebron

REUTERS

19/30 19 June 2016

People hold placards reading "A kiss against hate", "Rome loves Europe" as they gathered in front of the Colosseum to send a message of affection, sealed with a kiss to Britain, before next week's referendum, in Rome, Italy

REUTERS

20/30 19 June 2016

People perform dragon dance and present it in a shape of the Chinese character "father" to celebrate Father's Day in Yueyang, China

REUTERS

21/30 19 June 2016

A humming bird is seen landing on a bird feeder at a public square in Santiago, Chile

REUTERS

22/30 18 June 2016

A reveller participates in Regenbogenparade gay pride parade in Vienna, Austria

REUTERS

23/30 18 June 2016

Mohammed Tofeeq holds his 10-month-old daughter, Gulshan Tofeeq, while he prays at the grave of his wife Muqadas Tofeeq, who local police say was killed by her mother, in Butrawala village on the outskirts of Gujranwala in Pakistan. Police have arrested the mother of Muqadas Tofeeq who is accused of killing her pregnant daughter for marrying against the wishes of her family. Violence against women is not uncommon in Pakistan where nearly 1,000 women are killed each year in so-called "honor killings" for violating conservative norms on love and marriage

AP

24/30 17 June 2016

A relative of a an Indian man convicted for the 2002 Gujarat riots cries after the court announced the lengths of the sentences in Ahmadabad, India. An Indian court has sentenced 11 people to life in prison for murder in one of the many deadly religious riots that swept across the western state of Gujarat in 2002, leaving more than 1,000 dead. Special Court Judge P. B. Desai rejected the demand for death penalty as the prosecution failed to prove charges of criminal conspiracy against the defendants. The judge also sentenced 12 defendants to seven years in prison and one to 10 years in prison in the case

AP

25/30 17 June 2016

Police officers hug as they pay homage to the two police officials killed by an extremist claiming allegiance to IS, during a ceremony in Versailles, near Paris. Police commander Jean-Baptiste Salvaing and his companion, police administrator Jessica Schneider were stabbed by attacker Larossi Abballa, who was killed in a police raid

AP

26/30 17 June 2016

A long exposure photograph shows star trails in the night sky over a camp in Altyn-Emel national park, in Almaty region, Kazakhstan

REUTERS

27/30 16 June 2016

A member of the Indian LGBT community attends a vigil in Mumbai, in solidarity with the victims of the Orlando mass shooting

AFP/Getty Images

28/30 16 June 2016

Dockers hold up flares during a protest against what they say is a lack of job stability in Lisbon, Portugal

REUTERS

29/30 16 June 2016

New recruit "Pepper" the robot, a humanoid robot designed to welcome and take care of visitors and patients, holds the hand of a new born baby next to his mother at AZ Damiaan hospital in Ostend, Belgium

REUTERS

30/30 16 June 2016

Souad Hamidi, 19, removes the niqab she said she had been forced to wear since 2014, after U.S.-backed Syria Democratic Forces took control of her village Am Adasa in northern Syria from Islamic State fighters, in the outskirts of Manbij, Aleppo province, Syria

REUTERS
The Republican majority on the House Benghazi select committee, who have spent 17 months and $4.5m (£2.9m) on their partisan persecution of Hillary Clinton, should be more interested in what the US was doing in Benghazi and eastern Libya in 2011 and 2012. It would be useful to know how, what was sold as a humanitarian air campaign to save the people of Benghazi, turned into a successful effort to overthrow Gaddafi.  
But there are also important questions to be asked about what was going on in the US Consulate and CIA station in Benghazi in the months leading up to the attack on them by Islamists three years ago.     
In April 2013, the famed US investigative journalist Seymour Hersh published in the London Review of Books an account of what the CIA calls a "rat line" which was created in early 2012 "to funnel weapons and ammunition from Libya via southern Turkey and across the Syrian border to the opposition". This was the result of an agreement between the US, Turkey, Saudi Arabia and Qatar to equip the armed Syrian rebels, and much of this weaponry ended up with jihadis affiliated to al-Qaeda. Hersh says that an account of what happened in setting up of the "rat line" is in a highly classified unpublished section of the Senate Intelligence Committee's report into the death of Mr Stevens in Benghazi which was issued in January 2013.  
Under the terms of a secret agreement between the US and Turkey, partly funded by Saudi Arabia and Qatar, arms from Gaddafi's arsenals were procured in Libya by retired US soldiers through Libyan front companies, with the operation overseen by the CIA and MI6. Normally, the CIA should have reported what it was doing to Congress, but an exception is made for liaison missions and "the involvement of MI6 enabled the CIA to evade the law by classifying the mission as a liaison mission". Hersh cites a former intelligence officer as saying that the only purpose for the US to keep open a consulate in Benghazi "was to provide cover for the movement of arms". After the murder of Mr Stevens, the CIA abruptly ended the operation which then came under Turkish control. 
The story would explain a relationship between the CIA and jihadis in Benghazi that might have led to the Americans being over-confident that they were safe from attack. Western governments have largely blamed Turkey, Saudi Arabia, Qatar and the Gulf monarchies for arming the jihadi opposition in Syria, but the "rat line" shows the complicity of Western intelligence agencies.