Hillary Clinton was battered for 10 hours on 22 October by Republican Congressmen seeking to blame her for security failings, when she was secretary of state, that led to the murder of United States ambassador Christopher Stevens in the US consulate in Benghazi on 11 September 2012. The Republican purpose in grilling her for so long was a blatant attempt to throw enough mud and make enough insinuations to damage her bid for the presidency. The manoeuvre is wholly cynical, but polls show that it is having an impact on her popularity, if only because it is always possible to throw more accusations than can be rebutted by the accused, however innocent they may be.
Of course, there is a strong case against Clinton's actions in Libya, but they relate to her support for the overthrow of Muammar Gaddafi in 2011 and not the death of Christopher Stevens in 2012. There is no doubt that she played a crucial role, along with President Barack Obama's advisers Samantha Power and Susan Rice, in the decision by the US to intervene on the side of the anti-Gaddafi rebels. Although France and the UK played a more public role, the US termed its strategy as "leading from behind". Clinton was proud of her action, proclaiming in October 2011 after the killing of Gaddafi: "We came, we saw, he died." She said during the recent Democratic presidential candidates' debate that what she did in Libya was "smart power at its best".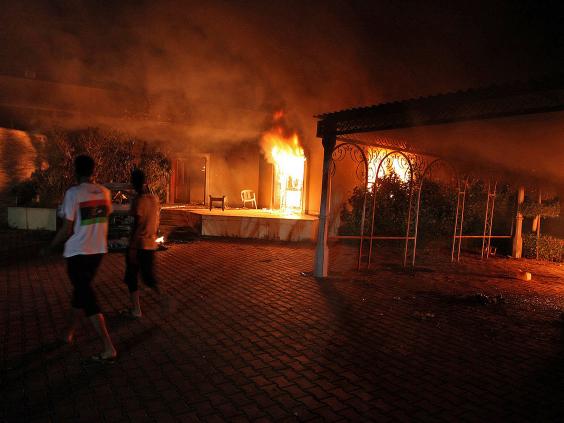 Neither Clinton nor the Republican Congressmen showed much interest in the present calamitous state of Libya, which is divided into fiefdoms ruled by criminalised warlords reliant on terror and torture. Benghazi is partly in ruins and is fought over by rival factions, while Islamic State has carved out enclaves where it decapitates Egyptian Copts and Ethiopian Christians. Nato's military intervention in 2011 was justified by the claim that Gaddafi was about to massacre the people of Benghazi, which cannot be proved or disproved because it never happened. What is more certain is that, if the old regime was still in power, several thousand migrants from north and west Africa would have jobs on Libyan building sites instead of sailing from Libyan beaches and drowning in the Mediterranean.  
Nor was the disastrous outcome as unpredictable as its protagonists now pretend. One of the first policies announced in 2011 by the incoming Libyan transitional government was an end to Gaddafi's ban on polygamy. When a Libyan journalist interviewed a campaigner for women's rights about wearing the veil a couple of years ago, the Libyan Grand Mufti issued a fatwa against him and his television station claiming that they were "promoting the apostate Shiite doctrine and atheism and defaming Islam".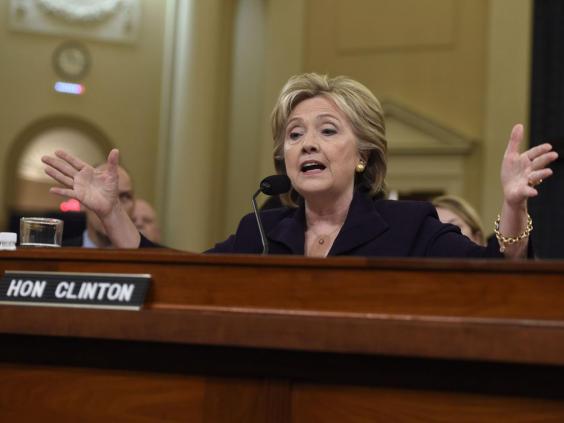 Although Clinton would have been an easy target due to her significant contribution to the disintegration of Libya, her Republican critics avoided the issue. After all, the UN Security Council, Nato, US allies such as David Cameron and Nicolas Sarkozy, and many senior Republicans in the US had applauded military intervention in Libya and would have to take a share of the blame. The political figure who seems to have had the most doubts about becoming involved in Libya was President Obama, who predicted that it might all end unhappily and was only just persuaded to sanction it by Clinton, Power and Rice. Even then, Obama was under the impression that he was backing a humanitarian mission to save the people of Benghazi rather than an all-out effort to achieve regime change. He forecast that any such attempt in Libya would produce a situation similar to Iraq and this is exactly what has happened.
Neither Clinton nor her Republican critics show any real interest in events in Libya in 2011 or in the following years. Their attitude is a perfect example of the degree to which the domestic political priorities of Washington dictate and distort perceptions of developments abroad. This is particularly true of Libya where the Western media was at one in supporting the war in which the brave insurgents would topple the evil dictator Gaddafi and introduce secular democracy. Of course, the perpetrators of these disasters have the advantage that Libya is now so dangerous that few journalists go there to describe the results of the handiwork of the hawks of 2011. 
World news in pictures
World news in pictures
1/30 27 May 2016

An aerial picture shows firefighters spraying foam at the engine of a Korean Air Lines plane after smoke rose from it at Haneda airport in Tokyo, Japan

Reuters

2/30 26 May 2016

A man walks his donkey and its load through flooded streets Beledweyne, north of Mogadishu. Hundreds of families have been forced out of their homes following flash floods in Beledweyne after torrential rains pounded the area in the last few days. The heavy rains led to the bursting of River Shabelle which caused massive floods in residential areas along the river

Getty Images

3/30 26 May 2016

A worker checks a mask of U.S. Republican presidential candidate Donald Trump at Jinhua Partytime Latex Art and Crafts Factory in Jinhua, China

Reuters

4/30 26 May 2016

Estonia's olympic team female marathon runners triplets (L-R) Leila, Liina and Lily Luik pose for a picture after a training session in Tartu

Reuters

5/30 25 May 2016

Lightning from a severe storm fills the sky behind a grain elevator in Bellevue, Kansas

AP

6/30 25 May 2016

Riot police stand guard behind a fire as refinery workers hold a blockade of the oil depot of Douchy-Les-Mines to protest against the government's proposed labour reforms

Getty

7/30 25 May 2016

Vehicles are stuck in a sinkhole near Ponte Vecchio. A sinkhole measuring about 200 meters long and seven meters wide opened up in central Florence

EPA

8/30 24 May 2016

Protesters picket outside the event site before Republican U.S. presidential candidate Donald Trump begins a rally with supporters in Albuquerque, New Mexico

Reuters

9/30 24 May 2016

An Indian policeman uses a baton to disperse demonstrators during a protest by government employees demanding their long pending arrears and a regularisation of their temporary jobs, according to protesters, in Srinagar

Reuters

10/30 23 May 2016

Confiscated rare and protected wildlife products such as these stuffed Sumatran tiger skins are burned and destroyed during a ceremony by government forestry and wildlife officials in Banda Aceh, Indonesia

Reuters

11/30 23 May 2016

A woman leads a school pupil away from tear gas and a burning barricade in Kibera slum, during a demonstration of opposition supporters protesting for a change of leadership ahead of a vote due next years in Nairobi

Getty Images

12/30 23 May 2016

A crane destroys over one million pirated music, movie and software CDs and DVDs in a campaign against piracy organised by the government in Algiers, Algeria

Reuters

13/30 23 May 2016

Shi'ite fighters forces launch a rocket towards Islamic State militants on the outskirts Falluja, Iraq

Reuters

14/30 22 May 2016

Yemenis take part in celebrations marking the 26th anniversary of Yemen's 1990 reunification in the capital Sanaa

Getty Images

15/30 22 May 2016

Indonesian soldiers carry resident's belongings as they aid in evacuation efforts from a village impacted by the Mount Sinabung eruption at Gamber Village in North Sumatra. At least six people were killed and two others were seriously wounded after the Mount Sinabung volcano in North Sumatra province of western Indonesia erupted

EPA

16/30 21 May 2016

Demonstrators clash with riot police in the surroundings of the Congress in Valparaiso, while Chilean President Michelle Bachelet delivers her annual message to the nation

Getty Images

17/30 21 May 2016

The Egyptian military spokesman released pictures of debris that the search teams found in the sea after the EgyptAir Airbus A320 crashed in the Mediterranean

Getty Images

18/30 21 May 2016

Sri Lankan flood victims push a trishaw through floodwaters in the Kolonnawa suburb of Colombo

Getty Images

19/30 20 May 2016

A protester write on the facade of the Ministry of Justice building with color spray during an anti-government protest in Skopje, in a series of protests dubbed Colourful Revolution. Crisis-hit Macedonia postponed elections due next month, after the European Union called on Skopje to delay the polls to ensure they could take place freely and fairly

Getty Images

20/30 20 May 2016

Members of the Ukrainian national guard "Azov" regiment and activists of the Azov civil corp take part in a protest against local elections in pro-Russian rebel-held areas of eastern Ukraine under the Minsk peace agreement, in Kiev

Reuters

21/30 19 May 2016

Families of passengers who were flying in an EgyptAir plane that vanished from radar en route from Paris to Cairo react as they wait outside a services hall at Cairo airport

Getty Images

22/30 18 May 2016

A man clashes with policemen during a protest against new emergency powers decreed this week by President Nicolas Maduro in Caracas. Public outrage was expected to spill onto the streets of Venezuela, with planned nationwide protests marking a new low point in Maduro's unpopular rule

Getty Images

23/30 18 May 2016

A police car explodes after being set on fire during an unauthorized counter-demonstration against police violence in Paris, as Police across France demonstrate today against the "anti-cop hatred" they say they have endured during a wave of anti-government protests since early March

Getty Images

24/30 18 May 2016

Sri Lankan military personnel take part in relief and rescue efforts following a landslide in the village of Bulathkohupitiya. Rescue workers recovered the bodies of 17 villagers buried in landslides in Sri Lanka after three days of torrential rain. The disaster hit two small villages in Kegalle, a mountainous area northeast of Colombo, and takes the overall death toll from flooding and landslides in recent days to 36

Getty Images

25/30 18 May 2016

A protester against visiting Zhang Dejiang, the chairman of China's National People's Congress, confronts police in Hong Kong

Reuters

26/30 18 May 2016

Chicks dyed to draw attention are offered for sale at a small poultry market in Jakarta, Indonesia

Reuters

27/30 17 May 2016

A man throws a fire extingusher at Parliamentary security behind a closed door after members of Julius Malema's Economic Freedom Fighters (EFF) were evicted from Parliament during President Jacob Zuma's question and answer session in Cape Town, South Africa

Reuters

28/30 17 May 2016

Supporters of Federal Alliance, a coalition of Madhes-based parties and other ethnic political parties and organizations, protest against the constitution near the Prime Minister's official residence in Kathmandu, Nepal

Reuters

29/30 17 May 2016

Members of a Sri Lankan Army rescue team carry a woman to safety through floodwaters in the suburb of Kaduwela in capital Colombo. Emergency workers in Sri Lanka found the bodies of a woman and two children killed in a landslide, taking the toll from two days of heavy rain to 11, with thousands more forced to flee their homes

Getty Images

30/30 16 May 2016

Protesters light flares and wave flags marching through a street, during an anti-government protest in Skopje, in series of protests dubbed "Colorful Revolution". Macedonia has been politically gridlocked for two years but the crisis rose a notch on 12 April when President Gjorge Ivanov halted a probe into more than 50 public figures suspected of involvement in corruption and a wire-tapping scandal. The move triggered street protests against Ivanov and the ruling party's leader, Nikola Gruevski. Fresh demonstrations drew several thousand, mostly young people who demanded Ivanov resignation

Getty Images
The Republican majority on the House Benghazi select committee, who have spent 17 months and $4.5m (£2.9m) on their partisan persecution of Hillary Clinton, should be more interested in what the US was doing in Benghazi and eastern Libya in 2011 and 2012. It would be useful to know how, what was sold as a humanitarian air campaign to save the people of Benghazi, turned into a successful effort to overthrow Gaddafi.  
But there are also important questions to be asked about what was going on in the US Consulate and CIA station in Benghazi in the months leading up to the attack on them by Islamists three years ago.     
In April 2013, the famed US investigative journalist Seymour Hersh published in the London Review of Books an account of what the CIA calls a "rat line" which was created in early 2012 "to funnel weapons and ammunition from Libya via southern Turkey and across the Syrian border to the opposition". This was the result of an agreement between the US, Turkey, Saudi Arabia and Qatar to equip the armed Syrian rebels, and much of this weaponry ended up with jihadis affiliated to al-Qaeda. Hersh says that an account of what happened in setting up of the "rat line" is in a highly classified unpublished section of the Senate Intelligence Committee's report into the death of Mr Stevens in Benghazi which was issued in January 2013.  
Under the terms of a secret agreement between the US and Turkey, partly funded by Saudi Arabia and Qatar, arms from Gaddafi's arsenals were procured in Libya by retired US soldiers through Libyan front companies, with the operation overseen by the CIA and MI6. Normally, the CIA should have reported what it was doing to Congress, but an exception is made for liaison missions and "the involvement of MI6 enabled the CIA to evade the law by classifying the mission as a liaison mission". Hersh cites a former intelligence officer as saying that the only purpose for the US to keep open a consulate in Benghazi "was to provide cover for the movement of arms". After the murder of Mr Stevens, the CIA abruptly ended the operation which then came under Turkish control. 
The story would explain a relationship between the CIA and jihadis in Benghazi that might have led to the Americans being over-confident that they were safe from attack. Western governments have largely blamed Turkey, Saudi Arabia, Qatar and the Gulf monarchies for arming the jihadi opposition in Syria, but the "rat line" shows the complicity of Western intelligence agencies.