Sport England launched their newest campaign This Girl Can earlier this week. It aims to support and celebrate women of all ages and abilities involved in sport and activity, and is summed up in their launch video, which has garnered almost 1m views in just 3 days.
Body-positive and inclusive, the campaign is a refreshing break from the usual discussion of female fitness, especially online. While This Girl Can celebrates women in sport regardless of their physical appearance, many discussions of the topic focus only on fitness being the means to achieve a certain body type.
In the internet age you can learn to do just about anything or pick up any skill all from the comfort of your home. A quick browse for any fitness-related activities will turn up a lot of helpful results - exercise videos you can follow at home, tips for first-time runners, guided yoga, and listings for local boxing classes. However, while you're browsing for these things, you'll probably come across the darker and more conflicting world of "fitspiration."
Fitspiration was originally a response to "thinspiration" - a movement among young women online, who posted pictures of extremely thin celebrities, models, and even strangers to emulate, in short, women who inspire them to be thin.
Fitspiration came along and, on the surface, seemed like a change in the way women talked about their bodies. Instead of being thin and unhealthy, it talked about how "strong is the new skinny."
Except it came with the same old problems. It encapsulated the same old body shaming women are so accustomed to, but repackaged as "fitness." The majority of fitspiration is photos of muscular, white, thin fitness models.
The various posts, pinterest boards and videos are mostly about the fastest way to lose weight and diet tips, as well as how to get a perfectly shaped butt, the most toned arms, and flat abs. The language may have changed, but the goal presented is still thinness, and the message that your body is not okay as it is.
Cue the This Girl Can advert: it starts off with a woman in her bathing suit, a second woman mid-football game, another about to serve a volleyball, one putting in her gumshield, running up a hill at dawn, boxing, sweating in a dance class…
And they all look like women I know. And they're enjoying themselves.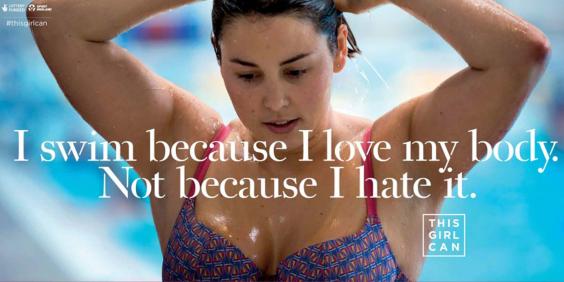 This Girl Can focusses on women being active in any way, at every level, every age, every body type, without the pressure to achieve thinness. We need more of this, and especially for women. Research has indicated that there are 2m fewer active women than men in the UK. Most of them citing fear of judgement as why they keep out of sport and activity, and 75 per cent say they want to do more. This isn't surprising when the majority of mainstream conversations around physical activity are synonymous with thinness, and coupled with unattainable fitness standards. We need to talk more about sport, activity, and fitness in terms of physical and mental health rather than outward appearance.
The new posters accompanying the video for the This Girl Can campaign feature slogans like "I swim because I love my body, not because I hate it," finally expressing what fitspiration, and so many of our conversations around women's exercise, have been missing.
Because instead of thinness, keeping fit should be about health, endorphins, fun. It should be about friendship and teambuilding, and for the love of one's own body. Nothing should ever be about how to simply achieve a narrow beauty standard. But finally, it seems like more people in positions of influence are realising this.
10 best women's sportswear
10 best women's sportswear
1/10 Helly Hansen W Winter Tights, £60

Good winter running tights are hard to come by. These ones from the outdoor gear specialists, which are made from slightly thicker fabric than traditional styles, are just the ticket for exercising in colder temperatures.

2/10 Shock Absorber Active Multi Sports bra, £26

This company offers perfectly fitting sports bras for just about every activity you can think of, including this one which has a popular crop top design, as well as shaped, padded and adjustable straps and moisture-wicking, high performance fabric.

3/10 Zoggs Narabeen Speedback Swimsuit, £32

Save your pretty swimsuits for your holiday. If you want to get fit in the pool, you'll need something durable and practical like this Zoggs one, which isn't too high cut and will last (they claim it can handle 600 hours in the pool). The tummy control panel is a saviour.

4/10 Ron Hill Classic Beanie, £8.99

Ron Hill has become one of the leading British running brands and they've come up trumps with this practical, stylish and streamlined beanie. In it you'll run out of excuses for not getting outside on chillier days.

5/10 USA Pro Capri Pants, £12.50

These great value three-quarter-length leggings have a soft feel and a fit that handily flatters the natural female curves (unlike some tighter styles). There's a back zip pocket and sweat-wicking technology to pull sweat away from the body as you work out. They're Ideal for energetic indoor classes.

6/10 Lucas Hugh Helium Tank, £60

If you want to add a touch of glamour to your athletic wear, Lucas Hugh has some great pieces. This lightweight coral vest is finished with metallic panels, reflective strips and a cut-out back. Ideal for layering.

7/10 The North Face Feather-Lite Storm Blocker Jacket, £119

This ultra-lightweight, waterproof and windproof running jacket has been tested by athletes in demanding conditions. There's an adjustable hem and hood, which is stowable for dryer days, and a reflective logo means you can still get out there in low light conditions.

8/10 Striders Edge Breathe T-Shirt, £39

Striders Edge gets the balance just right when it comes to flattering and functional sportswear for women. This T-shirt is made from a luxury soft fabric that's sweat-wicking, breathable and anti-bacterial. Idea for anything from yoga to jogging.

9/10 Nike Filament capri pants, £28

For runners who prefer shorter tights, this pair from Nike are good value for the quality. They're a snug fit that'll stay in place while you run and have a handy back pocket that will fit a phone. We like the go-faster yellow, but if fluro's not your thing, they also come with pink detail or plain black.

10/10 Patagonia women's cloud stack hoody, £80

This zip-up fleece hoody will do nicely for anything from yoga to adding an extra layer post fitness class or gym work out. The wide elastic waist fits snugly at the hips and it has handy pockets. Definitely one you can wear away from the gym too.
Reuse content