A minister in the previous Labour government who was caught in a media storm would ring up journalists and say: "I don't mind you calling me 'embattled'. But please don't describe me as 'beleaguered'."
The labels came to mind this week as Ed Miliband had to save and then relaunch his leadership. He is no longer beleaguered but, with a general election only six months away, he is still embattled. His fightback speech on Thursday was strong enough to rally his party and give its morale a needed boost.
That Miliband needed to win back his party's confidence at this late stage of the game is a terrible sign. I am not sure it was a good idea for Miliband to adopt the line from the German philosopher Nietzsche that "what doesn't kill you makes you stronger". This was inevitably seized on by the right-wing press as a reminder that some people in his own party wanted to "kill" Miliband politically.
True, he survived. But only just. If Alan Johnson, the former Home Secretary, had wanted to be Labour leader – even without helping to "kill Mil" himself – Miliband would almost certainly have been forced out. "A lot of people are disappointed with Alan," one Labour insider told me. "We told him he didn't have to wield the knife, that it would fall into his lap. He didn't have the nerve."
So Miliband will lead Labour into the election. But the support for him inside his party is grudging from some. "It's bite your lip time for six months," said one senior Labour MP.
Miliband surely deserves more than that. His party should now rally behind him. Labour still has a reasonable chance of winning power next May. The voters will pick up any more signals that Miliband cannot convince his party – not a good advert for someone who aspires to run the country.
As he prepared his fightback speech, Miliband decided to speak from the heart rather than try to reinvent himself. His big idea – radical reforms to tackle a very unequal country – is not a new idea but it is the right one. One Miliband aide insisted yesterday: "It is not a core vote strategy. It is a core belief strategy."
In pictures: Ed Miliband trying to look normal
In pictures: Ed Miliband trying to look normal
1/17 The beggar

Ed Miliband casually gives money to a homeless woman in Manchester, surrounded by press photographers.

2/17 The Bacon Sandwich

Ed Miliband buys a bacon sandwich from cafe owner Antonios Foufas at New Covent Garden Market in London as he kicks off a day of campaigning on the eve of the local and European elections

3/17 The Bacon Sandwich

Ed Miliband chats with a cafe owner Antonios Foufas at New Covent Garden Market in London

4/17 The Bacon Sandwich

Ed Miliband embarked on a whirlwind campaign tour of England - but struggled at the first hurdle (a bacon sandwich). Aides intervened after just a few less-than-elegant bites

Jeremy Selwyn

5/17 Flower Shopping

Ed Miliband talks with a couple of traders at New Covent Garden Market in London

6/17 Flower Shopping

Ed Miliband purchases some red roses for his wife at New Covent Garden Market in London

7/17 Talking Business

Ed Miliband talks with a trader at New Covent Garden Market in London

8/17 Good Morning Britain

Miliband on ITV's Good Morning Britain show on 20 May 2014, a day of gaffes in which he was also caught out by BBC Wiltshire for not knowing who the local Labour leader was

9/17 '£70 Weekly Shop'

Ed was accused of being 'out of touch with reality' after he seemed not to know what he - or the average British family - spends on a weekly food shop

PA

10/17 Drop in Polls

Ed Miliband paid a visit to Leighton Hospital in Crewe to speak with the staff about the NHS, but faced difficult questions about polls showing his personal ratings falling well behind those David Cameron and George Osborne

PA

11/17 On the Sofa with Farage

Ed Miliband appeared on the Andrew Marr Show to debate with Nigel Farage - but has all but conceded defeat in the Newark by-election, allowing Ukip a free run at the Tories

BBC

12/17 Wollies in Wellies

Miliband was among a number of politicians to come under fire for 'touring' the floods in the South and South West earlier this year

PA

13/17 Wollies in Wellies

The Labour leader admitted it was 'a difficult decision for politicians whether to visit areas like this'

14/17 Missed Opportunity

Miliband's performance at the Labour conference last year failed to make much of an impression on voters, polls suggested

Getty Images

15/17 Sharing the Moment

Miliband, Nick Clegg, David Cameron and Angus Robinson enjoy their moment with Andy Murray, after the tennis player's Wimbledon win

Getty Images

16/17 Casual Husband

Miliband and his wife Justine are pictured in their hotel room in Brighton as he prepares to give his keynote speech to the annual Labour Party Conference

Getty Images

17/17 The Milibands

Just your average family of four?

Getty Images
When he decided to take on Rupert Murdoch over phone hacking, he told his advisers: "Let Miliband be Miliband" – a reference to the US President in the TV series The West Wing who lets himself off the leash, saying: "Let Bartlet be Bartlet."
The Miliband mission statement starts to answer the Conservative claim that there is no need for a traditional left-of-centre party in an age of austerity. His challenge now is to explain in simple terms what he means by making the country more equal. It is not the case that he is asking the middle classes who backed Tony Blair to put their hands in their pockets to help the bottom 10 per cent through higher benefits or tax credits. That is no longer an option. Miliband's plan is to convince people that he is on the side of those he calls the 95 per cent against the 5 per cent at the top, and that he knows the people he dubbed the "squeezed middle" are still struggling.
On the face it, this makes political sense. As Bill de Blasio, the Mayor of New York City, told him when they met during the Labour conference: "In a democracy, being on the side of the many, not the few, is quite a good place to start."
For some Labour MPs, Thursday's speech was a clear signal that Miliband will fight a pretty crude "us versus them" election, in the hope of sneaking over the finishing line by portraying the Conservatives as looking after "the top 5 per cent" and leaving the rest to fend for themselves.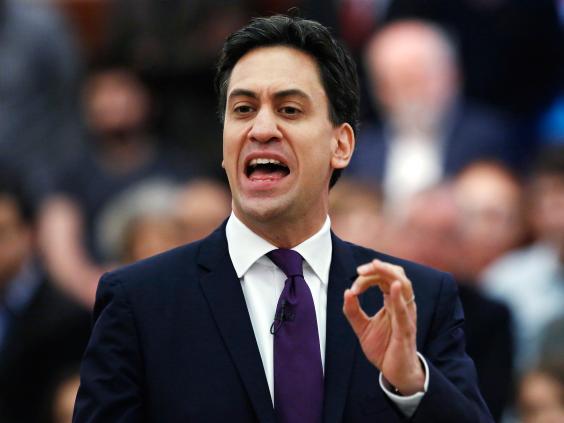 As they decoded a speech which devoted only 23 words to the deficit, critical MPs suspected that Miliband is shying away from spelling out the painful cuts that any incoming government next May would have to make. They fear such an approach would not reassure floating voters who want to know that Labour would tackle the deficit. "There was no attempt to tackle our strategic weakness on economic credibility," one MP said. "If he had done so, people would have sat up and taken notice. It was more of the same and it's not enough."
The speech was aimed more at the party than the country. Perhaps Ed Balls, the shadow Chancellor, will persuade Mr Miliband to be more specific on cuts. But Labour MPs are not banking on it.
In the coming week, we will hear more from Labour about immigration and welfare, the party's other strategic weaknesses. Signifying a new team approach, announcements will be made by Yvette Cooper and Rachael Reeves, rather than Miliband. After being accused of being a "one-man band", he is letting the Shadow Cabinet take some of the strain.
Significantly, an Opposition that hopes to govern in six months is out of the running for Thursday's Rochester and Strood by-election, an area Labour represented until 2010. Privately, Labour hopes a Ukip victory will unleash another bout of Tory infighting over Europe and take the media spotlight off Miliband for a while. Another revealing sign.
Reuse content