In recent days, opponents of shale gas development have had a rhetorical field day. But their ideological fervour is not supported by the facts. For the reality is that many of the environmental campaigners ignore the importance of gas to the UK, overlook the energy security, economic and environmental benefits of a domestic source of gas, and disregard the expert evidence that properly-regulated shale gas production is safe.
That's why in the last few months at least 10 different fracking moratorium proposals – from the UK to California, South Africa and New Zealand – have been rejected. 
Natural gas is one of the most versatile sources of energy we have, and is used in five main ways to support modern life. 
1. Heat: Gas accounts for around 80% of domestic, commercial and industrial heating, with 84% of homes heated by gas.  Per unit of energy, gas is around a third the price of electricity, and so it will remain an important heating source for a long time to come.
2: Electricity: More than a quarter of the UK's electricity is generated from gas.  Gas-fired power stations are able to run continuously, or as flexible back-up for intermittent sources of electricity, such as wind and solar – until large-scale electricity storage is developed, it's hard to have renewables without gas. 
3: Food: Natural gas is a key component of nitrogen fertiliser, which is applied to around three quarters of British farmland to help produce food. 
4: Consumer goods: It is hard to find a manufactured product where natural gas has not been used at some point in the production process.  One of the most common processes is the 'cracking' of ethane into ethylene, which is then used as a building block for everyday products such as food packaging, textiles, adhesives, tyres and window frames.  More than 800,000 people work in the UK's energy intensive industries and their supply chains.
5: Transport: compared with diesel, natural gas-powered vehicles emit less CO2 and fewer harmful air pollutants, and are quieter.  Reading now has a fleet of CNG-powered buses, and there is great potential to expand the number of buses and trucks powered by natural gas rather than diesel.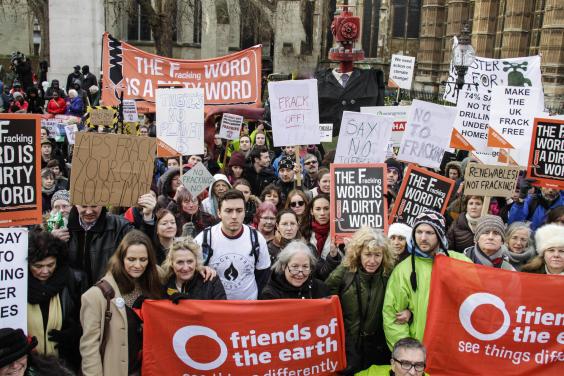 This is why most scenarios of the UK's future energy use envisage a continuing role for gas.  And the idea of not being able to use gas alongside renewables and emission reduction targets has been dispelled by National Grid.  Its "Gone Green" scenario includes all environmental targets met, with a 34 per cent cut in emissions by 2020 and a 60 per cent cut by 2035 – at the same time, renewables are forecast to increase to 15 per cent of the UK's total energy by 2020 and 32 per cent by 2035.  In this scenario, the UK's overall gas use is forecast to be 71.9 billion cubic metres in 2015 and only fall to 64.1 bcm in 2035. 
A decade ago, the UK was self-sufficient in gas, but North Sea production has fallen sharply in the years since.  We now import around half our gas supply, and Britain's import dependency is projected to rise to three quarters of consumption by 2030.  This is the key reason for developing shale gas – replacing imported gas with domestic gas. 
This can bring economic and environmental benefits.  A study by Ernst and Young found that £33 billion could be invested over the next two decades, creating 64,500 jobs at peak production.  Many of these jobs will be highly-skilled and well-paid, as have been many of the 450,000 jobs created by the offshore oil and gas industry in the UK.  In addition, access to competitively-priced feedstocks is a critical factor in the survival of major petrochemical plants such as Grangemouth – this is why major manufacturing companies such as Ineos are preparing to import ethane from the US and explore for shale in the UK. 
Producing gas domestically can reduce greenhouse gas emissions.  Importing gas by tanker in the form of LNG is an energy intensive process, as the gas needs to be frozen, transported by ship and then re-gasified.  And many overseas countries do not have the same environmental controls as we do in the UK, meaning that methane leaks in the production process are likely to be much higher. 
And shale gas is no threat to renewables. Gas is mainly a heating fuel, while renewables are mainly used to generate electricity.  So they perform different functions in the overall energy system.  As the US Energy Secretary, Ernest Moniz, recently said, "We should not forget that over the past four to five years, during the shale gas boom, we have seen wind, solar and thermal double in the United States and we expect another doubling in the next five or so years."
But what about safety?  A large number of independent reviews in the UK, including from the Royal Society and the Royal Academy of Engineering, Public Health England, Professor MacKay and Dr Stone, Water UK, and the Chartered Institute of Water and Environmental Management, have concluded that environmental and health risks from shale production are low in a properly regulated industry.  In the US, independent studies from Duke University and others found that in no instances has fracking ever caused water contamination.  The Chief Medical Officer of the Colorado School of Public Health recently dismissed claims that fracking contributed to birth defects.
The conclusions of these independent reviews were supported in the recent assessments of Cuadrilla's two planning applications by the Lancashire County Council Planning Officer.  Although the applications were recommended for refusal, the grounds for this recommendation were noise and, for one site, traffic – both of which are common local development issues.  On every other environmental and health issue raised by opponents of shale gas development, the Planning Officer's reports found that the risks or impacts were low and were not grounds for recommending refusal.
Shale gas produced in Britain is not a panacea for all our energy needs, but no-one in the industry has ever claimed it is.  But it can improve our energy security, create jobs and support the development of renewables.  And that's not an opportunity we should throw away lightly. 
UKOOG is the representative body for the UK onshore oil and gas industry, including exploration, production and storage. www.ukoog.org.uk
Reuse content