Men spreading their legs into others' space is taking place on public transport systems all over the world. It takes many forms, some slight, others severe. "Manspreading" is the now official term, and thanks to an anti-manspreading campaign in New York, it's something that's recently gained a lot of traction.
Signs reading "Dude...stop the spread" have been rolled out on train and metro carriages across the city as part of an effort to improve train etiquette.
As you can imagine, the reaction has been mixed. Many have said they'd like a similar policy in their city (Philadelphia has similar signs, and Toronto's considering it too). But some men aren't happy about the prospect of closing their legs. As the anti-manspreading lobby gains momentum here and abroad, here are a few answers to some commonly aired concerns.
"I need to sit that way because of my balls"
Sitting cross-legged or with legs jammed together may be uncomfortable for some men: fair enough. But there's a difference between sitting with your legs together and spreading them at an obtuse, 120 degree angle.
Some of the men on the Tumblr blog dedicated to the problem (Men Taking Up Too Much Space on Trains) look positively uncomfortable - like they're doing a sitting-down plié or a yoga position.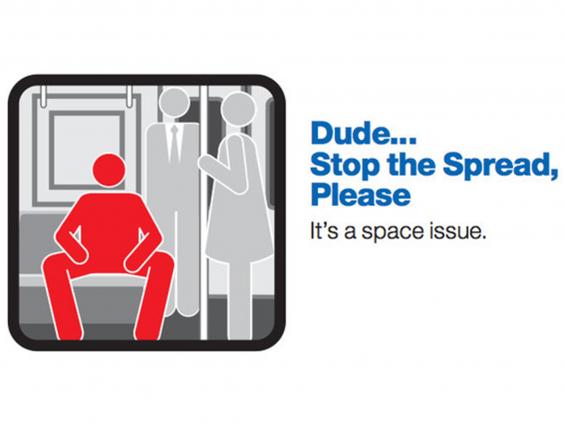 "Women put their handbags on seats all the time"
...but if you asked them to move it, they probably wouldn't reply with "I need it to be there because of my vagina". In my experience, they're also unlikely to invade your personal space with a bag if you're already sitting next to them.
People do annoying stuff on public transport all the time, but men with spread legs can be found in pretty much any train carriage. But unlike the perpetrators of most transport faux pas, it's awkward to ask them to stop — you're risking a lengthy debate on the state of a stranger's genitalia, and how comfortable it may or may not be.
Women in Politics 2014: Females in Parliaments across the world
Women in Politics 2014: Females in Parliaments across the world
1/9 4th: Sweden

Swedish European Affairs Minister Birgitta Ohlsson pictured at the EU headquarters in Brussels. After Nicaragua, Sweden has the highest number of women in cabinet, with 56.5 per cent of Swedish ministers being female. 157 of the 349 seats in the single parliamentary house are held by women.

JOHN THYS/AFP/Getty Images

2/9 Afghanistan: 41st

Leading Afghan women's rights champion, author, lawmaker and former presidential hopeful Fawzia Koofi talks during an interview with AFP in Kabul. Not well known for its women's rights record, Afghanistan beats the UK. Of the 249 seats in the Afghan lower house, 69 are held by women. 28 of its the 102 seats in its upper chamber are taken by women.

JOHANNES EISELE/AFP/GettyImages

3/9 64th: UK

Home Secretary Theresa May leaves Downing Street in London, England. 147 out of 650 seats in the House of Commons are held by women, compared to 182 of 778 in the House of Lords.

Oli Scarff/Getty Images

4/9 1st: Rwanda

Rwanda Minister of Agriculture and Animal Resources Dr Agnes Kalibata, speaks at the African green Revolution Forum. 39 per cent of ministers in Rwanda are women, holding 51 out of 80 seats in the lower house. 10 of the 26 seats in the upper house are taken by women.

ISSOUF SANOGO/AFP/Getty Images

5/9 China: 61st

Chinese Vice Premier Liu Yandong pictured at the People-to-People Exchange at Diaoyutai State Guest House in Beijing, China. Outdoing the UK by three places, women hold 699 seats in the country's 2987-member-strong single house.

Feng Li/Getty Images

6/9 US: 83rd

Republican Senator Susan Collins speaks onstage at the FORTUNE Most Powerful Women Summit in Washington, DC. Hold its ranking joint with San Marino, only 79 of the 432 lower house members are women. 20 members of the 100-strong upper house are women.

Paul Morigi/Getty Images for FORTUNE

7/9 France: 47th

French minister Aurelie Filippetti attends the Opening ceremony and the 'Grace of Monaco' Premiere during the 67th Annual Cannes Film Festival. Sharing its ranking with El Salvador, 151 members of the 577-member-strong lower house are women. Meanwhile, female members hold 78 of the 347 seats of the upper house.

Pascal Le Segretain/Getty Images

8/9 Italy: 31st

Italy's Integration Minister Cecile Kyenge poses as she arrives for a lunch at the French embassy in Rome. 198 women of a possible 630 seats in the lower house are filled by women. 92 women hold seats in the 317-member-strong upper house.

GABRIEL BOUYS/AFP/Getty Images

9/9 South Sudan: 45th

South Sudan's Water Minister Jemma Nunu Kumba at the 10-nation Nile River forum in the Sudanese capital Khartoum. The world's newest country has 88 women in its lower house of 332 members. Of 50 seats in its upper house, women hold 5.

EBRAHIM HAMID/AFP/Getty Images
"What would you feminists say if we were policing your bodies on public transport?"
Well, actually, people police womens' bodies all the time. Ever heard of the Facebook group "Women who eat on Tubes"? Or the male online commenter who asked "Why do women get to breastfeed in public but we can't sit with our legs wide open?" in response to New York's manspreading policy. Which brings me to my next question...
"Why do women get to breastfeed in public but we can't sit with our legs wide open?"
Are their breasts touching your knees, or taking up an extra seat? Is anyone forcing you to watch? No? Then the point's kind of irrelevant.
"Why does it matter? "
Beyond the obvious argument — that it's annoying for everyone, not just women — some commentators have argued that this space-taking mirrors other types of male space-taking in society, such as space in boardrooms, or on reading lists and panel shows.
Spreadeagled poses in humans and animals have always been used to assert dominance, and are most often displayed by men. On the other hand, women are expected to adopt meeker, more subservient postures.
If you don't believe me, then try spotting a woman with her legs spread on the Tube; or imagine the reaction from men if "womanspreading" became a thing (with this video, where a spread-legged woman is stared at and photographed, you don't have to).
"But it's my human right to sit how I want!"
As the saying goes, your rights end at the tip of my nose; or, in this case, the edge of my seat.
Barbara Speed (@bspeed8) is a staff writer at CityMetric, the New Statesman's cities site.
Reuse content