Like many politicians before him, Muhammadu Buhari, Nigeria's new president, is finding that promises made during a campaign are easy to announce, but more difficult to keep. A former army major-general who briefly seized power in Africa's most populous state in the 1980s, Mr Buhari swept to power in April promising not only to tackle Boko Haram, the Islamist group that has wreaked havoc and bloodshed in Nigeria, but to defeat it.
"What I can pledge, with absolute certainty," he wrote in The New York Times in April, a month before taking office, "is that from the first day of my administration, Boko Haram will know the strength of our collective will and commitment to rid this nation of terror, and bring back peace and normalcy to all the affected areas."
Good words, but since Mr Buhari won the election, as many as 200 Nigerians have been killed by Boko Haram, and so far at least, it seems the military has been unable to live up to the new president's verve.
Part of the reason is that Boko Haram – an especially nasty outfit that earlier this year aligned itself with Isis in the Middle East and which has a penchant for carrying out similar attacks and killings – is not solely a Nigerian problem.
Based largely in the ungoverned, and ungovernable, Sambisa forest, 23,000 square miles of open woodland and dense scrub in the northern Borno state, Boko Haram's myopic view of the world does not respect international borders, and neighbouring Cameroon and Chad have also suffered attacks, bombings and kidnappings.
I travelled to northern Cameroon in May, just before Mr Buhari's inauguration, and spent a few days with Cameroon's special forces, which a year ago were sent north to flush out Boko Haram.
The officers and soldiers were critical of their Nigerian counterparts, and bemoaned the fact that Nigeria did not allow them to pursue Boko Haram militants across the border.
A similar story was told at the nearby Minawao refugee camp, which is officially home to 44,000 desperate people who have fled northern Nigeria and Boko Haram. The people in the camp – the real number is probably higher – told of being ignored by Nigerian soldiers, even when they knew attacks were imminent. "Protect yourselves," one commander told villagers who were armed only with makeshift rifles and home-made bows and arrows when the insurgents attacked. They were subsequently slaughtered.
In fairness to Mr Buhari, this was all before he came to power, but the problem is that since May, little of what was promised seems to have happened. True, there has been a wave of diplomatic activity and Mr Buhari has tried hard to recast Nigeria's relationships with its regional neighbours. Gone is the ban on Cameroonian and Chadian troops crossing the border, and Mr Buhari's first visit was to Yaoundé to meet Cameroon's often absentee president, Paul Biya, and to put behind them the sour relationship that existed under Goodluck Jonathan, Nigeria's former president.
The two have agreed, along with other west and central African countries, to form a regional military task force, and, after the new Nigerian president went to the White House, they have been promised more cash from the US.
But for all the travelling and meeting, there has been little real progress.  A member of the Cameroon special forces, who The Independent on Sunday met in May and who preferred not to be named, said: "The creation of the multinational force against Boko Haram is a better framework and foundation to fight Boko Haram, in theory. But concrete results are yet to been seen and much expected from all parties."
And without being backed up with action on the ground, the diplomatic successes are arguably making the situation worse for ordinary people caught up in the violence.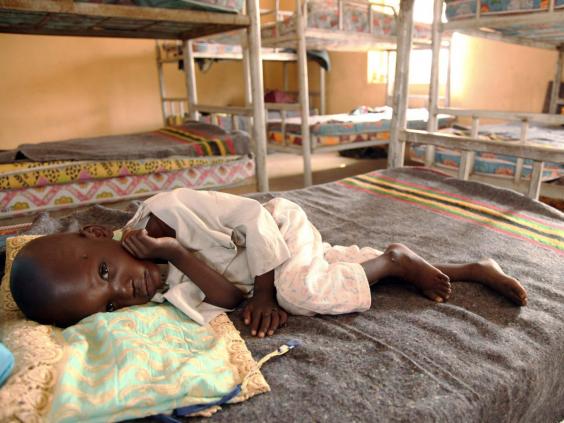 Cameroon has now begun forcibly repatriating Nigerians: so far almost 12,000 people have been sent back across the border after fleeing Boko Haram violence, according to Nigeria's National Emergency Management Agency.
Most are being sent back against their will, and face a frightening return. On 6 August, or example, people from Tadagara and Dunbulwa, two small villages in Nigeria's north eastern Yobe state, described how their settlements were set alight during a raid by Boko Haram. Nine people were shot dead, seemingly without much resistance from the armed forces.
Cameroon, not without justification, says it is concerned about undocumented migrants and fears that Boko Haram infiltrators are among those crossing the border. In recent weeks, Boko Haram has stepped up the number of attacks in northern Cameroon – probably in response to the formation of the task force. There have also been attacks in Chad.
"[Boko Haram's] strategy is shifting to bomb and suicide bomb attacks," says the Cameroonian special forces officer. "These are no longer limited to the frontline on the border with Nigeria. There have been many attempts in others cities throughout the country. The threat posed by Boko Haram is as real and potent as ever."
Results may well come in time, and the diplomatic situation is an improvement on Mr Jonathan, who appeared to shrink in the face of the Boko Haram threat.
The rise of Boko Haram
The rise of Boko Haram
1/19 Boko Haram

The leader of the Islamist extremist group Boko Haram Abubakar Shekau delivers a message. Boko Haram has claimed responsibility for the mass killings in the north-east Nigerian town of Baga in a video where he warned the massacre "was just the tip of the iceberg". As many as 2,000 civilians were killed and 3,700 homes and business were destroyed in the 3 January 2015 attack on the town near Nigeria's border with Cameroon

AFP

2/19 Boko Haram

People displaced as a result of Boko Haram attacks in the northeast region of Nigeria, are seen near their tents at a faith-based camp for internally displaced people (IDP) in Yola, Adamawa State. Boko Haram says it is building an Islamic state that will revive the glory days of northern Nigeria's medieval Muslim empires, but for those in its territory life is a litany of killings, kidnappings, hunger and economic collapse

3/19 Boko Haram

Nitsch Eberhard Robert, a German citizen abducted and held hostage by suspected Boko Haram militants, is seen as he arrives at the Yaounde Nsimalen International airport after his release in Yaounde, Cameroon on 21 January 2015

4/19 Boko Haram

Officials of the Nigerian National Emergency Management Agency (NEMA) visit victims of a bomb blast in Gombe at the Specialist Hospital in Gombe. According to local reports at least six people were killed and 11 wounded after a bomb blast in a marketplace in Nigeria's northeastern state of Gombe on 16 January 2015. Islamist militant group Boko Haram has been blamed for a string of recent attacks in the North East of Nigeria

5/19 Boko Haram

People gather at the site of a bomb explosion in a area know to be targeted by the militant group Boko Haram in Kano on 28 November 2014

6/19 Boko Haram

People gather to look at a burnt vehicle following a bomb explosion that rocked the busiest roundabout near the crowded Market in Maiduguri, Borno State on 1 July 2014. A truck exploded in a huge fireball killing at least 15 people in the northeast Nigerian city of Maiduguri, the city repeatedly hit by Boko Haram Islamists

7/19 Boko Haram

President Goodluck Jonathan visits Nigerian Army soldiers fighting Boko Haram

Getty Images

8/19 Boko Haram

Displaced people from Baga listen to Goodluck Jonathan after the Boko Haram killings

AFP/Getty

9/19 Boko Haram

Nigeria's President Goodluck Jonathan speaking to troops during a visit to Maiduguri, the capital of Borno State; most of the region has been overrun by Boko Haram

AFP/Getty

10/19 Boko Haram

Members of the Nigerian military patrolling in Maiduguri, North East Nigeria, close to the scene of attacks by Boko Haram

EPA

11/19 Boko Haram

Boko Haram's leader, Abubakar Shekau, appears in a video in which he warns Cameroon it faces the same fate as Nigeria

AFP

12/19 Boko Haram

South Africans protest in solidarity against the abduction of hundreds of schoolgirls in Nigeria by the Muslim extremist group Boko Haram and what protesters said was the failure of the Nigerian government and international community to rescue them, during a march to the Nigerian Consulate in Johannesburg

13/19 Boko Haram

Boko Haram militants have seized the town in north-eastern Nigeria that nearly 300 schoolgirls were kidnapped from in April 2014

AFP

14/19 Boko Haram

A soldier stands guard in front of burnt buses after an attack in Abuja. Twin blasts at a bus station packed with morning commuters on the outskirts of Nigeria's capital killed dozens of people, in what appeared to be the latest attack by Boko Haram Islamists, April 2014

15/19 Boko Haram

The aftermath of the attack, when Boko Haram fighters in trucks painted in military colours killed 51 people in Konduga in February 2014

AFP/Getty Images

16/19 Boko Haram

The leader of Boko Haram, Abubakar Shekau (with papers) in a video grab taken in July 2014

AFP/Getty

17/19 Boko Haram

Ruins of burnt out houses in the north-eastern settlement of Baga, pictured after Boko Haram attacks in 2013

AP

18/19 Boko Haram

A Boko Haram attack in Nigeria, 2013

AFP/Getty Images

19/19 Boko Haram

Abubakar Shekau, Boko Haram's leader

AP
Moreover, in some respects, Mr Buhari has been refreshingly realistic about what he can achieve. He has, for example, dampened any expectation that the majority of the 276 schoolgirls who were kidnapped in Chibok in April last year will be returned to their families. The capture of the girls by Boko Haram sparked an international outcry calling for their rescue. While the girls have been largely forgotten overseas, in Nigeria the topic is still emotive, but to his credit Mr Buhari has been pragmatic – the government simply doesn't know where the girls are, he says.
Sadly though, in relation to the rest of the policy towards Boko Haram, Mr Buhari is yet to live up to his own high ambitions.
The new administration has popularity on its side, even if this is largely a result of Mr Jonathan's inability to tackle the insurgency. But with attacks being carried out seemingly at will by the Islamists, it lacks time. There have been no significant military successes, and reforms so far – such as sacking the heads of Nigeria's armed forces and moving the headquarters of the military operation against Boko Haram to Maiduguri, capital of Borno state – appear cosmetic. Still the words keep coming. On 7 August, Mr Buhari gave a speech in Abuja talking about the need to ramp up domestic production of weapons for the army.
Mr Buhari will appoint his cabinet next month, a full four months after coming to office. Even if it is a carefully planned strategy, it looks shambolic. The country has other problems to face, too, not least endemic corruption and the falling price of oil, on which its economy is dependent.
Some Nigerians have nicknamed their new president "Baba Go Slow" – a play on words that relates to Lagos's notorious traffic. Boko Haram is only getting stronger and will not wait for him to be ready. Baba can't afford to carry on going as slowly as he is.
Patrick Cockburn is away
Reuse content