Wired, Bob Woodward's account of the short life and extremely messy death of the comic actor John Belushi, contains a fascinating episode from the early 1970s in which Belushi decides to show his younger brother Billy the sights of New York. First point of call for the wide-eyed 18-year-old is the White Horse bar on Eleventh and Hudson.
"Right over here" Belushi declares, indicating the second stool from the left, "is where Dylan Thomas died, in that very seat, after he'd had 18 straight whiskies." Having recited "The Force that Through the Green Fuse Drives the Flower" Belushi then compresses the circumstances of Thomas's death into a kind of mantra: "He died right there; he died right fucking there." Billy, according to Woodward, is "impressed but vague about who Thomas was".
The memory of this passage was coaxed into life again by the advance publicity for A Poet in New York, featuring Tom Hollander in the role of Thomas, which appears tonight on BBC Two.
As is very often the case with biopics of this sort, newspaper arts correspondents have been stirred not so much by reminders of the subject's rip-roaring lifestyle – alcoholic comas, beery bad behaviour and so forth – as by the physical demands placed on the starring actor.
Among other requirements, Hollander was apparently forced to bulk up on chocolate and sweets to replicate Thomas's cherub-gone-to-seed appearance ("It's not as fun as it sounds, eating as much as you want", he rather sorrowfully remarked) never mind having to train himself to talk with a Welsh accent.
As for how the White Horse incident pans out, no doubt Andrew Davies, the film's nimble scriptwriter, will have given it his all. Meanwhile, there is a wider question lurking amid the shattered backdrop of whisky shots, spilled tumblers, dropsical grins and enlarged livers, and this is the difficulty involved in making a piece of filmic art whose hero is an artist.
The actor who plays a general, a politician or a tycoon can usually stride through his alter-ego's life without turning a hair: the life is not merely crammed with incident but the incident itself is integral to the subject's professional calling.
What, on the other hand, are you supposed to do with a man, or woman, who is mostly engaged in quietly putting paint on canvas, notes on staves or words on paper?
There is, naturally, a long and thoroughly respectable tradition of artist biopics. Caravaggio, Mozart, Jack Kerouac and Iris Murdoch have all been the subject of admiring wide-screen treatments in the past few decades, and no one will have been surprised to discover that Mike Leigh's new film, now in preview with Timothy Spall in the title role, covers the last quarter century of the life of J M W Turner.
Whether inspected from the angle of Turner's Englishness, his controversial stance in the art-world quarrels of the mid-19th century or the murkiness of his private existence (an essential part of any creative life-and-times), this is classic Mike Leigh territory in which Spall, according to the advance reviews, is on superlative form.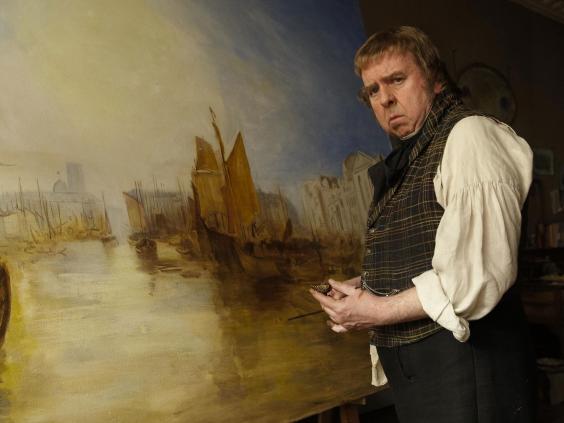 On the other hand, Turner was first and foremost a painter, a career choice that poses a director a far more serious challenge than blowing up bridges, negotiating trade agreements or flinging commercial rivals into the pit. One of the incidental amusements of Iris, the film of Iris Murdoch's life starring Kate Winslet, was its very brief attempt to reproduce the activity on which Murdoch spent most of her waking hours.
This involved Winslet holding a pen and staring thoughtfully at a sheet of writing paper. Happily there was a fair amount of juicy private life to compensate, but you were left with the odd sensation of having watched a film whose really dramatic events – what went on in the subject's imagination – were all taking place off camera.
It's a mark of the essential seriousness of the Leigh/Spall axis that Spall has spent the last three years learning to paint, but even so, you wonder if this zealous commitment to method acting will be quite enough.
And if the subject of an art-biopic can't be shown doing what he or she does for very long for fear of boring the viewers, what tends to rise to the surface are a series of projections based not on what is known about the writer, painter or musician however many years after their death, but what might be called the mythological view that the modern age has decided to take of them.
The director of A Poet in New York, Aisling Walsh, has for example remarked that Thomas "was a Fifties rock star in many ways". With all due respect to Walsh, I would argue that he wasn't a Fifties rock star in any way at all, but a poet with a drink problem and that these kind of metaphorical transfers simply confuse the various biographical puzzles on display.
In much the same way, Winslet was quoted to the effect that she was a great admirer of Iris Murdoch but hadn't yet got round to reading any of her novels. This is not a complaint about Winslet's level of engagement – actresses are there to act, not read books – merely to note that she was aware of the legends that by this time were swirling around Dame Iris without having got to grips with some of the realities that lay beneath them.
There is no point in complaining about this mythologising process, if only because it stems from a very natural wish to dramatise what is nearly always highly prosaic – most artistic lives, seen in the round, are horribly mundane – and give it sparkle. After all, when Charlotte Brontë made the mistake of dedicating the second edition of Jane Eyre to Thackeray, a rumour instantly swept round literary London identifying the author of Vanity Fair as Mr Rochester and Brontë as the governess.
To return to Dylan Thomas, the popular view of his life is now so firmly established that there is no way of overturning it. In fact, as A Poet in New York scrupulously acknowledges, he died four days after the session at the White Horse, but Belushi's rapt evocation of the man who sank 18 whiskies and expired on the spot is irresistible. Similarly, many of the reports of dinner parties at which he dramatically overdid things have been refuted by people who had the advantage of being present.
None of this is to disparage Davies' laudable attempt to get his favourite poet on to the small screen or Leigh's account of Turner's various ménages. Just occasionally, though, there emerges a film which manages to conceptualise an artist simply in terms of their art. Miss Potter, for example, with Renée Zellweger as Beatrix, took considerable trouble to show its subject at work, selecting her animal heroes, struggling to anthropomorphise them in her sketch-books.
But then again, a cynic would probably argue that this was because the author of Peter Rabbit had hardly any private life worth speaking of, and had you stripped out Mr Tod, Jeremy Fisher and the Flopsy Bunnies there would have been precious little material left to make a film.