Remember the time when Libya was being held up by the American, British, French and Qatari governments as a striking example of benign and successful foreign intervention? It is worth looking again at film of David Cameron grandstanding as liberator in Benghazi in September 2011 as he applauds the overthrow of Muammar Gaddafi and tells the crowd that "your city was an example to the world as you threw off a dictator and chose freedom".
Mr Cameron has not been back to Benghazi, nor is he likely to do so as warring militias reduce Libya to primal anarchy in which nobody is safe. The majority of Libyans are demonstrably worse off today than they were under Gaddafi, notwithstanding his personality cult and authoritarian rule. The slaughter is getting worse by the month and is engulfing the entire country.
"Your friends in Britain and France will stand with you as you build your democracy," pledged Mr Cameron to the people of Benghazi. Three years later, they are words he evidently wants to forget, since there was almost no reference to Libya, the one military intervention he had previously ordered, when he spoke in the House of Commons justifying British airstrikes against Islamic State (Isis) in Iraq.
The foreign media has largely ceased to cover Libya because it rightly believes it is too dangerous for journalists to go there. Yet I remember a moment in the early summer of 2011 in the frontline south of Benghazi when there were more reporters and camera crews present than there were rebel militiamen. Cameramen used to ask fellow foreign journalists to move aside when they were filming so that this did not become too apparent. In reality, Gaddafi's overthrow was very much Nato's doing, with Libyan militiamen mopping up.
Human rights organisations have had a much better record in Libya than the media since the start of the uprising in 2011. They discovered that there was no evidence for several highly publicised atrocities supposedly carried out by Gaddafi's forces that were used to fuel popular support for the air war in the US, Britain, France and elsewhere. These included the story of the mass rape of women by Gaddafi's troops that Amnesty International exposed as being without foundation. The uniformed bodies of government soldiers were described by rebel spokesmen as being men shot because they were about to defect to the opposition. Video film showed the soldiers still alive as rebel prisoners so it must have been the rebels who had executed them and put the blame on the government.
Anja Niedringhaus: The most amazing images by a photographer who was killed in Afghanistan
Anja Niedringhaus: The most amazing images by a photographer who was killed in Afghanistan
1/20 Iraq

A U.S. Marine of the 1st Division carries a mascot for good luck in his backpack as his unit pushed further into the western part of Fallujah on 14 November 2004

2/20 Kuwait

Hundreds of U.S. Marines gather at Camp Commando in the Kuwait desert during a Christmas eve visit by Santa Claus on 24 December 2002

3/20 Iraq

Local Iraqis flee from Basra in southern Iraq as smoke looming over the city can be seen in the distance on 29 March 2003

4/20 Iraq

President George W. Bush carry a platter of turkey and fixings as he visits U.S. troops for Thanksgiving in Baghdad on 27 November 2003

5/20 Iraq

Iraqi woman Rahab Ali al-Musawi (18) looks on while her three month old son Ali Mohammed cries during his treatment for diarrhea in the General Teaching Hospital for Children in Baghdadon 3 June 2004

6/20 Afghanistan

An Afghan boy holds a toy gun as he enjoys a ride with others on a merry-go-round to celebrate the Eid al-Fitr festival in Kabul on 20 September 2009

7/20 Libya

A Libyan rebel urges people to leave as shelling from Gadhafi's forces started landing on the frontline outside of Bin Jawaad, 150 kilometers (93 miles) east of Sirte, central Libya on 29 March 2011

8/20 Afghanistan

Injured United States Marine Cpl. Burness Britt reacts after being lifted onto a medevac helicopter from the U.S. Army's Task Force Lift "Dust Off", Charlie Company 1-214 Aviation Regiment on 4 June 2011

9/20 Afghanistan

A German soldier lifts weights at his combat outpost in Char Darah, outside Kunduz on 17 September 2011

10/20 Afghanistan

Hundreds of Afghans wait to see the holy flag at the Kart-e Sakhi mosque in Kabul on 21 March 2013

11/20 Afghanistan

An Afghan woman waits in a changing room to try out a new Burqa, in a shop at in the old city of Kabul on 11 April 2013

12/20 Afghanistan

An Afghan National Police officer mans a checkpoint in the outskirts of Maidan Shahr, Wardak province on 15 May 2013

13/20 Afghanistan

Pakistani bank notes covered in blood are displayed on the body of a dead suicide bomber after police found them in his pocket after an attack on the former Afghan intelligence headquarters, in the center of Kandahar on 12 March 2014

14/20 Afghanistan

A giant election poster of an Afghan woman showing with her ink finger that she voted and holding up a picture of presidential candidate Abdullah Abdullah in the center of Kabul on 17 March 2014

15/20 Afghanistan

Afghan men play cards under a huge election poster showing Abdul Rahim Wardak, Afghanistan's former defense minister, shaking hands with soldiers in Kabul on 17 March 2014

16/20 Afghanistan

An Afghan special forces soldier (L) is kissed by an Afghan man after the commandos took over control of an election office after the Taliban launched an assault with a suicide bomber detonating his vehicle outside an election office in Kabul on 25 March 2014

17/20 Afghanistan

Afghan President Hamid Karzai hangs on a wall in the main room of the district municipality in eastern Kabul on 29 March 2014

18/20 Afghanistan

Afghan President Hamid Karzai (R) is displayed next to Afghanistan's late King Amanullah Khan on the parade ground of the Ministry of Defense in Kabul on 29 March 2014

19/20 Afghanistan

An Afghan carpet seller holds up a framed carpet depicting Afghan President Hamid Karzai in his store in Kabul on 30 March 2014

20/20 Afghanistan

An Afghan soldier (L) and a police man peek through a window as they queue with others to get their registration card on the last day of voter registration for the upcoming presidential elections outside a school in Kabul on 1 April 2014
Foreign governments and media alike have good reason to forget what they said and did in Libya in 2011, because the aftermath of the overthrow of Gaddafi has been so appalling. The extent of the calamity is made clear by two reports on the present state of the country, one by Amnesty International called "Libya: Rule of the gun – abductions, torture and other militia abuses in western Libya" and a second by Human Rights Watch, focusing on the east of the country, called "Libya: Assassinations May Be Crimes Against Humanity".
The latter is a gruesome but fascinating account of what people in Benghazi call "Black Friday," which occurred on 19 September this year, the most deadly day in a three-day assassination spree in the city, in which "the dead included two young activists, members of the security services, an outspoken cleric and five other civilians". The activists were Tawfiq Bensaud and Sami Elkawafi, two men aged 18 and 19, who had campaigned and demonstrated against militia violence. Among others who died was a prominent cleric, Seikh Nabil Sati, who was murdered, as well as a young man, Abdulrahman al-Mogherbi, who was kidnapped at the cleric's funeral and later found dead.
Their murders brought to 250 the number of victims of politically motivated killings this year in Benghazi and Derna, the major cities in eastern Libya. This is not counting the far larger number who have died in military operations between the different militias or the battles that have raged in and around Tripoli.
Without the rest of the world paying much attention, a civil war has been raging in western Libya since 13 July between the Libya Dawn coalition of militias, originally based in Misrata, and another militia group centred on Zintan. A largely separate civil war between the forces of retired General Khalifa Haftar and the Shura Council of Benghazi Revolutionaries is being fought out in the city. Government has collapsed. Amnesty says that torture has become commonplace with victims being "beaten with plastic tubes, sticks, metal bars or cables, given electric shocks, suspended in stress positions for hours, kept blindfolded and shackled for days."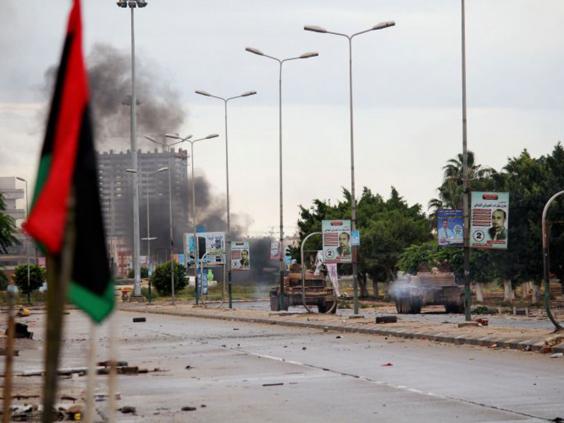 It is easy enough to deride the neo-imperial posturing of David Cameron and Nicolas Sarkozy, or to describe the abyss into which Libya has fallen since 2011. The people whom that intervention propelled into power have reduced a country that had been peaceful for more than half a century to a level of violence that is beginning to approach that of Syria, Iraq and Afghanistan. Whatever Western intentions, the result has been a disaster. In Libya, as in Syria today, Western intervention was supposedly in support of democracy, but was conducted in alliance with the Sunni absolute monarchies of the Gulf who had no such aims.
The temptation is to say that foreign intervention invariably brings catastrophe to the country intervened in. But this is not quite true: US air strikes in defence of the Syrian Kurds at Kobani and the Iraqi Kurds in their capital Erbil are justifiable and prevent massacres by Isis. But the drawback is that foreign intervention is always in the interests of the country intervening. These may, for a time, coincide with the real interests of the country where the foreign intervention is taking place, but this seldom lasts very long.
This is the lesson of recent foreign interventions in Afghanistan, Iraq, Libya and Syria. Most Afghans wanted the Taliban out in 2001 but they did not want the warlords back, something the Americans found acceptable. The US would fight the Taliban, but not confront the movement's sponsors in Pakistan, thereby dooming Afghanistan to endless war. In Iraq in 2003, many Iraqis welcomed the US-led invasion because they wanted the end of Saddam Hussein's rule, but they did not want a foreign occupation. The Americans did not want the fall of Saddam to benefit Iran, so they needed to occupy the country and install their own nominees in power.
In all three cases cited above, the West intervened in somebody else's civil war and tried to dictate who won. There was a pretence that the Taliban, Saddam, Gaddafi or Assad were demonically evil and without any true supporters. This foreign support may give victory to one party in a civil war, as in Libya, which they could not win by relying on their own strength. In Iraq, the beleaguered Sunni could not fight a US-backed Shia government so it needed to bring in al-Qaeda. Thus the conditions were created that eventually produced Isis.