Fresh starts are great, aren't they? They fill you with hope for a better future. So it's wonderful that we have a new European Commission coming in, especially one that is avowedly committed to greater transparency about the revolving door between EU politics and big business.
This is good news especially in light of recent fears about the transparency of arguably the Commission's greatest task ahead – the negotiation  of the Transatlantic Trade and Investment Partnership (TTIP).
However just as you begin to feel the faintest stirrings of hope something comes along which quite simply knocks you down and makes the terms "European Commission" and "transparency" about as likely bedfellows as Nigel Farage and an Afghan kitchen with HIV.
I'm referring to the appointment of former oil baron Miguel Arias Cañete as the new European Commissioner for Climate Action and Energy. That's right, in case you're worried one of your colleagues spiked your coffee, you did read those words correctly - a former oil baron, dubbed by the The Times 'Senor Petrolhead', has been put in charge of sorting out climate change.
Cañete was the president of two companies handling petroleum supply in Spain. He held major shares in both companies until this September and his son was also a board member until recently. His brother-in-law is now the president of both. What was that about the new Commission and a commitment to greater transparency about revolving door politics?
When Cañete became the Spanish minister for agriculture and the environment in 2011, he immediately enacted reforms to the Spanish coastal law. Cañete had links to real estate and construction companies which could benefit from the reforms – he was a former board member of one, his wife the sole representative of another and his brother-in-law was the president of the national cement manufacturer's association! Don't check that coffee, this is all still reality.
In pictures: Extremists in the EU
In pictures: Extremists in the EU
1/6 France: Marine le Pen

Marine Le Pen, 45, took over the Front National (FN), the party that her father founded, in 2011. He himself described her as "a big, healthy, blonde girl, an ideal physical specimen." She claims to have cleaned up the FN and succeeded in pushing her anti-European, anti-euro and anti-immigration agenda into the EU political mainstream

AFP

2/6 Germany: Udo Voigt

He will be the first German neo-Nazi to enter the European Parliament. The former army officer, born in 1952, was jailed in 1995 for inciting racial hatred. Formerly the leader of the far right National Democratic Party (NPD), Voigt was convicted in 2009 after he was caught handing out flyers at the World Cup which argued that a black player was not entitled to play for Germany, whose national team – the literature argued – should be made up only of white players.

AFP

3/6 Denmark: Morten Messerschmidt

Leader of the Danish People's Party, which won 27 per cent of the vote. His party has rammed 20 laws relating to immigrants and asylum-seekers through the Danish parliament, giving it the most anti-foreigner legislation in Europe. His party calls Islam "a fascist ideology" and rails against "East European criminal gangs". One party strategist said "blood ties" to Denmark should be required for citizenship, though the statement was quickly retracted.

EPA

4/6 Hungary: Krisztina Morvai

A senior member of Jobbik, the anti-Semitic and anti-Roma party on Hungary's far right wing. In 2009, she attracted international publicity after declaring: "So-called proud Hungarian Jews should go back to playing with their little circumcised dicks." In 2009, she cancelled an interview with a British newspaper, declaring in tones of outrage: "I am a decent politician and the mother of three children, yet you in the west keep portraying me as a Nazi and a Fascist."

AP

5/6 Italy: Mario Borghezio

MEP for Italy's notoriously racist Northern League, he has relentlessly attacked the nation's first black cabinet minister, Cecile Kyenge, minister for integration, claiming she would import 'tribal traditions' into the Italian government. Other elected members in the party called her "an orang-utan" and suggested that someone should rape her, so she would understand how the victims of Somali rapists felt. He attracted attention by lobbying for the creation of an EU archive of UFO sightings.

Getty

6/6 Greece: Eleftherios Synadinos

Fabulously mustachioed retired lieutenant-general in the Greek army, he was one of Golden Dawn's top candidates in the European elections, at which the overtly neo-Nazi party obtained more than 9 per cent of the vote. With its black-shirted assault squads, the Hitler photos and the party's swastika-inspired logo, it has been accused of being a criminal organisation. Its website declares: "We aren't the quiet birds of peace time, we are birds of the storm and the hurricane."
Cañete's political path is as littered with potential conflicts of interest as a shark on lifeguard duty. In his time as a member of the European Parliament between 1988 and 1999 Cañete sat on the Agricultural and Rural Development Committee where he fought for the inclusion of bull breeding in the list of agricultural activities that receive payments from the EU. His wife, Micaela Domecq Solís, is the heiress and co-owner of a bull breeding business.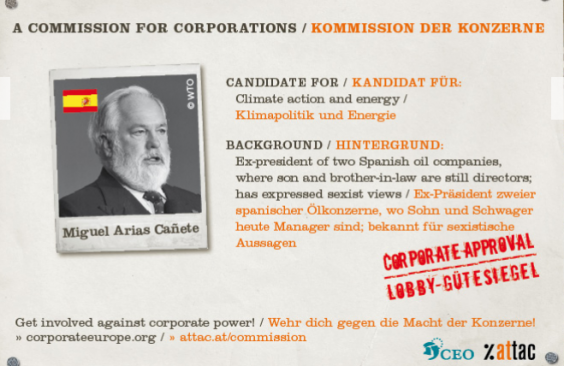 New commissioner for Environment, Maritime Affairs and Fisheries, Karmenu Vella, has been a member of the Maltese parliament since 1976, a period of time which saw UK gambling company, Betfair, granted its first overseas licence in Malta. Vella was a non-executive director on the Betfair Maltese board. He was also chairman of Orange Travel Group, which specialises in cruise ships and outbound travel to Malta or at least he was until 13 March 2013 when he stepped down. It was the same day he was appointed Maltese minister for tourism. More coffee?
These are only two names out of half a dozen new European Commissioners who have been singled out as having potential conflicts of interest by Corporate Europe Observatory, a campaign Group for greater democratic accountability in the EU.
We really shouldn't be surprised. The EU has a long history of revolving door politics, reaching perhaps its hallucinatory peak in 2013 when the Commission re-appointed an ex-EU official turned lawyer for Big Tobacco – someone who had already been through the revolving door – to head its ethical committee advising on… guess what?... that's right, revolving door reforms.
Or was that the peak? Maybe it's just the coffee we drink nowadays or maybe we're peaking right now with a new Commission that is supposedly dedicated to greater transparency but which contains a handful of Commissioners who could just as easily be viewed as insider lobbyists for big business than as disinterested politicians.
Reuse content