A new alliance of political leaders and big businesses met at the House of Lords to draw up a strategy to combat the poaching of elephants in Africa.
The group, called the Giants Club, was established by elephant-protection charity Space for Giants, with support from Jefferies Bank, to act as a forum of African politicians, executives with significant investment in Africa, leading public figures and wildlife conservationists.
No such similar wildlife conservation organisation covering both the business and political spheres has previously existed.
Among those at the 17 December event were diplomats from Tanzania, Kenya and Gabon. Representatives from the mining industry included David Morgan, Chairman of NordGold, Socrates Vasiliades, head of Core Mining, and Ian Middlemas, Chairman of  Equatorial Mining, 
Clive Newall and Philip Pascal, President and Chairman of First Quantum Minerals respectively, and Peter Bacchus, Global head of metals and mining at Jefferies Bank, also attended the event along with World Cup winning England rugby player Will Greenwood.
Photojournalist Kate Brooks' images reveal elephants' plight
Photojournalist Kate Brooks' images reveal elephants' plight
1/6 An orphaned baby elephant is fed by a ranger

Kate Brooks

Kate Brooks

2/6 The remains of a poisoned elephant

Kate Brooks

Kate Brooks

3/6 Kenyan rangers patrol for poachers

Kate Brooks

Kate Brooks

4/6 One of the boxes of seized ivory items

Kate Brooks

Kate Brooks

5/6 Seized tiger heads at the National Wildlife Property Repository

Kate Brooks

Kate Brooks

6/6 Kenya Police Reserve head out on their daily patrol for poachers

Kate Brooks

Kate Brooks
Lord de Mauley, Parliamentary Undersecretary of State for natural environment and science, said: "The plight of the elephant is truly devastating and I hope that events such as this can start to have a big impact."
Dr Max Graham, CEO of Space for Giants, said that the presence of the mining companies was particularly significant as they had financial and corporate influence in not only Africa but the Chinese market.
The majority of poached tusks are smuggled to Asia, and particularly to China, where demand for ivory products is growing as many in the newly-expanded middle class continue to view them as aspirational items.
"The captains of extractive industries lie at the interface between the demand for commodities in China and the supply of those commodities from Africa," said Dr Graham. "We believe that they can be brokers for change in Asia with regards to demand for wildlife parts."
The last ten years has seen a dramatic increase in the ivory trade and, consequently, a dramatic decline of wild elephant populations. Around 100 elephants are now being killed each day, and mortality rates far outweigh breeding rates.
One of the African nations at the forefront of elephant protection is Gabon, where President Ali Bongo Ondimba has instigated a series of conservation initiatives to protect the country's forest elephant population.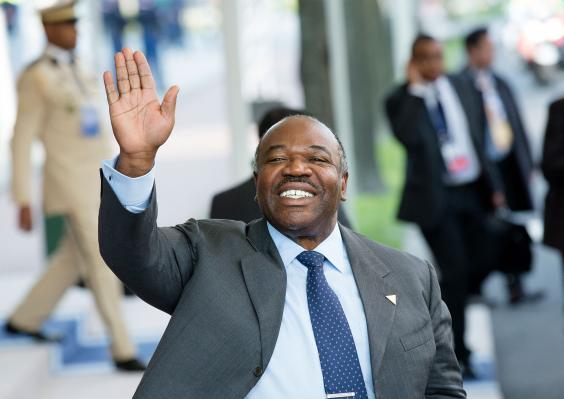 Dr Graham will visit Gabon in the new year as part of a delegation meeting with the president to learn of further protective measures to safeguard the future of this elephant sub-species.
Space for Giants was the recipient of The Independent's 2013 Christmas Campaign. Originally based out of Laikipia in Kenya, it has seen poaching rates cut by 80 per cent in the regions where it operates.
This has been achieved through a combination of planning conservation areas, securing political goodwill, and supporting well-trained rangers on the ground to directly combat poachers.
Membership of the Giants Club involves a commitment by its members to align political and business concerns with conservation objectives.
Reuse content