The West Wing is great, right? It's one of the classic TV shows – seven straight series of solid leftie wish fulfilment.
A debate around liberal credentials has emerged this week, after emails from its writer and creator Aaron Sorkin were leaked, in which he makes some rather sexist comments about female actors not being as good as their male counterparts. Although he made two gracious exceptions. "Helen Mirren and Meryl Streep can play with the boys, but there just aren't that many tour-de-force roles out there for women."
As The Independent's Rosie Millard wrote in response: "Well, if that is the case, whose fault is that? Surely not the screenwriters, Sorkin?" And it's true - if The West Wing is anything to go by, Sorkin has been failing his female characters for a while now.
For all the show's erudite moments of chest-thumping righteousness, what about all of those times when President Bartlet talked down to the most senior female member of his administration because she didn't understand some basic policy issue. Or carpet-bombed her with condescension, like the bombers he so often dispatched did to fictional Islamic countries?
How about that time when handsome liberal hero Sam Seaborn tried to save a high-class escort who was paying her way through law school? Or when he told a highly qualified blonde lawyer that she "could make a good dog break his leash"?
What about all those years progressive firebrand Josh Lyman held his smart but ditzy secretary in employment captivity and disregarded all of her opinions, sometimes for the explicit reason that she was a woman?
Sony Cyber Attack: The Worst Affected In Hollywood
Sony Cyber Attack: The Worst Affected In Hollywood
1/13 Leonardo DiCaprio

The actor's 'horrible behaviour' over Steve Jobs biopic was branded 'actually despicable' in leaked Sony executive emails

Getty Images

2/13 Seth Rogen

Seth Rogen and James Franco cancel Interview (North Korea-baiting film) press appearances after Sony hackers' threats

3/13 James Franco

Seth Rogen and James Franco cancel Interview press appearances after Sony hackers' threats

AP

4/13 Aaron Sorkin

The screenwriter has said that the people who hacked into Sony Entertainment Pictures and released private emails are 'threatening the lives of whole families'

Theo Wargo | Getty Images for Nantucket Film Festival

5/13 Amy Pascal

Also leaked: Sony Pictures co-chair Amy Pascal's email joking about President Barack Obama's race

Getty Images

6/13 George Clooney

Leaked email chain between Pascal and George Clooney appeared to reveal just how much the actor struggled to cope with the criticism of his The Monuments Men

Getty

7/13 Barack Obama

Sony executives Scott Rudin and Amy Pascal's leaked email exchange jokes about Barack Obama favouring films with black actors

Getty

8/13 Channing Tatum

Channing Tatum's leaked Sony executive email responding to the success of 22 Jump Street with Jonah Hill, which became the highest grossing R-rated comedy ever when it opened in June this year

Getty Images

9/13 Jaden and Willow Smith

Will Smith and Jada Pinkett Smith's children Willow and Jaden Smith found themselves in the Sony inbox as well

Getty

10/13 Mark Gordon

DiCaprio's exchange with Jobs TV producer Mark Gordon (pictured) was leaked too

Getty Images

11/13 Princess Beatrice

Sony hackers linked to North Korea revealed Princess Beatrice earns $30,000 a year

12/13 Michael Fassbender

Aaron Sorkin's leaked emails claimed he had no idea who actor Michael Fassbender (pictured) was

Getty Images

13/13 Scott Rudin

Information leaked has also included embarrassing emails involving high profile producer Scott Rudin attacking Angelina Jolie

Getty Images
There are, it turns out, quite a few occasions of breathtakingly overt sexism throughout the show. It can be – as it was when I very recently binge-watched the whole lot in about two months – quite a shock to one's modern feminist sensibilities.
There's a reason for that. Well, there are several, one of which being that even in 1999 it was apparently okay to be colossally misogynist on prime time TV. Mainly, however, it's that series auteur Aaron Sorkin has never quite stopped being a big fat sexist, albeit one with a spectacular barber.
He has considerable form; since The West Wing solved liberal democracy for all time round about 2004, he's been involved with various other projects, all of which contain what could most kindly be described as certain "unfavourable" tropes.
Take the international megahit Facebook movie, The Social Network, in which all women are either trophies or sexy nutcases, or Studio 60 on the Sunset Strip, which functions as a 22-episode middle finger to his ex-girlfriend Kristin Chenoweth, with the two central characters playing scarcely fictionalised versions of him and her.
Then there's The Newsroom, which is most notable for an extended sequence - broadcast last week - in which an important news man tells a weeping teenage rape victim that she needs to worry a lot more about false accusations affecting young men's future careers than justice for survivors.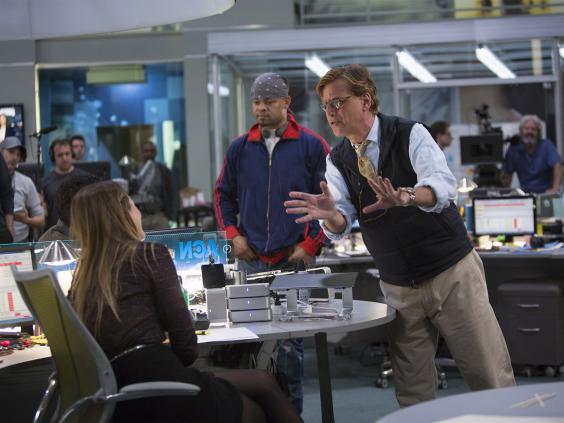 Despite all this, the West Wing remains somehow unimpeachable television. In a lot of ways, it is great work; there're many compelling characters – not all men – scything and at times soaring dialogue, and great stories. When President Bartlet isn't patronising his wife, he really looks like he could be the leader of the free world of all of our dreams.
None of this can help the disservice it does to its female characters, however. CJ is gutsy and sharp and funny – and the men invariably let her know they think this by only ever commenting on her looks (unless there's some serious government business going on and she needs something basic spoon-fed to her).
Remember Mandy? She had "opinions" and therefore drops off the face of the earth. Amy, who also has "opinions", is funny, and sometimes cheeks Josh (AKA Sorkin in disguise), is punished for her autonomy by constantly losing her job and causing calamities. And the way she's written, you can tell that Sorkin's pleased he's created such a spiky special snowflake of a character.
His entire oeuvre is fat with prehistoric attitudes to women and their place in society. But now it's 2014, he simply isn't able to get away with it unscrutinised any more.
The show is known for its lecturing on how the left can beat the right, but this might not be the most progressive legacy of The West Wing. Unintentionally or not, it shows us how much better TV's treatment of women can be, and what writers should avoid. Because sometimes, letting Sorkin be Sorkin just isn't good enough.
Reuse content