The invitation to the New York Public Library offered the chance to forget the madness of King Trump for a blessed moment and dive into the madness of Gotham. It didn't disappoint. The Beaux Arts edifice glowed with spinning stars and stripes, models dressed as Lady Liberty graced its granite steps. Inside, book spines shuddered to the beat as preternaturally sexy guests teetered on heels and competed for turns in the juddering dodgem cars in its main hall. 
Fashion Week exists to distract us from all things woeful. Flaps of plaid and flashes of skin are the currency of choice. Madonna in the house? Check. Kylie pushing past? Check. Forget the Californians cowering beneath a dam on the point of bursting. Beauty and the next Bulldog gin take precedence. Donald Trump's administration on the brink of spinning apart? Pfft. Party on.
So it was jarring when at 11.05pm precisely my cellphone lit up to reveal that Michael Flynn had resigned as national security adviser. My ears were briefly deaf to the cacophony as I digested the alert. But if anyone else had become aware of the latest bombshell to rattle Washington, they were showing no signs of it. Boom, boom, boom. Preen, preen, preen.
Flynn-gate unfurled so swiftly it never earned the suffix. It's only been days since The Washington Post revealed that the barking General – you recall him leading "lock-her-up" chants at the Republican National Convention – had, in fact, broached the subject of US sanctions when he phoned the Russian ambassador to the US in December, in spite of his protestations to the contrary (protestations that Vice President Mike Pence was to publicly repeat).
The country so far has mostly shrugged. Everyone has things more pressing than Trump's HR problems. He was elected on promises to restrict immigration and create new jobs, not to be a perfect office manager. Indeed, chaos and nurturing inter-office rivalries were the modus operandi of his businesses and his campaign. Why would anyone expect anything different now? He will find a new, hopefully less unhinged, security adviser soon. With the Kremlin as his Valentine, Flynn will prosper once more advising governments and potentates.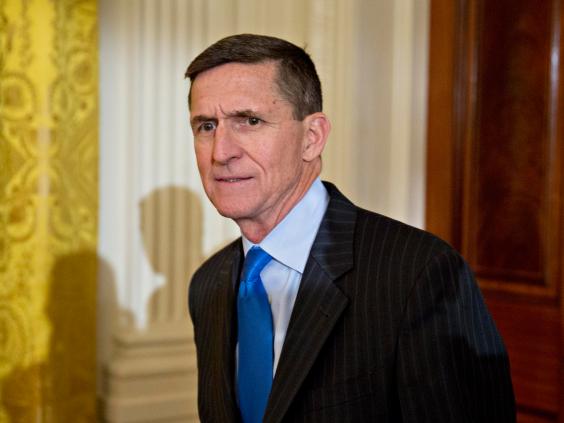 Yet, react we should. First, a little schadenfreude. If you were a supporter of Hillary Clinton, you might want to remind the victors of their fixation on her so-called email scandal. ("Lock her up.") Part of the case was that any hacking into her accounts might have opened her to blackmail by the Russians – precisely what the Justice Department now says Gen Flynn was potentially facing having lied about the real content of his conversations with Russia's ambassador. 
And of course there is something satisfying about this West Wing being laid bare as the circus it is, particularly given its arrogance on the airwaves. Such certainty, such disdain for those who dare question or criticise it. "We have a President who has done more in three weeks than most presidents have done in an entire administration," Stephen Miller, senior policy adviser, insisted in a testy interview with George Stephanopoulos on ABC News.
What? Yes, Trump signed all those executive orders and brandished them before the cameras like so many Rotary Club citations. But not as many as Barack Obama at this stage in his administration. (And the noxious travel ban is on the rocks.) How about some other numbers, like the scores of ambassadorships that have not been filled and the thousands of empty seats all across government at just below cabinet level still remaining? Mr Obama had by now sent a $700bn stimulus law to Congress, seen it approved by both chambers and signed it. How many pieces of draft legislation has Trump sent to Capitol Hill? You guessed it. Not a one.
No-drama-Obama also ran a White House that was for the most part watertight. Castle Trump is leakier than a sodden nappy. Some of what we are hearing is trivial. West Wing staffers have allegedly held meetings in the dark because they can't figure out how the lighting system works. Trump spends evenings pottering about alone and watching TV upstairs in a dressing gown. Others less so. It was a leak, of course, that led The Washington Post to its Flynn scoop. 
This exasperates the President. "The real story here is why are there so many illegal leaks coming out of Washington? Will these leaks be happening as I deal on N Korea etc?" he has pleaded on Twitter. Can he be surprised if some inside the Security Council are so demoralised – and afraid for their own jobs – that they feel the need to speak out? If you turn the White House into a battlefield, the wounded are not going to die silently. They are so fearful of being accused of leaking, meanwhile, they have, according to the Post, resorted to posting their complaints on a chat app called Confide that erases their words almost as soon as they are typed. 
How can they not be moved to squeal when they see their new leader conferring with top national security advisors, plus Shinzo Abe of a Japan, at a patio table at his Mar-a-Lago club in Florida after learning of another North Korea missile test? Presidents when travelling are meant to confine themselves to sealed-off rooms, or tents, before engaging in sensitive foreign-affairs business. This happened in full view of other club guests, who began posting it on Facebook.
We can giggle if we want to. It feels almost like a release of tension. Trump is being humiliated because he didn't get it that running a superpower is not the same as running a reality television show. But on balance I'd say we should be paying attention – and freaking out. 
The United States is meant to be a rock in a dangerous, shifting world. Instead we have a country run by someone who, before his inauguration, took a phone call from the President of Taiwan, seemingly on a lark. (He has since been forced to reassure Beijing that the US still believes in the One China policy.); who hung up on the Australian Prime Minister because he didn't like how the call was going; whose spokesman called the recent special forces disaster in Yemen that killed 30 innocent civilians and one US soldier a "success"; and whose first response to the latest North Korea provocation was to fiddle with napkins. 
It is reassuring that in Gotham we can still party like there is no Trump tomorrow. But we have four more years of Trump tomorrows (barring death or impeachment). And when the next foreign crisis arises, we will want something more than a national security circus.