Midway through his exponentially angry speech - he looked fit to bust a blood vessel - Rudy Giuliani told Republicans at their convention on Monday night that he was "sick and tired of the vicious, nasty campaign," against Donald Trump. The culprits, of course, were the media and also Hillary Clinton.
On the floor of the convention, they were lapping it up. "Rudy! Rudy!" they chanted as the former New York Mayor hogged the stage, describing an America cowering in fear amidst swirling violence, including violence against police. Only one man could save civilisation.
"The vast majority of Americans today do not feel safe," he roared. "They fear for their children. They fear for themselves. They fear for police officers who are being targeted with a target on their back." He railed against Democrats for refusing to use the term 'radical Islamic terrorists' and issued a chilling battle cry: "You know who you are, and we are coming to get you."
The designated theme of Monday's session was 'Keep America Safe Again', a variation of the 'Make America Great Again' tagline that has been Mr Trump's slogan from the day he declared. (Tuesday's session about the economy came under the rubric, 'Make America Work Again'). To set it up, the  Trump folks precisely needed to establish the premise that no one is safe today.
And that saw them descending further into the muck than ever before, peddling not just a dishonestly dystopian vision of this land but deliberately stoking popular fear and dread. And as they do it, they mean to stoke not just distrust but unbridled hatred of Ms Clinton. If their's is not a campaign of "nasty" and "vicious", it is by any measure one of fear and loathing.
It wasn't just Mr Giuliani's speech, evoking mass fear with such ferocity it was a wonder anyone dared go out into the Cleveland night when the gavel fell at just past 11pm, and which completely disregarded, by the way, the statistical reality that crime continues to fall in America. 
Nor was it only the fault of the last speaker, retired Army Lt. Gen. Michael Flynn and one-time Director of the Defence Intelligence Agency serving President Barack Obama, who similarly summoned the imminent destruction of America by foreign enemies. "Wake up America!," the General, who was briefly on Mr Trump's list of possible running mates, bellowed.
"War is not about bathrooms," he added, suggesting that by supporting the rights of transgender people to use the facilities of their new identity, Democrats were putting the nation at risk. "War is not about political correctness or words that are meaningless. War is about winning."
Far more egregious was the wheeling out of a succession of mothers and siblings who had lost loved ones either to violence committed by people identified as illegal immigrants or - most jarringly - at the hands of the extremists who burned down the US consular compound in Benghazi in September 2012 to help blacken Ms Clinton and Mr Obama and elevate Mr Trump.
Their grief was real and gripping, there is no arguing that. A woman called Mary Mendoza took the podium to describe with real anguish how her son, a police officer, was killed by a man who was not only high and drunk, but, more to the point apparently, was in the US illegally. But she concluded: "A vote for Hillary is putting all our children's lives at risk. It's time for Donald Trump."
Another mother told a not dissimilar story, which drew gasps of horror when she added that the man responsible for her son's death had come from Guatemala, as if that should explain everything. This was a raw moment, for sure, but it was also raw racism. Again the political implication was clear: it was the Obama-Clinton crew who had let him in.
This amounts to the unabashed exploitation of private people's grief - and their understandable need to find explanations and impart blame - to a point that has no place in a national political convention. But the lines between acceptable and unacceptable seem irrelevant to a candidate, who, after all, has spoken openly about deporting all 11 million illegal immigrants, presumably rounding them in internment camps in the process, and profiling all Muslim Americans.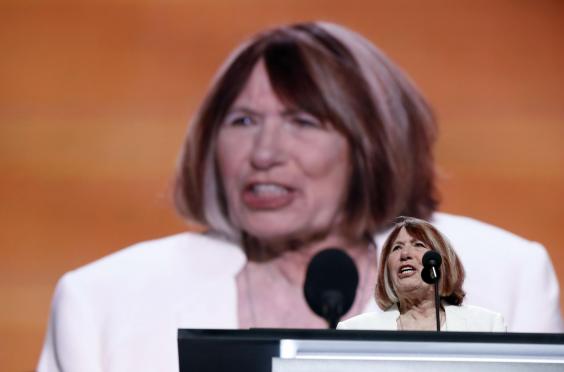 Most striking was the time given to Pat Smith, whose son was one of the four Americans who perished in Benghazi. She not only said that Ms Clinton had effectively killed her son - this time disregarding the most recent bipartisan report from Congress that found no cause to assign blame to the then Secretary of State - and then said she should be behind bars.  "I blame Hillary Clinton personally for the death of my son, personally," she said. "How could she do this to me?
At one point while Gen. Flynn was talking, some of the delegates close to this reporter on the floor started to chant, "Lock her up!"  He responded from the stage: "You're damn right. There's nothing wrong with that." Isn't there? Really? And he was in charge of Defense Intelligence.
Mr Giuliani, who as Mayor back in the time used to infuriate some Republicans with his actually progressive stances on things like gay marriage (he once appeared in drag at a political review night) is right to abhor campaigns that are vicious and nasty. But it was the campaign he has been such an enthusiastic spokesman for that he should have been talking about. 
.