It was the Grammys last night, the biggest music awards show of the year and a galaxy of pop stars was out doing GIF-worthy things. But, alas, only five can make the Independent Voices cut which, statistically speaking, makes this a more exclusive prize than an actual Grammy. Here they are then, in reverse order of greatness...
5. Jay Z shouts "You're welcome!" to Fun after they accept their award. Replace that sophisticated brandy glass with a can of Tenants Super and this is a very different picture. (Gawker)
4. Tyler the Creator and Frank Ocean's mum celebrate the brilliance of Ocean's 'Forest Gump' performance, in their own personal ways.
3. Taylor Swift dances like nobody's watching. Which is almost true. Apart from the 40 million plus people watching around the world. (dailydot.tumblr.com)
2. Justin Timberlake has been threatening to do this for some years, but here - caught for all eternity in GIF form - is the exact moment he brought sexy back. (nymag.com)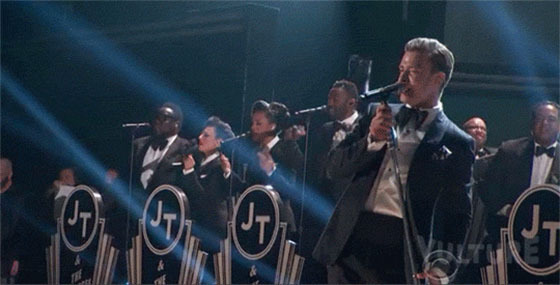 1. Chris Brown earns Adele's scorn (note the stink eye) and everyone else's by sitting down during a standing ovation for Frank Ocean, due to their recent falling out, presumably. Rihanna, WHY?? (Buzzfeed)
Reuse content