Listening to Cuyahoga County Prosecutor Timothy J McGinty explain why a Cleveland police officer opened fire on a 12-year-old boy playing in a public park within two seconds upon arriving on the scene, reminded me of Elaine Rothenberg, a 66-year-old white woman who brandished a toy gun at cops in Torrington, Connecticut, just two days ago.
Yelling that she hated the police, Rothenberg then screamed. "What are you doing? Shoot me!" she shouted at them. "What are you, scared?"
Apparently, they weren't scared enough to be "in fear of their lives", as was the case for the cop who shot and killed Tamir Rice. Rothenberg was eventually taken into custody. Alive.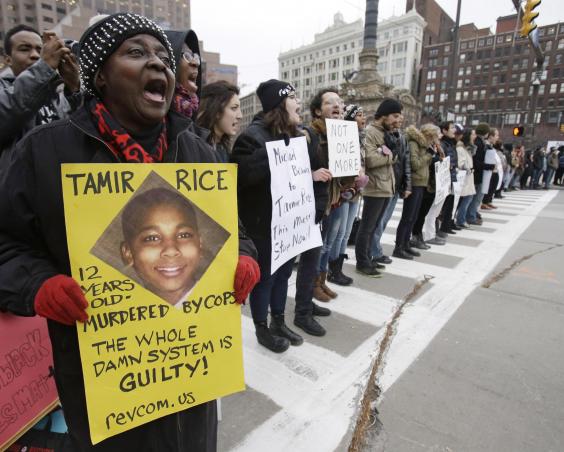 There are at least eight other instances recently in which a white person pointed a gun at a law enforcement official and lived to tell the story. None of their names trended on social media because there was no injustice in their interactions with the officers who would have most likely emptied their clips had menacing suspects been black.
Police officers apparently felt the lives of the white people who brandished weapons, fake and real, at them were worth saving— even if it meant their blood being spilled in the process.
But black people, as the non-indictment of the cop who killed little Tamir proved, are the obvious and invariable exception. Under America's white supremacist law enforcement system, #WhiteLivesMatter; Black lives do not. It's that simple.
America is viewed as "The greatest country in the world" by many people who see our borders as a place of refuge from tyranny, political suppression, civil war, ethnic cleansing and other forms of abuse.
Though, the same country many refugees and immigrants see as a safe haven, Monday's decision not to indict the cop who killed Tamir reveals America's parks aren't even safe enough for a little black boy to play in with a toy gun, even in state such as Ohio where people are legally allowed to openly carry weapons (with a permit). If today's decision surprises you, it really shouldn't. No black child or adult is safe with a police officer's anti-blackness.
In October, a school resource officer, Ben Fields, body slammed a 16-year-old black girl out of her desk at a South Carolina high school after she refused to leave the classroom. Though the cop was fired, the little girl has been charged with a misdemeanor for "disturbing the schools"; her friend who video recorded the incident was also arrested and charged with the same offence.
This summer, we saw former McKinney, Texas, police officer Eric Casebolt slam a 15-year-old girl to the ground for doing nothing at all. Casebolt resigned, but has not been charged with any crime. His lawyer and other supporters cite his response to two suicide calls earlier that day as taking an emotional toll on him, thus "explaining" his behaviour.
There is always an "excuse" for a police officer to kill black people in America.
We saw it just a few days ago in Chicago when local police accidentally shot a 55-year-old black woman during their response to 911 call about a 19-year-old mentally ill college student in distress, whom they also shot and killed; the mayor's office issued a statement saying the ways in which police officers respond to mental health emergency calls must be reformed.
No one has much hope that the officer who shot and killed the woman and teenager will face any punishment because it was, as Chicago officials are describing the encounter, an "accident."
This is where we are as black people in America when it comes to police officers: a tragic "accident" waiting to happen. That is why I wrote in the Washington Post several months ago why I am against community policing, a highly touted law enforcement concept by President Barack Obama that requires cops to patrol communities to get to know the community better. The programme, as its strongest supporters claim, will help cops minimise cases like Tamir Rice.
Though, such a claim is dubious at best. If a cop is so willing to pull his gun on a 12-year-old black child within seconds of encountering him, what does that say to the communities that will be bombarded with cops who we know will get away with killing us, even if they are captured on video choking us to death as was the case of Eric Garner?
If you are black in America, unarmed or not, cops can kill you and will never face any punishment.
If you are white and point a gun at a cop, you just may live and your name will never become a hashtag. What was so unique about 66-year-old Rothenberg that made the officers who encountered her exercise restraint and what was so dangerous about little Tamir that made the Cleveland cops who saw him open fire within seconds?
Rothenberg was white and her life mattered to them. Tamir was black and his didn't. I just don't see any other explanation. I've been writing about police killings all year and I have cited study after study pointing to the racial bias of police officers. Not today.
Tamir was killed because he was black and the cop who pulled the trigger didn't think his life deserved a second look like Rothenberg's. That is the reality of being black and encountering a cop in the so-called "greatest country on earth."
And until cops start going to jail for killing black children like Tamir, they will continue killing us and hiding behind the legal system that consistently proves that it was never designed to protect black life in the first place.
Terrell Jermaine Starr is a New York City-based journalist who writes about US and Russian politics. Follow him on Twitter: @Russian_Starr.