Rupert Murdoch may find himself vulnerable following the verdicts in the phone-hacking trial. He was a director of News International, the company that owned the News of the World at the time when phone hacking was rife. Indeed he has owned the newspaper since the late 1960s.
Under the phone-hacking legislation (Regulation of Investigatory Powers Act 2000), Section 79 describes "the criminal liability of directors" where an offence "under any provision of this Act … is committed by a body corporate and is proved to have been committed with the consent or connivance of, or to be attributable to any neglect on the part of a director, manager, secretary or other similar officer of the body corporate". The key word here is "neglect". It means that it is not a defence to say that "I didn't know what was going on".
Now four of Mr. Murdoch's then employees have been found guilty of phone hacking charges. At the start of the trial at the Old Bailey, the jury was told that three former senior News of the World journalists had pleaded guilty to conspiring to hack phones. They were Neville Thurlbeck, the News of the World's former chief reporter, Greg Miskiw, a former news editor at the paper, and James Weatherup, a former senior reporter on the Sunday tabloid. Now added to this list is former News of the World editor, Andy Coulson, who was found guilty today.
In fact Mr. Murdoch resigned from the board of News International in July 2012 just at the time when Rebekah Brooks and Mr. Coulson were being charged. In addition, the Department of Culture select committee had stated on 1 May 2012 that Mr. Murdoch "exhibited willful blindness to what was going on in his companies and publications", and stated that he was "not a fit person to exercise the stewardship of a major international company".
Now I subscribe to the view that everything good and everything bad that organisations do originates from the way the people at the top conduct themselves. So I shall be watching with interest to see whether the crimes committed by the staff employed by Mr. Murdoch are finally laid at his door. The public interest demands that we can understand whether his role was truly innocent or not.
Tabloid newspapers had added phone hacking to their traditional methods of invading privacy. These newspapers caused widespread trauma, misery and distress. In most cases there was not a shred of "public interest" that could justify their intrusion.
The scale of it was well brought out by Lord Leveson. His report gives many examples. Sienna Miller, not knowing that her phone was being hacked, was led falsely to accuse close family members and friends of leaking stories to the press. Max Mosley expressed the belief that the constant, unflattering and unpleasant coverage of him was a contributing factor in the suicide of his son. In a similar case, Margaret Watson set out her conclusion that inaccurate and partial reporting of the murder of her daughter, Diane, contributed significantly to the suicide of her son, Alan, who was unable to cope with the unsubstantiated allegations leveled at his dead sister.
Then there are the notorious incidents involving the Dowlers, the McCanns and the wrongly arrested Christopher Jeffries. Of the McCanns the Leveson report observed: "They had become a news item, a commodity, almost a piece of public property where the public's right to know possessed few if any boundaries". The completely innocent Christopher Jefferies told Lord Leveson that "the tabloid press had decided that I was guilty of murder and seemed determined to persuade the public of my guilt".
Hacking trial: The verdicts in full
Hacking trial: The verdicts in full
1/7 Rebekah Brooks

The former News of the World editor and News International chief executive has been cleared of conspiracy to hack phones; misconduct in public office for allegedly signing off payments to a Sun journalist's 'number one military contact' between 2004 and 2012; conspiracy to pervert the course of justice after seven boxes were allegedly removed from the NI archive just days before 2011 arrests

2/7 Andy Coulson

Former News of the World editor and Downing Street spin doctor guilty of conspiracy to hack phones from 2000 to 2006. The jury failed to reach a majority verdict on charges of conspiracy to commit misconduct in a public office by allegedly paying police officers for two royal directories. He could face a retrial.

3/7 Stuart Kuttner

Retired managing editor cleared of involvement in phone-hacking conspiracy spanning six years

Reuters

4/7 Cheryl Carter

Brooks' former personal assistant, cleared of conspiracy to pervert the course of justice by removing seven boxes from the News International company archive just days before she was arrested in 2011

5/7 Charlie Brooks

Racehorse trainer and Rebekah Brooks' husband, cleared of perverting the course of justice around the time of police searches in July 2011

6/7 Mark Hanna

Former News International director of security, cleared of perverting the course of justice

7/7 Clive Goodman

The former News of the World royal editor, could face a retrial after the jury failed to reach a verdict on charges of committing misconduct in public office for allegedly paying police officers for two royal directories
Cruel pressure was put on News of the World reporters. After joining the tabloid, Dan Evans was told he "might as well jump off a cliff" if he could not produce a front-page story, the court was told. Mr. Evans described how he systematically targeted scores of celebrities and public figures in a desperate search for exclusive stories. He explained how he had a long list of names and numbers that he used on a daily basis to attempt to intercept the voicemails of famous people. Phone-hacking had become a sort of mania.
Casually wrecking people's lives without a shred of justification was, unfortunately, not the end of it so far as the News of the World was concerned. As Lord Leveson said of the tabloid press in general: "The press are in a unique position as they carry a very large megaphone; if people cooperate, that megaphone can be used to enhance careers: for those who complain or challenge titles, the megaphone can be used to destroy them."
Politicians were particularly vulnerable to this pressure. Tom Watson MP had his suspicions when the Department of Culture select committee turned to phone-hacking. He said that "we were not able to establish the extent to which committee members were the targets of private investigators or journalists trying to collect information in order to either smear or influence…The committee did not have the time to act on these new allegations but I think they are so serious they warrant an inquiry by the Committee of Standards and Privileges for a potential contempt of Parliament."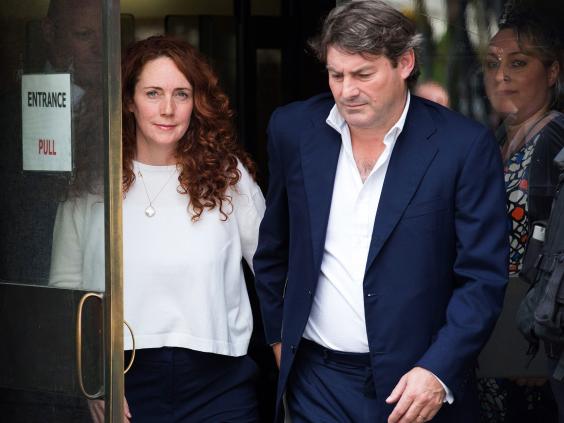 In his summing up at the end of the phone-hacking trial, Mr. Justice Saunders referred to a further example of News International's disregard of society's norms. When the News of the World hacked Millie's Dowler's phone and intercepted a message that seemed to indicate that the 13-year-old was alive and, improbably, working at a computer factory in Telford, the paper didn't immediately contact the police who were searching for her, but instead sent a six-strong team of reporters and photographers to check out the story. The police would have to wait until the reporters had done their work.
Mr. Andrew Edis QC, senior prosecuting counsel, said that at the heart of the case was the question of whether it was possible that Mr. Coulson, his predecessor as editor, Rebekah Brooks, and other senior figures could possibly not have known what was going on. After all, it wasn't suggested that Mr Coulson and Ms. Brooks had themselves mastered and used the techniques of accessing other people's voicemail messages. Rather they were charged with "conspiring to intercept communications without lawful authority". In other words, the charge was not that they had done it but that they had organised it.
In turn the two former editors' defence was essentially that they hadn't known that their reporters, whether staff or freelance, had been hacking phones to obtain stories. Mr. Coulson told the court that he had been aware in vague terms that phone hacking existed and he accepted that he did know about the source of the Blunkett story. He claimed he did not realise at the time that hacking was a crime.  He said: "I would have thought it was intrusive, a breach of privacy and lazy journalism."
In the event, the jury accepted Ms. Brooks' denials but found against Mr. Coulson. So justice was done.