The Jerwood Gallery continues to focus on its Hastings location with a powerful new show from the English painter Chantal Joffe. Although she is now based in east London, Joffe lived in Hastings as a teenager and her mother and two sisters still live there. Billed as an intimate portrait of her family, the exhibition features many of them – her sisters, nieces, husband, mother and her daughter – often  pictured on a bleak seafront, bundled up against the searing wind, with assorted dogs in tow. It's good to see another great female painter, at the same time as Tate Modern showcases the work of the South African artist Marlene Dumas.
The show has been co-curated by Rose Wylie, the wonderful painter, now in her eighties, who started the exhibition programme at the gallery. In an introductory room an artistic dialogue is opened between the two artists in portraits. Wylie has created a likeness of Joffe in pencil that I know she would appreciate, both for its scarcity of line and its anxious, enquiring facial expression. Joffe's accompanying portrait captures, also economically, Wylie's glamorous demeanour, and is wittily labelled "painter". It is always a treat to see Wylie's work – so apparently casual yet impossible to replicate. Although they had met socially and showed together at one point, the two never had the chance to converse in any depth. Wylie's part in this conversation is heartfelt, and a welcome addition to the exhibition.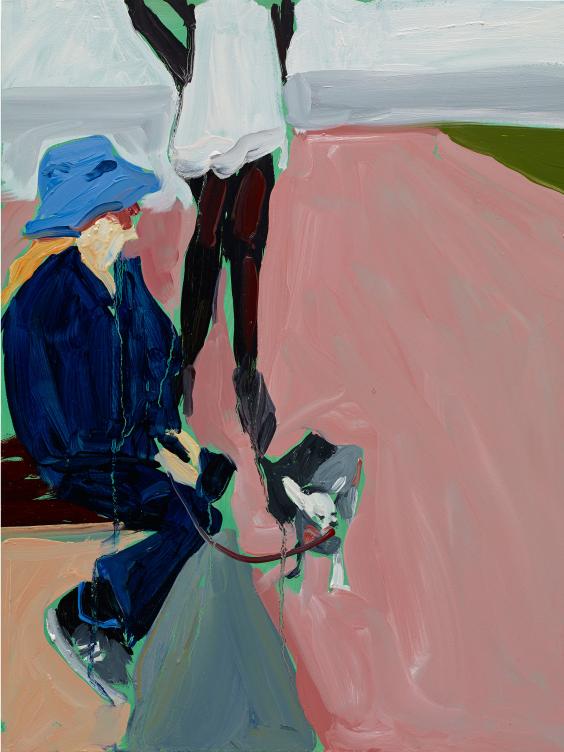 Joffe was born in 1969 in St Albans, a small town in Vermont, New England, arriving in Britain as a disaffected teenager. Unsure what she wanted to do, her parents sent her on a week-long course with the blind artist Sargy Mann who treated the teenagers – all girls – like proper art students, although they were, as Joffe points out, really only teenagers on a summer outing. She claims his influence and encouragement as one of the most important in her life, as he encouraged them to "take yourself seriously". Like all great teachers, he was an empowerer, allowing his young charges to engage with their materials: Joffe still recalls her laundry bag full of "real" paints.
Joffe is deeply serious and questions herself still, which gives her works an emotional impact. She says, "The newest thing is the best thing; the next thing is the thing I haven't made." It's good motto for all artists. She looks deeply at both historical painting and her peers, taking, as all artists do, lessons from her predecessors. One of her favourite painters is the German Paula Modersohn-Becker, whom she admires for her emotionally charged subject matter – largely naked mothers and children – and also for her palette: particularly the green highlights that appear in many of the portraits juxtaposed with heightened tones of pink. Joffe's large recent portrait of her daughter (a frequent subject), Esme (2014), captures her wearing everyday clothes with the weary expression of someone who is asked to do a repetitive activity. Posed side on, drips of colour melt off the figure and show the urgency in the  making. In another work, Poppy, Esme, Oleanna, Gracie and Kate (2014), Esme shows another side, jaunty among her peers.
Moll, Joffe's niece, is another favourite subject, and is shown over a number of years. In a portrait from 2011, Moll on the Beach, she is still a child on the cusp of adolescence. Clothed in an unflattering bathing costume, glaring at her aunt and peering into the sun, her thoughts are elsewhere. By 2014, Moll has developed into a fashionable young woman, as seen in Red Cape. She may be well dressed, but she is not the fashion model of two works nearby. Moll carries an intention in her eyes, at odds with the emotional blankness of the androgynous figures in Brunette with Clouds and Brunette by the Sea – a series based on fashion magazines.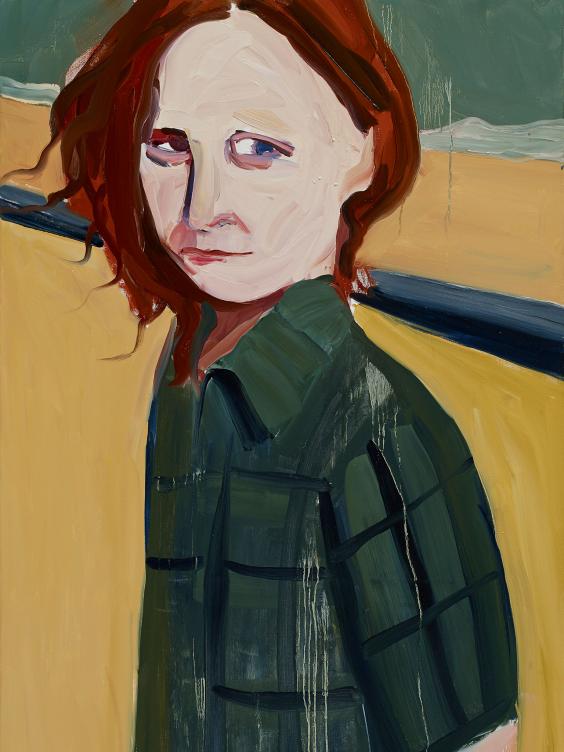 Joffe's sisters also appear. In a large work, Emily stands looking indomitable wrapped up against the weather; a dog on a lead recalls the work of Edvard Munch. There is an intensity in the work, captured in her expression and posture, and yet there is also a lightness of touch. Vita by the Sea encapsulates the sulky expression of a niece who has sat too often for her aunt.
There is one painting of her mother in the show, Pinky (2014). She is seated, her features obscured by a large blue hat and her dog on a lead; a cropped figure behind, probably Joffe herself, is gangling – the legs are wrong anatomically but painterly correct. It is a fetching work, intimate in its scale and yet respectful of its subject. How hard it was for her to paint her mother, she admits. Again there is a nod to Munch in the off-centre composition and colours, but it is contemporary in all aspects.
Nearby, the earliest work, Untitled (1999), is a portrait of a jaunty dog, an animal Joffe does well. The pooch, like the best of her portraits, is totally engaged with the painter.
Joffe rarely paints men so it is a shock to come into the last room and be confronted by a large portrait of her long-term partner. In Naked Dan, he is lying, in abandonment, on the sofa in her studio against colourful pillows and a sweet feminine fabric. The portrait recalls the female odalisques of Matisse, not only in its pose but also in the solid body set against an abundance of fabric. The pose is intimate, trusting; Dan, legs splayed, his less than perfect body blocked in and his expression detached, is seemingly deep in thought. It is a portrait done through the tough eyes of a critical painter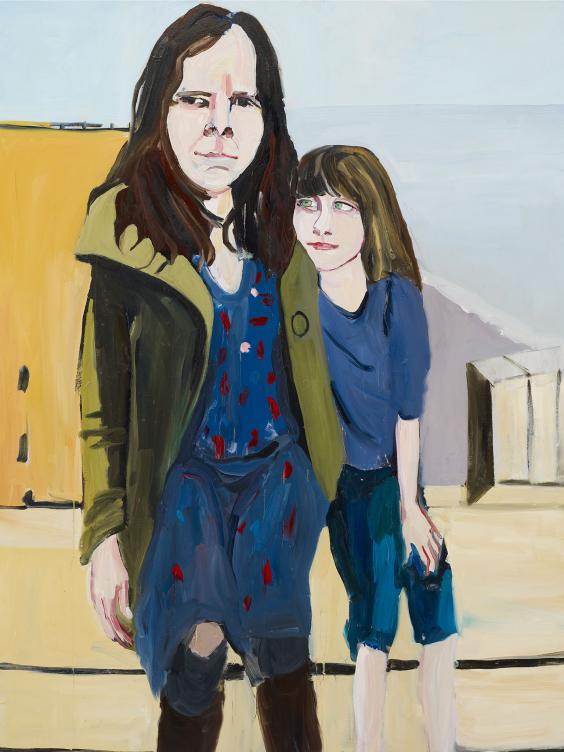 Joffe paints quickly; on a good day she can complete a whole work. (Dan took two long days.) There is none of the obsessive layering of paint of the British school of painters Frank Auerbach and Leon Kossoff, although she admires both. What she shares with them is that her strongest works come out of portraying the people she knows best, including herself. Although her paintings look careless and free, the thought behind them is deep and perspicacious, and the final images are distinctive in a good sense. When you see one, whether a self-portrait, or a new work, still wet, you instantly know that it is hers. Unflinching in its observation, unflattering as it comes, it is how she feels. Recently she has been concentrating on herself as subject, peeling off more and more layers. Like the late Lucian Freud, whose great self-portraits I most admire, she paints herself honestly, scrupulously chronicling the changes in her body through child-bearing and ageing.
It is exciting to see a show that highlights two great British woman artists – Wylie, who had to wait until her late seventies to be discovered, is placed alongside a woman roughly half her age, which opens a dialogue that I hope will continue. The Jerwood has captured Joffe at a fortuitous moment; she has a busy schedule, with shows opening at her gallery in New York and the Jewish Museum in the early summer, as well as a group show at the National Portrait Gallery. As Joffe tells me after I visit the show, "I wanted to say I love Hastings, and painting my family here has come about naturally as an extension of that. We are always walking the dogs on the beach." This is an artist to watch, and a moment to celebrate. 
Chantal Joffe, Beside the Seaside, Jerwood Gallery, Hastings (01424 728377) to 12 April
Reuse content