We thought we'd seen it all at David Hockney's blockbuster show A Bigger Picture, at the Royal Academy last year – but now a massive new show in the US will show yet more new works.
David Hockney: A Bigger Exhibition, at San Francisco's de Young Museum, which opens today (accompanied by a lavish catalogue), has new works never exhibited in the UK. These include the black-and-white charcoal series The Arrival of Spring in 2013 (Twenty Thirteen), of Woldgate Woods, in Yorkshire, which were finished in May. They have been described by Hockney, 76, as capturing "the bleakness of the winter and its exciting transformation to the summer".
Hockney worked from a large pad of paper, sitting in the passenger seat of his car in the woods, in east Yorkshire, near his UK home in Bridlington, where he has done many of his other works, including the recent iPad landscape drawings.
Other new works are portraits done in charcoal on paper including Self Portrait (17 December, 2012) and a touching drawing of his sister, Margaret Hockney (14 February, 2013). He has just finished a series of portraits in acrylic – a last-minute addition to the show – of friends and acquaintances including Larry Gagosian.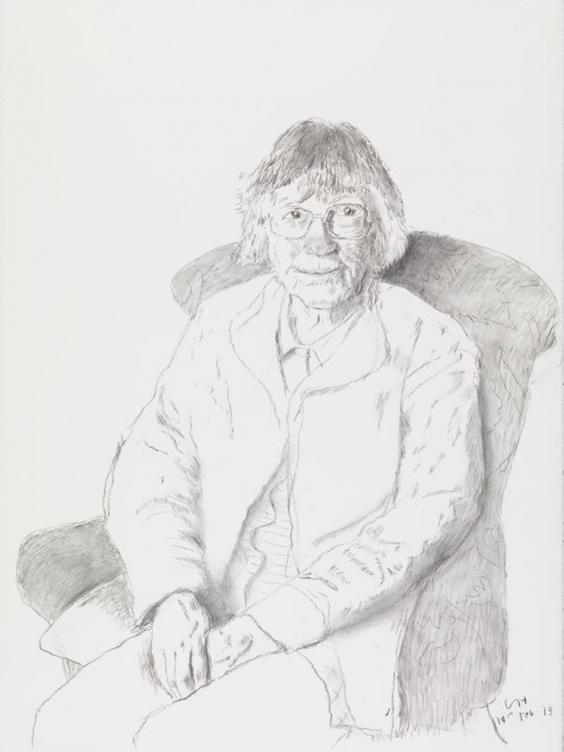 The Great Wall (2000) which has never been shown publicly before, is a huge wall 8ft high by 72ft long, of high-quality colour photocopies of famous and obscure portraits from 1350 through to 1900. Hockney compiled it in order to figure out when portraiture underwent a specific change. He concluded that artists had been using optical devices as aids in their drawings centuries earlier than had previously been thought.
Another new work that has never been shown in the UK before is the digital video The Jugglers (2012), dubbed a "Cubist movie", with 18 screens comprising a single work of people juggling. This was made using as many as 18 separate digital cameras recording the action simultaneously, allowing Hockney to display multiple perspectives in one work of art.

"Friends tell me how a lot of things – pop music, for instance – are 'stuck'. But the relentless march of new technology offers hope," explains Hockney about the latest chapter of his career in an essay on perspective in his new book. "For example, the smallness of new video cameras makes it possible to pack several together, generating different lines of vision and creating a new kind of Cubist camera! So now you can create a new television picture that goes way beyond the quaint and ridiculous old notion of '3D' TV." He continues: "The revolution in painting of the early 20th century – Cubism – was really an attack on depiction of perspective. But in truth that old perspective did not die. The radical nature of Cubism was overshadowed by what seemed even more radical: moving pictures. And yet, in essence, the moving picture was still the old perspective – it just used one camera!"
He declares TV, films and newspapers are dying – and we are at the end of an era. "Technology brought in the mass media and technology is now taking it away."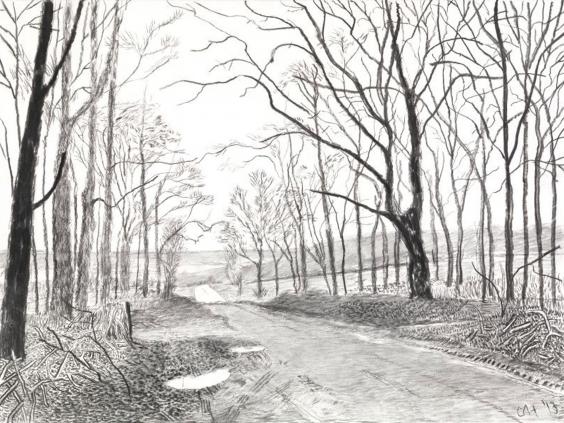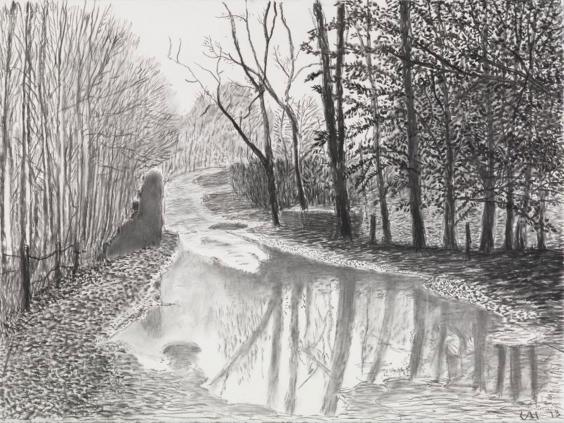 Richard Benefield, deputy director of the Fine Arts Museums of San Francisco, explains in his catalogue essay: "Like an artist alchemist, in one minute Hockney uses a fancy digital device to make colourful iPad drawings; in the next he shows us that he is one of our greatest draughtsmen by rendering an exactingly detailed charcoal drawing of a forest scene in East Yorkshire, England."
'David Hockney: A Bigger Exhibition' (text Richard Benefield, David Hockney, Sarah Howgate and Lawrence Weschler) published by DelMonico Books – Prestel with the Fine Arts Museums of San Francisco, £45 (hardback). David Hockney: A Bigger Exhibition, de Young Museum, San Francisco to 20 January (deyoung.famsf.org)