Ocean, cloud and sky brood before the viewer, bathed in an almost heavenly light, forging a romantic intensity that is punctuated by the working aspects of the setting: seagoing vessels, jetties and figures in the distance.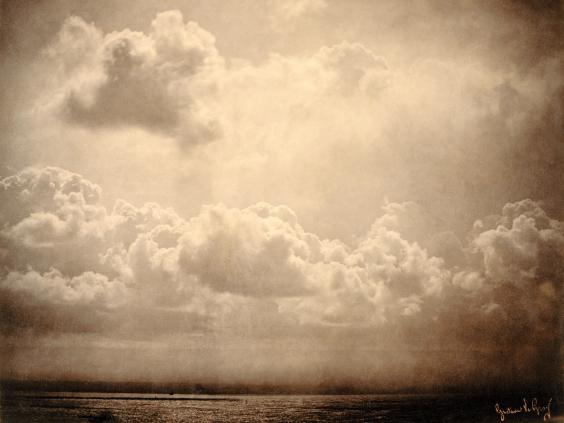 Born near Paris in 1820, Gustave Le Gray trained as a painter before turning to photography in his late twenties, and the culmination of his career was an extraordinary series of sea and cloud studies, created between 1856 and 1858 on the shores of Brittany, Normandy and the Mediterranean.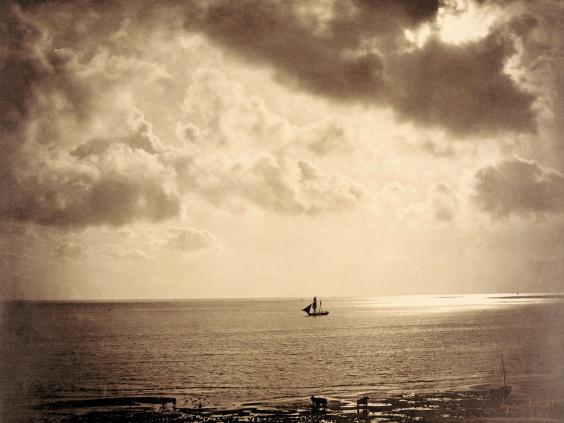 Given the limitations of the available equipment, Le Gray's technical triumph was considerable; his innovation was to print separate negatives for each element on a single sheet of paper. (In an early book on photography, Le Gray explained his exposure method for waxed paper negatives: two seconds in the "lovely season", 30 seconds in the fogs of autumn, and three minutes by candlelight.)
When the first studies were exhibited in London in 1856, critics marvelled at Le Gray's ability to render monumental banks of clouds with a virtuosity that defeated all but the greatest landscape painters. He himself was alive to the potential of photography, and, among much writing and teaching on the new art, called for photographs to be exhibited alongside paintings in salons and museums.
Alas, Le Gray's life was soon to take an abrupt detour. Declared bankrupt in 1860, he left his family, business and France, finally settling in Cairo, where he taught drawing and continued to make photographs.
'Seascapes' by Gustave Le Gray is published by Schirmer/Mosel, priced €60
Reuse content