Good to see that Mark Wallinger has not entirely lost his sense of fun. In Ever Since, one of the video installations that make up half of his new solo show ID, a truncated barber's pole rotates mysteriously over the otherwise motionless, life-size shop-front of Pall Mall Barbers. Although Wallinger doesn't inform us, this piece shows the branch of the gents' grooming emporium beside the National Gallery. On its Victorian façade, you can just about read the come-on line for shave-and-trim nostalgists: "Traditional Service in a Modern Manner".
Just so. The Essex lad, a bit too old, smart and versatile for YBA status, has long known how to brush up retro imagery and time-encrusted rituals so that they tell another story. After all, he has bought a real racehorse as an artwork, taken a Union flag customised with his own name to an England international at Wembley, and won the Turner Prize with the reconstruction of lone eccentric's anti-war protest. The other portion of his first exhibition at Hauser & Wirth in Savile Row does take Wallinger in a fresh direction. More later about the massive "id paintings" in the North Gallery. But the film, video and sculptural works in the South Gallery hint that he has not quite reached the end of the well-trodden path that leads from satire to metaphysics, politics to psychology.
For the most part, time and its passing haunt the camera-based works in ID. In Shadow Walker, the artist – or rather, his sandal-shod lower limbs – strolls through Soho. On this sunny day, an elongated shadow precedes the solitary walker over the London pavement's gunge and grime. Perhaps this highly literary creator thought not only (as he writes) of Baudelaire's flâneur through the city, but T S Eliot's "The Waste Land": "I will show you something different from either/ Your shadow at morning striding behind you/ Or your shadow at evening rising to meet you;/   I will show you fear in a handful of dust."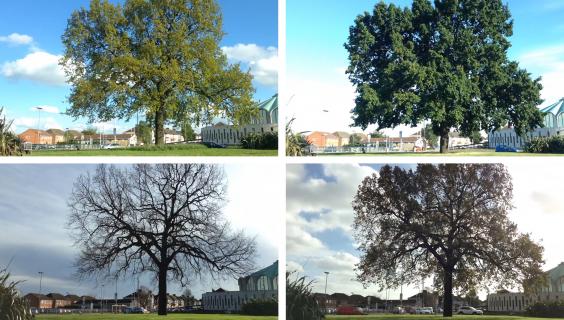 The disquieting experience of time also spins around Orrery. Here, four screens depict a circuit by car around a roundabout besides an oak at Fairlop in Essex, close to Wallinger's birthplace. Each screen shows the tree in a different season, while – like the sun in an "orrery", or articulated mechanical model of the solar system – the viewer stands in the centre. We become (Eliot again, this time from "Burnt Norton") "the still point of the turning world". 
Yet a sense of mischief rooted in pop-culture allusions has not quite deserted him. Take Superego. It recreates the revolving cheese-wedge of the New Scotland Yard sign, which turns ominously behind every TV report of mayhem, murder or police malpractice in London. Wallinger's pole-mounted prism replaces the Met's iconic lettering with mirrors. Dutifully, the artist cites chunks of Michel Foucault to explain the guilt-inducing power of the ultimate police badge that represents "the seat of authority, the all-seeing eye". Yes, good old Mick Foucault: that obligatory theoretical prop of Eighties art-school degree-shows. The philosopher must count as a cult vintage brand himself these days. 
Culture news in pictures
Culture news in pictures
1/30 30 September 2016

An employee hangs works of art with "Grand Teatro" by Marino Marini (R) and bronze sculpture "Sfera N.3" by Arnaldo Pomodoro seen ahead of a Contemporary Art auction on 7 October, at Sotheby's in London

REUTERS

2/30 29 September 2016

Street art by Portuguese artist Odeith is seen in Dresden, during an exhibition "Magic City - art of the streets"

AFP/Getty Images

3/30 28 September 2016

Dancers attend a photocall for the new "THE ONE Grand Show" at Friedrichstadt-Palast in Berlin, Germany

REUTERS

4/30 28 September 2016

With an array of thrift store china, humorous souvenirs and handmade tile adorning its walls and floors, the Mosaic Tile House in Venice stands as a monument to two decades of artistic collaboration between Cheri Pann and husband Gonzalo Duran

REUTERS

5/30 27 September 2016

A gallery assistant poses amongst work by Anthea Hamilton from her nominated show "Lichen! Libido!(London!) Chastity!" at a preview of the Turner Prize in London

REUTERS

6/30 27 September 2016

A technician wearing virtual reality glasses checks his installation in three British public telephone booths, set up outside the Mauritshuis museum in The Hague, Netherlands. The installation allows visitors a 3-D look into the museum which has twenty-two paintings belonging to the British Royal Collection, on loan for an exhibit from 29 September 2016 till 8 January 2017

AP

7/30 26 September 2016

An Indian artist dressed as Hindu god Shiva performs on a chariot as he participates in a religious procession 'Ravan ki Barat' held to mark the forthcoming Dussehra festival in Allahabad

AFP/Getty Images

8/30 26 September 2016

Jean-Michel Basquiat's 'Air Power', 1984, is displayed at the Bowie/Collector media preview at Sotheby's in New York

AFP/Getty

9/30 25 September 2016

A woman looks at an untitled painting by Albert Oehlen during the opening of an exhibition of works by German artists Georg Baselitz and Albert Oehlen in Reutlingen, Germany. The exhibition runs at the Kunstverein (art society) Reutlingen until 15 January 2017

EPA

10/30 24 September 2016

Fan BingBing (C) attends the closing ceremony of the 64th San Sebastian Film Festival at Kursaal in San Sebastian, Spain

Getty Images

11/30 23 September 2016

A view of the artwork 'You Are Metamorphosing' (1964) as part of the exhibition 'Retrospektive' of Japanese artist Tetsumi Kudo at Fridericianum in Kassel, Germany. The exhibition runs from 25 September 2016 to 1 January 2017

EPA

12/30 22 September 2016

Jo Applin from the Courtauld Institute of Art looks at Green Tilework in Live Flesh by Adriana Vareja, which features in a new exhibition, Flesh, at York Art Gallery. The new exhibition features works by Degas, Chardin, Francis Bacon and Sarah Lucas, showing how flesh has been portrayed by artists over the last 600 years

PA

13/30 21 September 2016

Performers Sean Atkins and Sally Miller standing in for the characters played by Asa Butterfield and Ella Purnell during a photocall for Tim Burton's "Miss Peregrines Home For Peculiar Children" at Potters Field Park in London

Getty Images

14/30 20 September 2016

A detail from the blanket 'Alpine Cattle Drive' from 1926 by artist Ernst Ludwig Kirchner is displayed at the 'Hamburger Bahnhof - Museum for Contemporary Arts' in Berlin. The exhibition named 'Ernst Ludwig Kirchner - Hieroglyphen' showing the complete collection of Berlin's Nationalgallerie works of the German artist Ernst Ludwig Kirchner and will run from 23 September 2016 until 26 February 2017

AP

15/30 20 September 2016

A man looks at portrait photos by US photographer Bruce Gilden in the exhibition 'Masters of Photography' at the photokina in Cologne, Germany. The trade fair on photography, photokina, schowcases some 1,000 exhibitors from 40 countries and runs from 20 to 25 September. The event also features various photo exhibitions

EPA

16/30 20 September 2016

A woman looks at 'Blue Poles', 1952 by Jackson Pollock during a photocall at the Royal Academy of Arts, London

PA

17/30 19 September 2016

Art installation The Refusal of Time, a collaboration with Philip Miller, Catherine Meyburgh and Peter Galison, which features as part of the William Kentridge exhibition Thick Time, showing from 21 September to 15 January at the Whitechapel Gallery in London

PA

18/30 18 September 2016

Artists creating one off designs at the Mm6 Maison Margiela presentation during London Fashion Week Spring/Summer collections 2017 in London

Getty Images

19/30 18 September 2016

Bethenny Frankel attends the special screening of Disney's "Beauty and the Beast" to celebrate the 25th Anniversary Edition release on Blu-Ray and DVD in New York City

Getty Images for Walt Disney Stu

20/30 17 September 2016

Visitors attend the 2016 Oktoberfest beer festival at Theresienwiese in Munich, Germany

Getty Images

21/30 16 September 2016

Visitors looks at British artist Damien Hirst work of art 'The Incomplete Truth', during the 13th Yalta Annual Meeting entitled 'The World, Europe and Ukraine: storms of changes', organised by the Yalta European Strategy (YES) in partnership with the Victor Pinchuk Foundation at the Mystetsky Arsenal Art Center in Kiev

AP

22/30 16 September 2016

Tracey Emin's "My Bed" is exhibited at the Tate Liverpool as part of the exhibition Tracey Emin And William Blake In Focus, which highlights surprising links between the two artists

Getty Images

23/30 15 September 2016

Musician Dave Grohl (L) joins musician Tom Morello of Prophets of Rage onstage at the Forum in Inglewood, California

Getty Images

24/30 14 September 2016

Model feebee poses as part of art installation "Narcissism : Dazzle room" made by artist Shigeki Matsuyama at rooms33 fashion and design exhibition in Tokyo. Matsuyama's installation features a strong contrast of black and white, which he learned from dazzle camouflage used mainly in World War I

AP

25/30 13 September 2016

Visitors look at artworks by Chinese painter Cui Ruzhuo during the exhibition 'Glossiness of Uncarved Jade' held at the exhibition hall 'Manezh' in St. Petersburg, Russia. More than 200 paintings by the Chinese artist are presented until 25 September

EPA

26/30 12 September 2016

A visitor looks at Raphael's painting 'Extase de Sainte Cecile', 1515, from the Uffizi Gallery in Florence during the opening of a Raphael exhibition at the Pushkin State Museum of Fine Arts in Moscow, Russia. The first Russian exhibition of the works of the Italian Renaissance artist Raffaello Sanzio da Urbino includes eight paintings and three drawings which come from Italy. Th exhibit opens to the public from 13 September to 11 December

EPA

27/30 11 September 2016

Steve Cropper and Eddie Floyd perform during Otis Redding 75th Birthday Celebration - Rehearsals at the Macon City Auditorium in Macon, Georgia

Getty Images for Otis Redding 75

28/30 10 September 2016

Sakari Oramo conducting the BBC Symphony Orchestra, the BBC Symphony Chorus and the BBC Singers at the Last Night of the Proms 2016 at the Royal Albert Hall in London

PA

29/30 9 September 2016

A visitor walks past a piece entitled "Fruitcake" by Joana Vasconcelo, during the Beyond Limits selling exhibition at Chatsworth House near Bakewell

REUTERS

30/30 8 September 2016

A sculpture of a crescent standing on the 2,140 meters high mountain 'Freiheit' (German for 'freedom'), in the Alpstein region of the Appenzell alps, eastern Switzerland. The sculpture is lighted during the nights by means of solar panels. The 38-year-old Swiss artist and atheist Christian Meier set the crescent on the peak to start a debate on the meaning of religious symbols - as summit crosses - on mountains. 'Because so many peaks have crosses on them, it struck me as a great idea to put up an equally absurd contrast'. 'Naturally I wanted to provoke in a fun way. But it goes beyond that. The actions of an artist should be food for thought, both visually and in content'

EPA
Those mirrors also reflect Freud, and indicate the self-punishing function of the social superego. In a country crowded in world-record numbers with often-inoperative CCTV cameras, the unseen powers-that-be induce us to monitor, convict and perhaps condemn ourselves. So far, so 22-carat Goldsmith's College: where Wallinger studied and taught in the 1980s. But recall as well the Yard sign's role as a symbol of inexorable justice in public-service cop shows such as Police 5, presented by the lugubrious Shaw Taylor throughout Wallinger's Essex childhood. He was born in Chigwell in 1959, and grew up in a left-leaning and arts-loving family: his fishmonger father took the kids to the ballet. "Keep 'em peeled", Taylor would sagely advise viewers as he signed off another bulletin of burglaries, frauds and GBH. One finger in English popular culture, another in Parisian theory, a third in post-Duchamp modernist art practice, Wallinger has always supped on a variety of pies. 
The pay-off from this eclecticism came in a capacity for resourceful self-invention. A life-long fan of the turf, in 1994 the high-concept prankster bought, and ran, a racehorse called A Real Work of Art. By 1999, he had morphed into the lightning-rod for postmodern spirituality who filled the fourth plinth in Trafalgar Square with the enigmatic sculpture Ecce Homo. Then, in 2006, admirers found a cultural focus for post-Iraq dissent when he rebuilt Brian Haw's marathon sit-in for peace outside Parliament. As State Britain, it won the Turner. His major projects, though, did have a continuity and coherence: above all, in the quizzical interrogation of institutions that borrowed the heraldry and pageantry of sport, of nation or of faith, then turned them inside out or upside down. The mirror-faceted Scotland Yard sign belongs in this vein. 
As with many British creators of the Eighties and Nineties, a delphic ambiguity marks the tone of many works. You couldn't simply label these sardonic explorers of the way we live now as satirists and social critics, although satire and critique did lend them fuel. Rather, they held a slyly polished mirror up to the times. Think of Wallinger, at least until recently, in the company of a photographer such as Martin Parr, a film-maker such as Patrick Keiller, or a writer such as Iain Sinclair. You might call this team the Higher Deadpan squad. Perplexed more than furious about the state of their nation, they inspected the entrails of its culture – its customs, habits, iconography – for symptoms but left a final diagnosis to the audience. Remember those post-cinema arguments about the films of Mike Leigh: is he having a laugh, and at whose expense? Bigging us up, or putting us down? With the British school of Higher Deadpan, beauty – or banality – often rested in the eye of the beholder.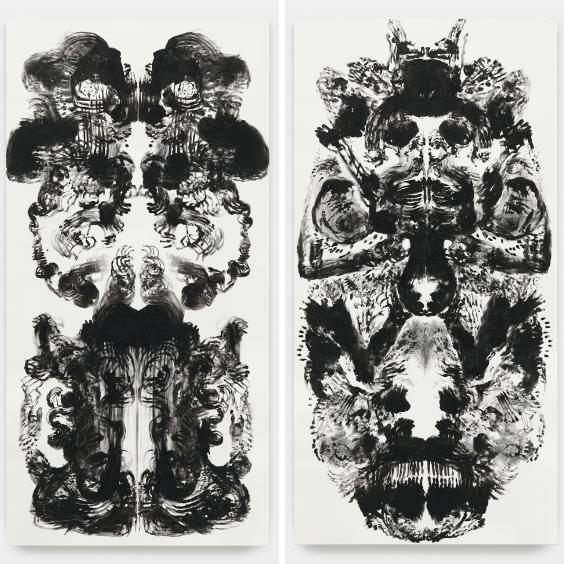 So it feels apt that the idea of the Rorschach Blot should spring to mind when you enter the North Gallery and encounter the vast monochrome acrylics of Wallinger's "id paintings". Here, the self is no longer the anxious slave of time and power evoked in the video works but a free agent able to make and paint, though still prey to unconscious drives. Before we reach these paintings, Wallinger juxtaposes two prints of iPhone photos of his hands. They make up a homage to, or parody of, God's fingertip gift of life to Adam on Michelangelo's Sistine Chapel ceiling. He calls this work Ego. Then we meet the Id. 
The paintings are enormous: 360cm by 180cm, or twice the artist's height by his span across. Their bilateral symmetry echoes, so Wallinger says, the Vitruvian Man of Leonardo: that familiar trademark of post-Renaissance creativity. Here, though, these matching labyrinths may remind you more of the human brain, with its parallel hemispheres. Seemingly form-less and figure-free, these abstract explosions of black on white aim to drive deep beneath the ego into Freud's mutinous id, "primitive, illogical, irrational and fantasy-oriented".
To be human, though, is to seek order in chaos. Hence the Rorschach allusion. Of course, every visitor will look for shapes, for stories, here. As Wallinger writes, "Recognition of figures is a reflection of our own desires and predilections, a mapping of the territory. We invite your introspection."
Not only the works encourage us to spin a yarn. The setting does too. I imagined not just the slides and sections in a neuroscientist's lab but the great hall in the palace of some toppled dynasty, as its outsize Gobelins or Aubusson tapestries fade into near-indecipherable memories of heroes, gods and myths. Do you see that double-headed imperial eagle? Or the thunderclouds from which a deity flings bolts? Surely, you can't miss that Gothic dance of death with its cavorting skeletons? Not to mention the giant pudenda that engulfs us…
And so on. Rorschach-style, every viewer can trace a tale to suit them here. That includes the artist. Treat these works as some sort of deeply coded self-portrait, encrypted in a language beyond the reach of shrinks. Wallinger relates his "instinctive" and "intuitive" method in these paintings to prehistoric mark-making in a cave: a primal release of energy. He has dispensed, he claims, with "the paint-loaded brush of expressionism". Perhaps. However, some art-loving spectators will find it hard to forget the large-scale sequences into which post-war non-figurative painters have poured a form of spiritual autobiography. Think, for example, of Mark Rothko's chapel in Houston.
Stripped down to monochromes, Wallinger's id paintings may betray a self diminished by the technology of control and surveillance evoked in the show's other works. Still, with this artist, size always matters. Remember that one of his most discussed artworks does not yet exist: the gigantic white horse, 50 metres high, that will – if it comes to pass – greet travellers at Ebbsfleet in Kent. The state may shrink us. Time imprisons us. We can still dream epic dreams. 
Mark Wallinger's 'ID' continues at  Hauser & Wirth, 23 Savile Row,  London W1 until 7 May (hauserwirth.info)
Reuse content