Elevating street art to the heavens above, French artist Thomas Lamadieu has made a name for himself sketching whimsical scenes in the sky.
Taking expanses of blue sky framed by rooftops and building facades for inspiration, Lamadieu has been squeezing a cast of colourful characters into urban panoramas in cities from Berlin to Montreal since 2011.
In Lamadieu's playful skyscapes, a bearded figure in Breton stripes is caught spray-painting a cloud in the sky between Parisian apartment blocks, while a surreal game of masked cat and mouse is inked above the streets of Hamburg.
"The bearded man in my images stands for the sky itself, the big man in the sky, but it's not meant to be religious in any way," Lamadieu says.
Skyscape drawings from across the world
Skyscape drawings from across the world
1/4 Paris

A 'photo within a photo' in Paris

Thomas Lamadieu

2/4 Paris

A graffiti artist sprays a cloud in the Parisian sky

Thomas Lamadieu

3/4 Montreal

A figure drawn into Montreal's 'skyscape'

Thomas Lamadieu

4/4 Avignon

A bearded man painted in Avignon's sky

Thomas Lamadieu
"The sky drawings series really started with as a way of playing with my imagination to show how these seemingly empty spaces in the urban environment could be reinterpreted in different and creative ways."  
For those wondering exactly how Lamadieu creates his magical doodles in the sky, look no further than amateurs' favourite Microsoft Paint. "C'est old school, c'est cool", says the artist himself.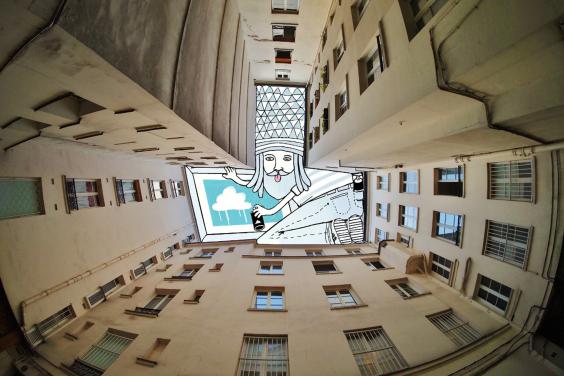 Roaming city streets in the tradition of flâneur-par-excellence Charles Baudelaire, Lamadieu photographs eye-catching shapes formed between architectural structures using a fish-eye lens before filling in the blanks on his PC.
Taking his whimsical works further afield, an exhibition of Lamadieu's quirky scenes can now be seen as part of Le French May, a festival of French art and culture organised by the Consulate General of France in Hong Kong and Macau. 
Skyart by Thomas Lamadieu runs at the Open Piazza, Hopewell Centre, 183 Queen's Road East, Hong Kong as part of Le French May festival from 2-31 May.