It is the particular ability of sculpture to evolve in step with the material world it inhabits, embracing evolving technologies and emerging media.
Inevitably, over the past decade or so, it's an arena dominated by works exploring the digital world: a preoccupation reflected in the glitzy hi-tech buzz of current exhibitions Electronic Superhighway at Whitechapel in London and The Imitation Game at Manchester Art Gallery. 
Against this attention grabbing, computer dominated backdrop, it's hard not to view the resurgence of interest in one of the most ancient and elemental of art forms – ceramics – as a defiantly low-tech, hands-on rejoinder.
Part of a wider rediscovery of traditional craft techniques such as weaving, the ooze of clay back into sculptural practice has occurred slowly but, much like the grey streaks on your clothes after a studio visit, suddenly the stuff seems to be everywhere. 
The new wave of talents deploying ceramics in their work include Emma Hart, winner of this year's Max Mara Art Prize for Women, who has worked with both photography and clay in recent installations.
Hart's minimal ceramic outlines of bottles and wine glasses teeter cartoonishly on photograph-topped trays held aloft by spindly ceramic arms, and glazed clay slabs stand in for the slick shine of officious clip boards.
The stuff also gives form to obscene, roughly textured tongues that lick out of filing cabinet drawers or loll from the lips of jugs. "Through layering photographs on to ceramics I can physically corrupt, bend and 'dirty' pictures," explains Hart. "Unlike photography, clay allows me to put immediate feelings on its surface. I can stroke it, scratch it, punch it, kick it, bite it."
The championing of clay as a sculptural medium by a younger generation of artists has brought with it a re-examination of work that weltered in the shadows over decades when ceramic was out of favour.
Culture news in pictures
Culture news in pictures
1/30 30 September 2016

An employee hangs works of art with "Grand Teatro" by Marino Marini (R) and bronze sculpture "Sfera N.3" by Arnaldo Pomodoro seen ahead of a Contemporary Art auction on 7 October, at Sotheby's in London

REUTERS

2/30 29 September 2016

Street art by Portuguese artist Odeith is seen in Dresden, during an exhibition "Magic City - art of the streets"

AFP/Getty Images

3/30 28 September 2016

Dancers attend a photocall for the new "THE ONE Grand Show" at Friedrichstadt-Palast in Berlin, Germany

REUTERS

4/30 28 September 2016

With an array of thrift store china, humorous souvenirs and handmade tile adorning its walls and floors, the Mosaic Tile House in Venice stands as a monument to two decades of artistic collaboration between Cheri Pann and husband Gonzalo Duran

REUTERS

5/30 27 September 2016

A gallery assistant poses amongst work by Anthea Hamilton from her nominated show "Lichen! Libido!(London!) Chastity!" at a preview of the Turner Prize in London

REUTERS

6/30 27 September 2016

A technician wearing virtual reality glasses checks his installation in three British public telephone booths, set up outside the Mauritshuis museum in The Hague, Netherlands. The installation allows visitors a 3-D look into the museum which has twenty-two paintings belonging to the British Royal Collection, on loan for an exhibit from 29 September 2016 till 8 January 2017

AP

7/30 26 September 2016

An Indian artist dressed as Hindu god Shiva performs on a chariot as he participates in a religious procession 'Ravan ki Barat' held to mark the forthcoming Dussehra festival in Allahabad

AFP/Getty Images

8/30 26 September 2016

Jean-Michel Basquiat's 'Air Power', 1984, is displayed at the Bowie/Collector media preview at Sotheby's in New York

AFP/Getty

9/30 25 September 2016

A woman looks at an untitled painting by Albert Oehlen during the opening of an exhibition of works by German artists Georg Baselitz and Albert Oehlen in Reutlingen, Germany. The exhibition runs at the Kunstverein (art society) Reutlingen until 15 January 2017

EPA

10/30 24 September 2016

Fan BingBing (C) attends the closing ceremony of the 64th San Sebastian Film Festival at Kursaal in San Sebastian, Spain

Getty Images

11/30 23 September 2016

A view of the artwork 'You Are Metamorphosing' (1964) as part of the exhibition 'Retrospektive' of Japanese artist Tetsumi Kudo at Fridericianum in Kassel, Germany. The exhibition runs from 25 September 2016 to 1 January 2017

EPA

12/30 22 September 2016

Jo Applin from the Courtauld Institute of Art looks at Green Tilework in Live Flesh by Adriana Vareja, which features in a new exhibition, Flesh, at York Art Gallery. The new exhibition features works by Degas, Chardin, Francis Bacon and Sarah Lucas, showing how flesh has been portrayed by artists over the last 600 years

PA

13/30 21 September 2016

Performers Sean Atkins and Sally Miller standing in for the characters played by Asa Butterfield and Ella Purnell during a photocall for Tim Burton's "Miss Peregrines Home For Peculiar Children" at Potters Field Park in London

Getty Images

14/30 20 September 2016

A detail from the blanket 'Alpine Cattle Drive' from 1926 by artist Ernst Ludwig Kirchner is displayed at the 'Hamburger Bahnhof - Museum for Contemporary Arts' in Berlin. The exhibition named 'Ernst Ludwig Kirchner - Hieroglyphen' showing the complete collection of Berlin's Nationalgallerie works of the German artist Ernst Ludwig Kirchner and will run from 23 September 2016 until 26 February 2017

AP

15/30 20 September 2016

A man looks at portrait photos by US photographer Bruce Gilden in the exhibition 'Masters of Photography' at the photokina in Cologne, Germany. The trade fair on photography, photokina, schowcases some 1,000 exhibitors from 40 countries and runs from 20 to 25 September. The event also features various photo exhibitions

EPA

16/30 20 September 2016

A woman looks at 'Blue Poles', 1952 by Jackson Pollock during a photocall at the Royal Academy of Arts, London

PA

17/30 19 September 2016

Art installation The Refusal of Time, a collaboration with Philip Miller, Catherine Meyburgh and Peter Galison, which features as part of the William Kentridge exhibition Thick Time, showing from 21 September to 15 January at the Whitechapel Gallery in London

PA

18/30 18 September 2016

Artists creating one off designs at the Mm6 Maison Margiela presentation during London Fashion Week Spring/Summer collections 2017 in London

Getty Images

19/30 18 September 2016

Bethenny Frankel attends the special screening of Disney's "Beauty and the Beast" to celebrate the 25th Anniversary Edition release on Blu-Ray and DVD in New York City

Getty Images for Walt Disney Stu

20/30 17 September 2016

Visitors attend the 2016 Oktoberfest beer festival at Theresienwiese in Munich, Germany

Getty Images

21/30 16 September 2016

Visitors looks at British artist Damien Hirst work of art 'The Incomplete Truth', during the 13th Yalta Annual Meeting entitled 'The World, Europe and Ukraine: storms of changes', organised by the Yalta European Strategy (YES) in partnership with the Victor Pinchuk Foundation at the Mystetsky Arsenal Art Center in Kiev

AP

22/30 16 September 2016

Tracey Emin's "My Bed" is exhibited at the Tate Liverpool as part of the exhibition Tracey Emin And William Blake In Focus, which highlights surprising links between the two artists

Getty Images

23/30 15 September 2016

Musician Dave Grohl (L) joins musician Tom Morello of Prophets of Rage onstage at the Forum in Inglewood, California

Getty Images

24/30 14 September 2016

Model feebee poses as part of art installation "Narcissism : Dazzle room" made by artist Shigeki Matsuyama at rooms33 fashion and design exhibition in Tokyo. Matsuyama's installation features a strong contrast of black and white, which he learned from dazzle camouflage used mainly in World War I

AP

25/30 13 September 2016

Visitors look at artworks by Chinese painter Cui Ruzhuo during the exhibition 'Glossiness of Uncarved Jade' held at the exhibition hall 'Manezh' in St. Petersburg, Russia. More than 200 paintings by the Chinese artist are presented until 25 September

EPA

26/30 12 September 2016

A visitor looks at Raphael's painting 'Extase de Sainte Cecile', 1515, from the Uffizi Gallery in Florence during the opening of a Raphael exhibition at the Pushkin State Museum of Fine Arts in Moscow, Russia. The first Russian exhibition of the works of the Italian Renaissance artist Raffaello Sanzio da Urbino includes eight paintings and three drawings which come from Italy. Th exhibit opens to the public from 13 September to 11 December

EPA

27/30 11 September 2016

Steve Cropper and Eddie Floyd perform during Otis Redding 75th Birthday Celebration - Rehearsals at the Macon City Auditorium in Macon, Georgia

Getty Images for Otis Redding 75

28/30 10 September 2016

Sakari Oramo conducting the BBC Symphony Orchestra, the BBC Symphony Chorus and the BBC Singers at the Last Night of the Proms 2016 at the Royal Albert Hall in London

PA

29/30 9 September 2016

A visitor walks past a piece entitled "Fruitcake" by Joana Vasconcelo, during the Beyond Limits selling exhibition at Chatsworth House near Bakewell

REUTERS

30/30 8 September 2016

A sculpture of a crescent standing on the 2,140 meters high mountain 'Freiheit' (German for 'freedom'), in the Alpstein region of the Appenzell alps, eastern Switzerland. The sculpture is lighted during the nights by means of solar panels. The 38-year-old Swiss artist and atheist Christian Meier set the crescent on the peak to start a debate on the meaning of religious symbols - as summit crosses - on mountains. 'Because so many peaks have crosses on them, it struck me as a great idea to put up an equally absurd contrast'. 'Naturally I wanted to provoke in a fun way. But it goes beyond that. The actions of an artist should be food for thought, both visually and in content'

EPA
This spring, the ICA has dedicated its exhibition spaces to an uplifting exhibition of painting and ceramic sculpture by the Italophile New Yorker Betty Woodman.
Composed entirely of works created in the past 10 years, since the artist turned 75, it includes paintings of interiors that extend into the gallery space via ceramic elements, glazed and painted clay vessels arranged in pairs and trios, and vases painted with female figures dressed in textile kimonos.
The bright colours that flood the show evoke the considerable time that Woodman has spent in Tuscany since the 1960s when she first researched Etruscan ceramics.
While the show, talks and attendant events have been thronged with younger fans, the exhibition is also a reminder of how such media fall in and out of vogue.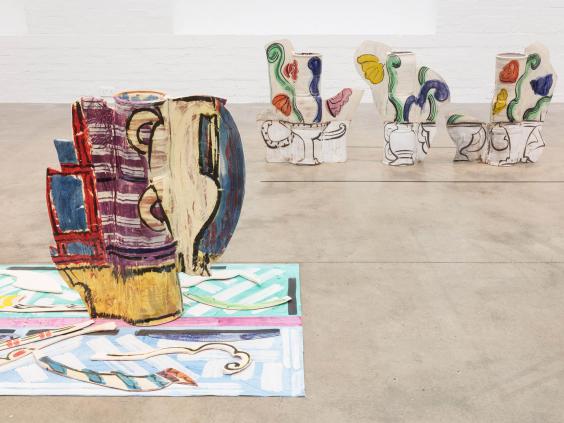 Woodman started her career in the 1950s, as the California Clay Movement was gaining momentum on the opposite coast. Ten years ago, she was honoured with a retrospective at the Metropolitan Museum of Art. This is her first solo exhibition in the UK. 
"It's like magic, clay," says Woodman. "Out of nothing you make something. It's a friendly material. We have most of us had experiences with domestic objects made of clay – everybody can respond to it." Woodman explicitly addresses the domestic arena and works with archetypal vase shapes, finding the universality of the form to be "a rich history for me to connect to".
Her personal distinction between a pot and a piece of sculpture is clear and simple: "The artist has to be responsible for where it sits." It was during visits to the V&A that she realised that she wasn't happy with her work simply being put on a shelf with other vessels: "I realised I wanted my work to be looked at in a context not limited by ceramics, but in the broader context of art."
The ceramics comeback is also reflected in the current iteration of the five-yearly British Art Show, which includes a stellar display of sculptures by artists including Caroline Achaintre, Aaron Angell, and Jesse Wine.
"Clay can be very raw and seductive at the same time, I love it," says Achaintre, whose works take diverse forms, including dramatically tufted woven textiles.
At her recent exhibition at Arcade Fine Arts she presented sculptures combining ceramic and cloth elements that evoked ritual masks through the barest of suggestive folds or perforations.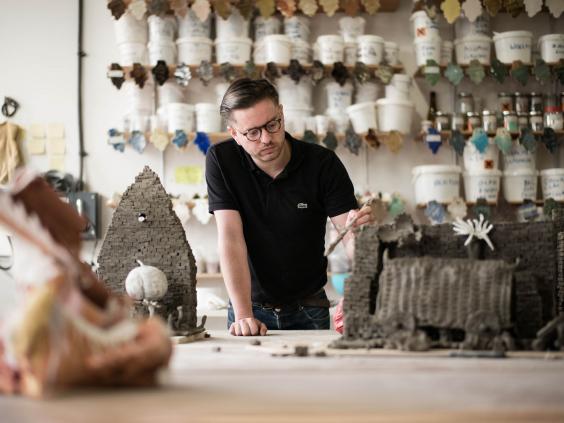 As with many of the British-based artists bringing ceramic into their sculptural practice, Achaintre undertook a residency at Troy Town Art Pottery, a "radical and psychedelic"  ceramic workshop in east London founded by Aaron Angell at the start of 2014.
Achaintre had previously worked with clay at evening classes and community centres, but Troy Town was "the first time I was surrounded by artists working with clay, some of them for the first time. It was fascinating to see how they translated their work into clay. They were never told what to do and therefore found entirely their own way." 
While Troy Town is open for community use, there is a prohibition on the production of functional objects. Angell demurs that running an open workshop is the only way for him to sustain a ceramic studio in London, but there is also a sense of redress at play.
For artists wanting to work in art school ceramics studios or use community pottery facilities "there's so much resistance internally from those departments, to artists 'misusing' the equipment or not understanding the fundamentals," says Angell, who, as a non-potter, found it hard to find studios in which he was allowed to experiment. 
Nestled upstairs in a studio arts centre in Hackney, Troy Town has hosted 62 artist residencies over the past two years as well as community workshops, and it is to move into larger premises in April.
Pride of place is given to Angell's wall of glazes, displayed on suspended tiles each cut with a shaped stamp apparently based on the profile of late singer-songwriter Kirsty MacColl. "We make all our own glazes from scratch – I go through phases of doing it really intensely. For a while I was completely obsessed," he admits.
"Building, throwing: these are all quite generic, but glazing is always the knowledge that's encoded into the pot, from the start of people running ceramics studios."
Currently, the shelves of the studio are crammed with works by ex-resident artists waiting for their second firing. They've been commissioned for a major ceramics show at Tate St Ives, co-curated by Angell, who will also next year be the gallery's artist in residence.
The exhibition will show the work of Troy Town Art Pottery alongside vernacular and ancient ceramic works, examples from the California Clay Movement and pieces by artists that have directly influenced Angell's exploration of ceramics, including Richard Slee and Gillian Lowndes. 
On the worktop Angell and his assistant are pain-stakingly building a citadel wall out of miniature clay bricks. It forms a backdrop for a large tableau constructed around a model treadwheel of the sort used to power cranes during a siege.
It's one of a new series of works commissioned for next month's Glasgow International Festival, some of which will be placed in the glass houses of the city's Botanic Gardens. 
With all the clay-centric buzz, it's a bit of a surprise when he starts to talk knowledgably about a programme of 15th-century secular organ music that he's putting together for Glasgow's Kelvingrove Museum. It's a timely reminder that for all the work he's done in enabling ceramic art, Angell's own practice stretches well beyond clay: "Material is just a means to an end."
'Betty Woodman: Theatre of the Domestic' is at the ICA until 10 Apr; 'That Continuous Thing: Artists and the Ceramics Studio, 1920 – Today' will be at Tate St Ives from 31 Mar to 1 Oct 2017
Reuse content