Thierry Noir is one of the forerunners of modern street art, although he still remains relatively unknown.
For five years he painted the Berlin Wall illegally every day with bold, cartoon-like images of animals and human faces.
With little money and no stable employment, he scavenged emulsion from building sites to paint the wall in an act of protest to "transform it, make it ridiculous, and help destroy it".
His aim was to paint the Berlin Wall to make it stand out like a mutation in the city, not to make it a beautiful piece of public art.
"I wanted to cover the wall with colours to wrap it up with paintings, to make it luminous, to show it like a mutation in the city, a mutation in art and nature," he says.
"I could not make the wall beautiful because in fact it would have been absolutely impossible to do so."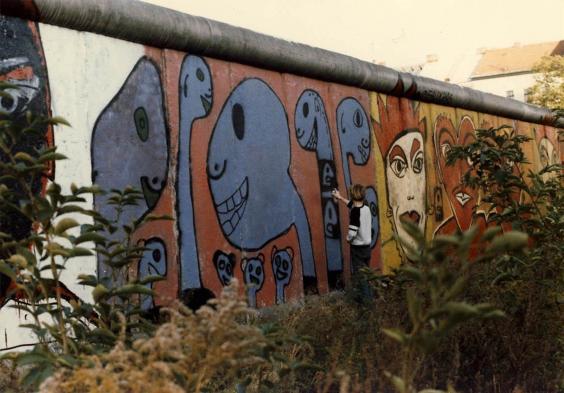 His painting style developed during his time in West Berlin due to the ongoing threat of getting caught by patrol guards or, in some cases, German Democratic Republic soldiers.
At one point during his five-year painting protest, Noir and his partner Christophe Bouchet were held up by soldiers with machine guns after they tried to drill a metal door onto the wall with screws.
In order to paint quickly and avoid arrest, Noir simplified his figures into one continuous line painted with one or two bright colours, what he calls the "Fast Form Manifest".
Even today, Noir's bold lines carry a strong message of resistance through art, making him one of the forbearers of today's political street art scene.
"If you paint on the street you are immediately political, because you change the life of the people. Especially in north Europe where the winters are long and grey – you give people a one second smile on their face," he says.
Since the fall of the Berlin Wall he has been invited to paint on remnants of the wall across the globe from South Korea to Mexico.
More recently, Noir has completed a number of murals in Shoreditch, where he currently has his first solo exhibition. Last year he was invited to paint the giant Village Underground Wall with street artist Stik in the east London district.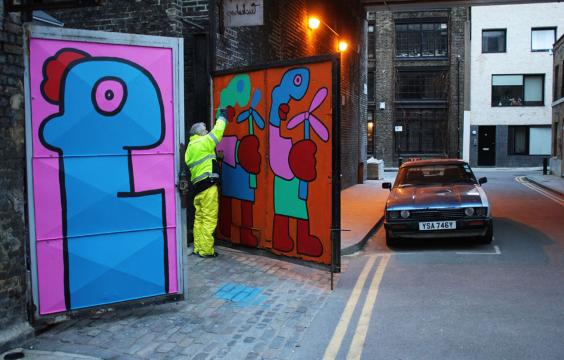 The artist continues to paint in the same stylised way he developed in the Eighties, even recreating the same animals and figure heads he painted thirty years ago.
Noir rarely paints illegally on the street any more, and his output has never reached the same prolific level as his five-year painting protest in Berlin.
However, he remains emotionally detached from his revolutionary feat, insisting he painted the wall to show people it was a mythical entity that would not exist forever.
When the Berlin Wall came down in November 1989, he says he felt no sadness about the destruction of five year's work.
"I was not crying because my world was pulled down, it would be arrogant to say that. It was not an art project, it was a deadly border. One hundred and thirty six people were killed because of the wall – everyone was just happy that it went away."
Thierry Noir: A Retrospective runs at the Howard Griffin Gallery until Monday 5 May; entry is free.