The Venice Biennale has a rich and diverse history. As a long-serving and cynical art writer I could say I have seen it all, but even I admit that this may well be a first: an artist winning the prestigious commission of the Icelandic Pavilion only to then give it away to two trolls.
But this is made more credible by being the Icelandic pavilion; the Icelandic Art Centre has a history of anarchism, matching the country's "plow your own furrow" attitude. In 2015 Swiss artist Christoph Büchel (now based in Iceland) presented a fully working mosque, the first in Venice, in a formerly abandoned Catholic church. It was closed down shortly after it opened with what seems now like spurious excuses of security.
Egill Sæbjörnsson's momentous announcement was flagged in the art press and the local Icelandic press. I went to his studio in the Friedrichshain area of Berlin to meet him and the trolls. He works here with a team consisting of some affable German artist assistants, two Icelandic interns and, of course, two trolls. Going to an artist's studio is always interesting – it is best to do your homework and then to have few preconceptions – and it is a first for me to meet some trolls. I only hoped they were not too hungry.
Sæbjörnsson was born in Reykjavik, Iceland, in 1973. He attended the Icelandic College of Art and Crafts, and vowed to himself that he would leave Iceland to study abroad. Which he did, landing at the Université Paris at Saint-Denis to study for a year before returning to Iceland to complete his studies.
He stresses that the year in Paris was important to him. "I did not speak French so I spent a lot of time learning it, but I also attended circus classes taught by an old clown and we would communicate through the universal language - sign language." The skills of physical movement and clowning have entered his practice. "I also studied at the 'School of Pompidou'. Seeing the work of Paul McCarthy, Dan Graham, Mike Kelly, contemporary dance and Picasso, were all really important to me."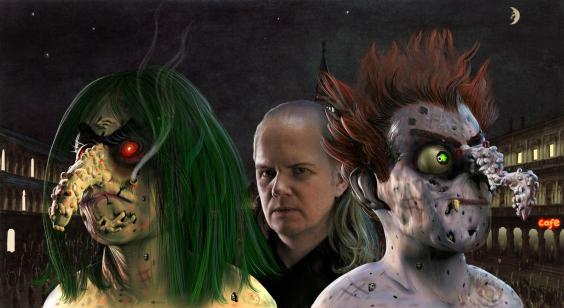 Sæbjörnsson reminds me first of his Celtic roots, which are obvious when looking at him: with his large, high forehead he could easily be cast in Hollywood as a Viking warrior. He knew he wanted to be an artist from a young age. He remembers having few friends in kindergarten but that his facility in drawing and winning drawing prizes made him happy and gave him a position.
As well as his art, writing music and performing were important too. He points to a wall of guitars in the studio: "I learned on that one; it is my mother's". I ask why he has not given it back and he says: "She has not asked for it." So I remark that it must be nice to have a little of her in Berlin when you feel homesick. He describes music as a way to find a parallel reality. "When I hold a record cover I project myself into it and I could fall into the music." He recalls holding the record sleeve for "Long Tall Sally". "I could see myself in a sleazy bar in New Orleans." He sees things "filmically", saying several times during our conversation "we are all in a movie in some way".
I ask Sæbjörnsson about the genesis of the trolls and he says he first spied a troll in a gift shop in Oslo airport in 2007. "It was a hideous, touristic sculpture, I did not buy it." But it lodged in his mind and he started to draw trolls and think about them. By 2008 Ūgh and Bõögâr had truly entered his brain and by then everywhere he went they went too.
There is ample evidence of them here in Berlin. There is a chart in the studio mapping the trolls and chronicling their travels. Mainly male with their long warty noses and exaggerated genital organs, they are not as frightening as perhaps they are meant to be. There is a charm though as they transform into waves and unstoppable force.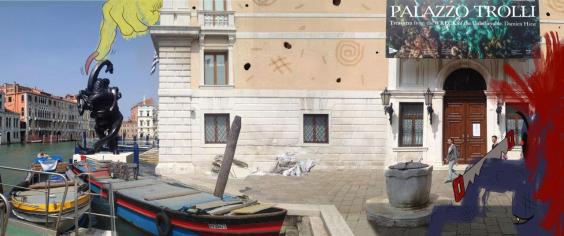 The story of the pavilion is that the artist was unable to bear Ūgh and Bõögâr's envy and disappointment when he got the news that he was going to represent Iceland in Venice. Originally they were only going to represent him in his exhibition at his gallery i8 in Iceland. Fate interceded. When Ūgh and Bõögâr heard he was going to represent Iceland they were so envious that the artist decided he must give them the chance to produce the pavilion.
The trolls' first thoughts on being artists were quite reductive. "They learned to drink espressos and to sit in cafés like real artists. The coffee made them excited and the sparkling water made them burp, which made them laugh and want to drink MORE epressos and MORE sparkling water". After all, prior to meeting Sæbjörnsson, "they had lived together in a cave and ate badly-behaved children". Later their ambition for Venice grew and they wanted to do it all, recording music, painting, performance – everything." 
I was expecting to meet Ūgh and Bõögâr in Berlin (as since Sæbjörnsson first encountered them in 2008 everywhere he goes they follow), but they are nowhere to be seen. Sæbjörnsson's excuse is, "as it is a sunny day they are probably asleep near the airport". "Just as well they are not here as they are unpredictable. They are ferocious by nature and have thought in the past of eating me too. Recently they made a big fog and ate a bunch of Japanese tourists outside the Berlin Paris bar".
I joke with him about what a load of kaka that would have produced, and he reminds me of another story of his travels, this time in Shanghai when he was dog sitting for a friend. "I forgot to bring the bag to collect the pieces and the dog did it in front of a pristine shopping mall and so what to do? I ran thinking I would be arrested and put into a Chinese prison forever." He goes on to admit somewhat sheepishly that he is producing gnome kaka to sell in the pavilion.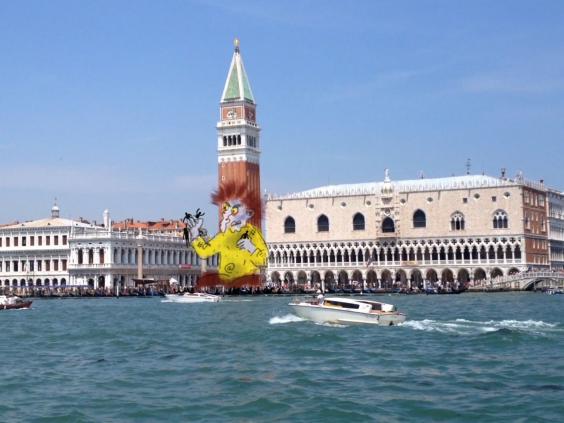 Sæbjörnsson's – or should I say Ūgh and Bõögâr's – ambition for the Venice Biennale is huge. Art has to be about belief after all. Although deadlines for Venice are looming, Sæbjörnsson remains calm and in control. Perhaps because he first discovered the trolls in a gift shop in Oslo airport, there will be similar souvenirs to be had in Venice: books, espresso cups and coffee, perfume, music of the installation and troll kaka (all very reasonably priced).
When I ask the artist what he thinks of making the trolls too commercial he responds, "my cups and books and LPs and perfume are not merchandise, they are art disguised as merchandise". He wants the tourist to rediscover the book about Ūgh and Bõögâr in 10 years' time to remind them of the magical myth of the trolls.
I get a message just before filing that Egill is en route to Venice and later that the trolls have arrived. It only took them five steps from Berlin to Venice and five seconds after all. I have just returned from Venice where I saw the Damien Hirst extravaganza and with my encouragement Sæbjörnsson, Ūgh and Bõögâr do a humorous troll takeover of the Palazzo Grassi.
With the wondrous, though heinously expensive Hirst exhibition in a face-off across the canal at the Punta della Dogana, I hope that people can see the humour, wit, skill and modesty behind Sæbjörnsson's troll collaboration. I hope that Venice is ready for them and that Ūgh and Bõögâr confine themselves to only eating those from the art world – easy to identify as they are all clad in black – and not too many unwary colourfully dressed tourists. Perhaps there will be less "blah blah blah art blah blah blah".
'Out of Controll in Venice', Icelandic Pavilion, Venice Biennale 57th International Art Exhibition – La Biennale di Venezia, 13 May to 26 November 2017. Follow the trolls on Instagram@icelandicpavilion
Reuse content