The artist and former presenter of the BBC's The Culture Show, Zina Saro-Wiwa, 38, daughter of the hanged human-rights activist Ken Saro-Wiwa, has opened a brand-new pop-up contemporary art gallery in the most unlikely spot. Her gallery, the Boys' Quarters Project Space, is housed in a white-fronted building in Port Harcourt, in the Niger Delta region. It occupies the second floor of 24 Aggrey Road, the old office building of her late father, who was executed by the military regime in Nigeria in 1995, when Zina was 19 years old.
Ken Saro-Wiwa led the Movement for the Survival of the Ogoni People (MOSOP), a nonviolent campaign against the environmental degradation of Ogoniland by the operations of the multinational petroleum industry – notoriously Shell. In 1994 he was charged, along with eight others, with the murder of four Ogoni elders in a suspected rigged trial – in 2009 Shell agreed a $15.5m out-of-court settlement with the families of the hanged murder suspects without admitting liability.
Now Saro-Wiwa hopes that her gallery will be a small step in "re-imagining" the Niger Delta through art and beauty. She has put a fresh lick of paint on the walls and refurbished the space. Her father's old office now serves as a museum dedicated to him, and in addition there are two small soundproofed galleries, a reading room, and a bathroom. Situated on a busy commercial road close to the port, it's in an area which is considered dangerous and is notorious for its local gangsters.
"There is not much to feed the soul in Port Harcourt," says Saro-Wiwa. "It has hardly any public art spaces – it's all done behind closed doors." So placing the gallery in her father's office is, she says, "a powerful, restorative and symbolic act".
Saro-Wiwa grew up in the UK, after moving there at the age of one with her mother and siblings. She attended Roedean school in Sussex, but visited Port Harcourt during her school holidays. When she was 14, mounting tensions in the Niger Delta made it unsafe and she did not return there until she was 24, five years after her father's death, to bury his remains, which had finally been released to his family. But it was only last year that she left New York, where she had been living since 2009, and went to live and work in the Niger Delta.
"As soon as I arrived in Port Harcourt I had the idea of an art gallery – within 24 hours the building was emptied and we began the process of transformation," says Saro-Wiwa. "I get ideas and I want to follow them through without thinking too much. Actually it turned out to be quite profound because I was able to turn my father's office into more of a museum site. We are injecting a whole new energy back into that space."
The art exhibitions will all be curated by Saro-Wiwa to address the inner life of the Niger Delta, and will involve local, Nigerian and international artists. Her current show, The Restless Grove, includes mixed-media sculptural works and found pieces by the Niger Delta artist Perrin Oglafa. One piece is a boat from Oglafa's village, painted red and black; another sculpture is a raw canvas that has been painstakingly taken apart, one thread at a time, and so seems to resemble and refer to the fishing nets used by his fisherman forefathers.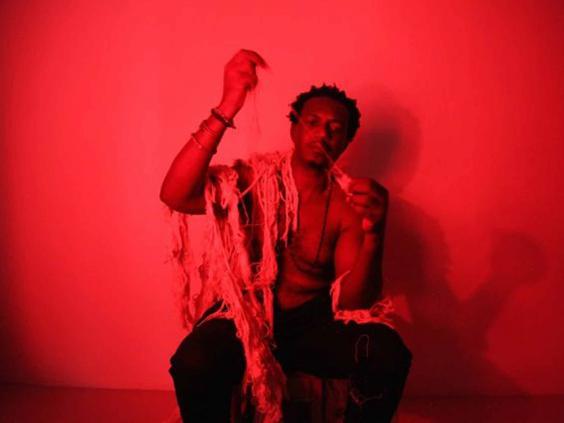 Saro-Wiwa's own six-minute video installation in the second gallery, entitled An Odoni Heart, features Oglafa being possessed by art as he makes it. Even the local caretaker who has worked for the Saro-Wiwa family for years, ended up making colourful art out of bottle tops while helping set up the exhibition space.
In her father's office, along with the swivel chair and desk left by him, there are 50 books from his personal library and photographs from the family collection. She will also show photographic and video installation works relating to her father's life and legacy.
"I am exploring his legacy in his office in strange ways, by making some films that will be projected in there," she says. "I'm filming people eating food that my father loved. It's about the fact that I never really cried about my father. I found it very difficult to access my emotions because the legacy was taken over immediately by activists – I felt like I couldn't access him – he wasn't my father any more. The only time I would cry was when I thought about the breakfast I would make him." She has also commissioned a Dutch photographer to snap a street in Amsterdam named after her father for a photo story to be exhibited in August.
"I'm really enjoying the opportunity to think about and expand my father's legacy in a more imaginative way. I think his legacy is much bigger than his execution and the fight against Shell oil. He was someone who wanted to use creativity to have more of a connection to land and environment. These are all things we are exploring in the exhibition; the way people relate to environment – not just oil pollution but emotional and spiritual pollution – and giving it an international voice."
Saro-Wiwa is also making new work for two museum shows in the US by engaging with local artists in Ogoniland. "I guess I'm like my father – I'm wanting to empower people but I'm doing it through art not politics," says Saro-Wiwa, who hopes to create deep change in a region that has been blighted by the oil industry.
Since Saro-Wiwa gave up journalism for art, she has been committed to changing the way the world sees Africa, but it is only now that she has shifted to focus specifically on the Niger Delta. In 2008, she directed This is My Africa, which was snapped up by HBO, and explores African culture through the anecdotes of London-based Africans and Africaphiles, including Chiwetel Ejiofor, Jon Snow and Colin Firth.
In 2010, Saro-Wiwa went to Lagos, Nigeria, to make films. Subverting the conventions of the traditional Nigerian film industry ("Nollywood") she was the founder of the alt-Nollywood movement and made genre-busting films including Phyllis, about a crazy wig-wearing woman, and The Deliverance of Comfort about a child witch.  
"What I did not expect however, was how focusing in on Africa has often resulted in work that transcended the idea of Africa and became deeply personal. And really it is the relationship between the personal and the political that interests me.
"From my father as political statue who symbolises only pain and victimisation, I want a expose his legacy as one that is, in fact, generative, reflexive, cultural and full of vitality. I don't want people to be depressed when faced with the issues confronting the Niger Delta. I want people to see possibility. It is through art that I hope to begin that journey."
'The Restless Grove' , Boys' Quarters Project Space, Port Harcourt, Niger Delta (boysquartersprojectspace.com) to 31 July
Reuse content