"You have to put a pound in, sir." I step back from the steering wheel and almost apologetically feed a £1 coin into the slot. A light on the dashboard in front of me turns green and I push on the throttle.
In front of me, a small remote-control boat packed full of migrants starts to make its way across the water in front of the white cliffs of Dover. Their faces are permanently turned towards me as I clumsily ferry them across the pond, dodging floating bodies and steering around aimlessly until my money runs out.
The experience is deeply unsettling, yet bizarrely entertaining. And that is exactly the feeling that visitors to Dismaland, a dystopian "bemusement park" contained within a derelict lido in Weston-super-Mare, can expect when it opens to the public tomorrow.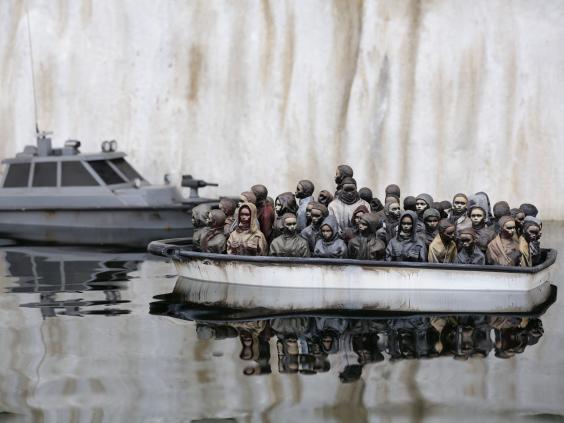 The 2.5-acre park is the most ambitious project to date by the graffiti artist Banksy, who described it as "a festival of art, amusements and entry-level anarchism". Peering through a gap in security fencing in January, he decided that the faded seaside glamour of the site provided the perfect canvas for his latest work.
For the next five weeks, around 4,000 people a day are expected to pass through the gates of the park, formerly the Tropicana lido, paying £3 to enjoy such entertaining exhibits as the Jeffrey Archer Memorial Fire Pit.
"Warm yourself around an authentic real open fire ceremonially lit each day by burning one of the famed local perjurer's novels," explains the helpful annotated map handed to each visitor, which also advertises the park as "the UK's most disappointing new visitor attraction".
Welcome to Dismaland. pic.twitter.com/AAscLGkQlO

— Chris Green (@cghgreen) August 20, 2015
I tried. I failed. #Dismaland pic.twitter.com/9AMa3h8XtM

— Chris Green (@cghgreen) August 20, 2015
The park has three art galleries in addition to a series of immersive experiences and twisted fairground rides. Banksy is showcasing 10 new sculptures, paintings and installations, but more than 50 artists from 17 countries contributed work to the project, including Damien Hirst, Jenny Holzer, David Shrigley and Jimmy Cauty.
The weirdness begins before you even get inside. "Have a dismal time," a woman wearing Mickey Mouse ears says without a trace of a smile as she ushers me into a small entrance hall. Here, I am confronted by "security staff" who apparently delight in humiliation. "Stand on one foot for me, sir," an officer instructs me. I oblige. "Touch your nose for me, sir." OK, I get it.
Out of the security gauntlet, visitors pass into the park's main central courtyard, which is dominated by a huge, ruinous Disney-style castle skirted by a stagnant litter-strewn moat. A Banksy sculpture of the Little Mermaid, her face and body distorted as if through television interference, sits on a rock gazing over the water.
"Step inside the fairytale and see how it feels to be a real princess," the park's brochure says. Inside, I walk down a darkened corridor where Disney's Cinderella is being screened on a loop, before I am stopped by a photographer who backs me up against a green screen. "Pose for a photograph, sir?" he says, innocently. I smile awkwardly, the flash goes off and I move on.
In the main room, it is so dark that it takes a while for your eyes to readjust. When they do, a life-sized Technicolor horror scene emerges. Cinderella, it seems, has had a nasty accident in her horse-drawn coach, which has been smashed open and lies on its side. The princess's lifeless body is hanging out of the window. Beside the carriage is a crowd of paparazzi photographers, their flashbulbs strobing incessantly as they record every gory detail. It is Disney reimagined for the Princess Diana generation, as unpleasant to view as it is difficult to look away.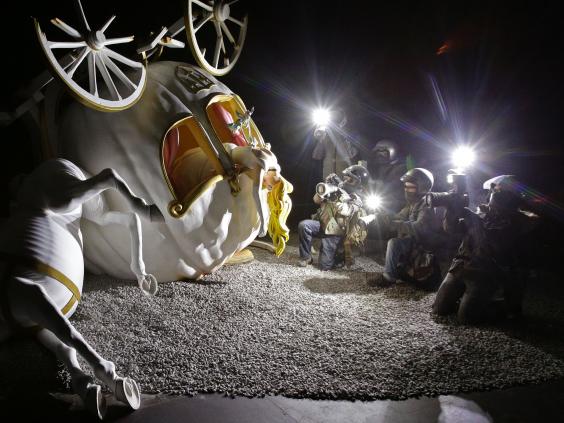 And there is another, even darker twist. As you exit the castle, you can buy the "souvenir picture" taken at the beginning, at "just £5 for a 6x8-inch photograph complete with Dismaland display card". The catch? The background of the picture shows Cinderella's fatal accident, with you grinning in the foreground. Gotcha.
Dotted around the park are works of remarkable ingenuity and equally biting satire. A cabin beside the children's play area advertises "Payday Loans 4 Kids: get an advance on your pocket money today". The only way to catch a glimpse of the company's punitive interest rate is by bouncing on a trampoline.
A merry-go-round in one corner looks normal – until you notice one gaudily painted horse has been strung up by its hind legs by a man wearing white butcher's overalls, perched on a cardboard box marked "LASAGNE".
"I guess you'd say it's a theme park whose big theme is – theme parks should have bigger themes," Banksy said of his new creation.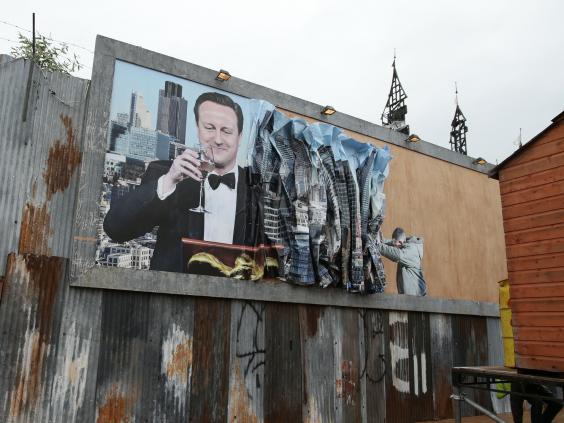 The three galleries, described as "the finest collection of contemporary art ever assembled in a north Somerset seaside town", are worth double the modest entrance fee on their own, but the park's  immersive nature is what makes it memorable.
Staff stay admirably in character at all times and are resolutely depressed about their duties. Some spout twisted platitudes intended to poke fun at the have-a-nice-day friendliness of American theme parks: "Welcome to Dismaland. Get rich or try dying. Enjoy!"
In his written foreword to Dismaland's brochure, Banksy suggests that in the face of "global injustice", "climate catastrophe" and "a lack of meaningful jobs", today's children should be taught that "maybe all that escapism will have to wait".
Perhaps he is right. When I finally holed my ball in the purposefully awful crazy golf course, with its pointless diversions and impossible putts, the loud, slow clap of a nearby steward seemed to say, dripping with sarcasm: "Well done. But what on earth are you doing with your time?"
Inside Banksy's Dismaland
Inside Banksy's Dismaland
1/13 A Look Inside Dismaland Bemusement Park

"Seagull Attack" by Banksy sits near the entrance, proved to be a bit of a photo opportunity, a taxidermied seagull perches on the other side of the bench

Reuters

2/13 A Look Inside Dismaland Bemusement Park

The Bill Barminski - Cardboard security entrance, visitors must first get through security to enter the park. This can include being searched, emptying bags and even being instructed to touch your toes.

Reuters

3/13 A Look Inside Dismaland Bemusement Park

Dismaland opened to the general public this weekend and everyone seems to be talking about it. Many have speculated whether long queues and website crashing issues are purposeful in order to make Dismaland that little bit more dismal.

Reuters

4/13

The Bill Barminski - Cardboard security entrance, visitors must first get through security to enter the park. This can include being searched, emptying bags and even being instructed to touch your toes.

Reuters

5/13 A Look Inside Dismaland Bemusement Park

Visitors are handed their very own guide to the park inside, featuring the names of the installations and show-times. On the front it brands Dismaland "the UK's most disappointing visitor attraction".

Reuters

6/13 A Look Inside Dismaland Bemusement Park

An overview of the park, set on the former site of Tropicana. Tropicana was closed in the 1990's and since then has had rumours of regeneration. The exhibition will be the first major event on site since its heyday as a seaside attraction.

Reuters

7/13 A Look Inside Dismaland Bemusement Park

"Topple the anvil and win the anvil" - just one of the many disappointing games visitors can try their hand at.

Reuters

8/13 A Look Inside Dismaland Bemusement Park

"What its really like to be a princess" the scene of Cinderella hanging lifeless outside her pumpkin carriage as paparazzi surround it inside the castle in the center of the park. A dark reference to the death of Princess Diana.

Reuters

9/13 A Look Inside Dismaland Bemusement Park

Mushroom Cloud made of Cotton by Artist Dietrich Wegner

Reuters

10/13 A Look Inside Dismaland Bemusement Park

A twist on theme park boating games the white cliffs of dover provide a backdrop to boats of migrants and faceless bodies float in the black water.

Reuters

11/13 A Look Inside Dismaland Bemusement Park

"Killer Whale jumping from a toilet" a piece by Banksy as a reference to the treatment of orca's in seaworld parks.

Reuters

12/13 A Look Inside Dismaland Bemusement Park

In classic Banksy style he applies his stencilling technique to a mural named "woman showering" when talking about the exhibition Banksy declared that he was aiming for something very different to street art.

Reuters

13/13 A Look Inside Dismaland Bemusement Park

Another piece by banksy looms above a lake referencing Jeffrey Archer

Reuters
Reuse content