Look out Tate Modern. Los Angeles has a new powerhouse of art – the $140m (£92m) Broad Museum, designed by Diller Scofidio + Renfro, the architects who created New York's High Line. The Broad's benefactor, the billionaire developer and business guru Eli Broad, says the new building has cemented the city's position as the world's contemporary-art capital. 
 It's a reasonable claim. The Museum of Contemporary Art is just across Grand Avenue, and the Broad's 2,000-work collection of post-1950s art, in particular, is internationally outstanding. The opening show delivers 250 works, ranging from superb pieces from grandees including Warhol, Johns, Rauschenberg and Kiefer,  to riveting new installations such as Yayoi  Kusama's extraordinary Infinity Mirrored Room, and Ragnar Kjartansson's 360 degree nine-screen video, The Visitors.
The architecture of the Broad (pronounced Brode), whose design was led by Liz Diller, is suitably striking, with a bone-white outer veil of elegantly perforated glass-reinforced concrete that resembles a stretched and distorted waffle or cheesegrater. A proud Lancastrian might suggest it's nowt in comparison with the sensationally scalloped concrete façade of the Grade II-listed Preston bus station. But there's more than nowt going on 100 metres away from the Walt Disney Concert Hall, Frank Gehry's metal-sheathed masterpiece.
In a certain light, the shadow effects on the sculpted surface of the Broad gives it an Op Art quality. In the middle of the veil, on the second floor facing Grand Avenue, there's a glazed depression, an architectural punctuation mark that's like a dimple. It also suggests an eye: perhaps Big Broader is watching.  
The design of the building was not just a response to the exhibition and storage of the fabled art collection of Eli and Edythe Broad, which was built up across more than four decades. "There was this daunting presence of this neighbour [the Disney Concert Hall] to the north," says Diller. "How do you build something next to this beauty? We couldn't compete – what's the point?" 
But she did compete against the cream of the world's starchitects to win the Broad project. Diller's design beat a scheme by Rem Koolhaas, architecture's default intellectual figure. Her original winning design had one slightly clichéd, LA-is-a-great-big-freeway ingredient: it allowed cars to drive into the lobby, and be collected by parking valets.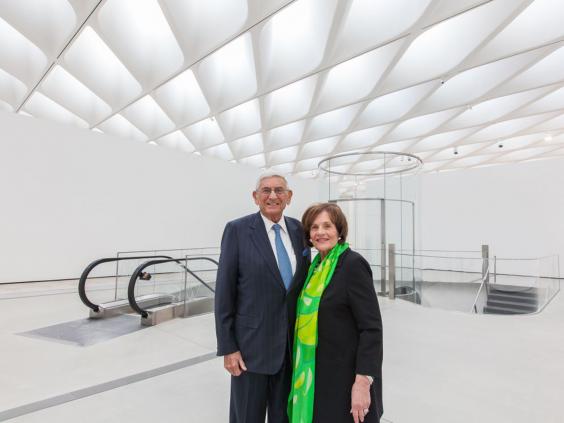 There were other issues. "The estimated cost of this building versus Koolhaas's proposal was $10m more," recalls Eli Broad. "I said, that's OK. I also said to Liz, 'It's nice to draw this veil, but tell me, who is going to fabricate it? Who is going to engineer and install it?' They had a firm that said they'd do it for $9m. Nine months later, they wouldn't do it for $30m. We ended up working with a German firm called Seele, and it has been a challenge." 
The building's semi-transparent carapace, formed with 2,500 concrete "cartridges" in 380 different configurations, is meant to give a sense of lightness in a building that is essentially a 200ft-long oblong. Diller says that while the Disney Concert Hall reflects light, the Broad absorbs it. 
This is debatable. Despite the elegant modelling of the Broad's facades, the building radiates a weighty, and rather compelling stillness. How can it be otherwise? The building's concrete alone weighs 16,000 tons. And as for absorbing light, the chalky whiteness of the Broad is considerably brighter under the sun than Gehry's building. These are not necessarily flaws, and the crucial fact is that the Broad possesses a superb main gallery on the top floor, and a massive storage segment – aka the vault – that holds the Broad's art hoard, which other international galleries borrow artworks from. 
Diller describes the veil as a coy shroud around the vault, which "tempts you from the street with its lifted corners". By lifting the storage off the ground and "floating" it in the building, the collection itself becomes an artifact. 
It's a clever, artfully designed concept which delivers, functionally and atmospherically. The Broad has 50,000 square feet of gallery space – 40 per cent of the total – and an equal amount of storage space. This is roughly the same space as in New York's newly opened Whitney art museum. But, as Eli Broad remarks pointedly: "That building is 200,000 square feet compared to the Broad, which is 120,000 square feet."
The Broad can also be seen as a beautifully made craft object that transforms itself into something quite unexpected as soon as you enter the building under one of the two raised "skirts" at the corners of the main facade. Suddenly, and with something like childish pleasure, you're standing under a flaring,  gloopily cantilevered dark-grey concrete canopy. Elephant skin, caves, and dark fungal forms spring to mind. 
This internal sculpting sets up a fantasy stage-set atmosphere that's heightened by stairs and a long escalator that swerve upwards through sombre concrete gullets. There's also a glass lift like a supersized syringe that injects you upwards to the main gallery floor. If you use the twisting, intestinal stairs, you get views into the art storage vault. 
Top 10 art institutions
Top 10 art institutions
1/10 Top art institutions

1. Louvre, Paris: 9,260,000

Getty Images

2/10 Top art institutions

2. British Museum, London: 6,695,213

Getty Images

3/10 Top art institutions

National Gallery, London: 6,416,724

Getty

4/10 Top art institutions

Metropolitan Museum of Art, New York: 6,162,147

Getty Images

5/10 Top art institutions

Vatican Museums, Vatican City: 5,891,332

Getty Images

6/10 Top art institutions

Tate Modern, London: 5,785,427

Getty Images

7/10 Top art institutions

National Palace Museum, Taipei: 5,402,325

Getty Images

8/10 Top art institutions

National Gallery of Art, Washington DC: 3,892,459

Getty Images

9/10 Top art institutions

National Museum of Korea, Seoul: 3,536,677

Getty Images

10/10 Top art institutions

Musée d'Orsay, Paris: 3,500,000

Getty Images
"There is a choreography here," muses  Diller's co-director, Rick Scofidio. "The moment you walk in, you want to go up the stairs or escalators. It's a little bit like coming into a forest."
The top-floor gallery is a genuine triumph in art, architectural and engineering terms – an acre of clear, column-free space, with the concrete veil wrapped over the top, its teardrop-shaped slits angled to true north. It is, as Diller says, "a big industrial space". But it has a certain grace and accidental wit: the reflections of the veil's slits in Jeff Koons' Balloon Dog Blue give it an extra layer of dumb bling.
The gallery will be a completely naturally  lit for at least six months a year. Very unusually, the density of light – there is a very faint  hint of neutral greyness to it – is constant; there is zero variation. 
And so a highly talented outsider – not so much a starchitect, more an articulate, super-quizzical New York architect – has delivered LA's latest cultural icon as part of a design process that could almost carry the title of Eli Broad's 2012 bestseller, The Art of Being Unreasonable: Lessons in Unconventional Thinking. 
"I had a superficial knowledge of the city," says Liz Diller, recalling her ideas about Los Angeles. "The place was an enigma to me – unbearable and brilliant and unfinished, a place that needed to be rethought. We were all trying to decode what it was about Los Angeles that produced its unusual vibrancy." 
The Broad has added to it, even if the word "unusual" is two-edged. The civic vibe in Grand Avenue, and downtown Los Angeles, remains weirdly enigmatic. 
Reuse content