In the wet summer of 1853, John Ruskin  was working on his index to The Stones of Venice.
On the other side of the cottage sat the Pre-Raphaelite artist John Everett Millais, sketching. They had come to Brig O'Turk to paint a portrait of Ruskin, the champion of "truth to Nature". But their plans had been scuppered by the incessant rain, and so they were stuck inside. Millais turned his attention instead to Ruskin's young wife, Effie. He drew her constantly, watching as she sewed. Effie had always felt happiest in her native Scotland. But this holiday revealed the widening cracks in her marriage. 
Emma Thompson has chosen Effie Gray as the heroine of her latest screenplay. Released this month, the film is a true and troubling love-story. But why should we care, 160 years on, about one girl's struggle to escape an unhappy marriage? John Ruskin was a visionary art critic, who influenced radicals from William Morris to Gandhi. Effie's bold decision to leave him, and then to marry the handsome young rebel Millais, caused shock waves throughout the British Establishment. As the woman who inspired them both, Effie smoothed the paths of their careers. 
It was rumoured that Effie received 27 proposals of marriage before she settled for Ruskin. She was tall, with striking auburn hair and an ability to dress well on a budget. Her father had financial worries, and as the eldest of 15 children she was aware of her responsibility to marry money. Ruskin was an only child, and his father was wealthy. His career as a writer was firmly established, and he was pushing 30. His parents decided that it was time he found a wife. Effie seemed suitable. The two families had been friends for generations, and Effie had known John since she was a schoolgirl.
So Effie Gray and John Ruskin were married in April 1848. They honeymooned in the Lake District, Effie writing to her mother that her new husband was most "considerate". But the letters masked a sad secret. John Ruskin would not touch his wife. They never had sex. Ruskin declared he wanted to wait. And so Effie waited. Ruskin's love letters had been full of promise, imagining the moment when "I shall again draw your dress from your snowy shoulders". Yet in his fantasy, John still imagined his wife as pure, pale, intact.  He could not love her in the flesh.
As Effie's biographer, I have spent years  trying to unravel the myths and misunderstandings about this relationship. We can reconstruct much of Effie's world through the thousands of family letters that survive. Like Emma Thompson, I was drawn to Effie by the shimmering details of her writing.  She is smart, sociable and sharp-tongued. But there is always an underlying reserve: she cannot tell her mother why she is childless. So we will never know for sure what went on in the Ruskins' bedroom.
In the new film, Dakota Fanning sensitively conveys the quiet crumbling of a bride's hopes.  On a tour behind the scenes at Ealing studios, I am struck by Dakota's desire to know more about the woman she portrays. Her make-up mirror is plastered with torn-out images of 19th-century pictures. Dakota is intrigued by Effie's dress designs; the black velvet and pearls for Venice or silvery glacé silk for her first  Season in London. But for today's filming, Dakota is dressed in a nightgown and shawl.   
The scene is the cramped croft where Effie, Ruskin and Millais spent their wet Scottish holiday. Ruskin (played by Greg Wise) lies alone on a couch close to the camera, while Effie whispers to Millais (played by Tom Sturridge) in the half-light. The claustrophobic atmosphere is brought startlingly to life in the studio, as the actors tip-toe around each other. We feel Effie's disquiet as she finds herself trapped between her husband – who barely notices her – and his friend, who cannot take his eyes off her.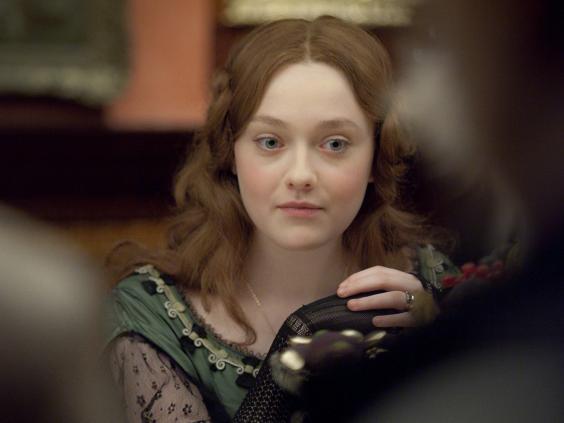 Millais's portrait of Ruskin, painted that summer, is a Pre-Raphaelite icon, astounding in its naturalism and the clarity of its colour. He had chanced upon the perfect spot where Ruskin could stand with the rushing water at his feet, "like writhing liquid amber". Even the lichen on the wet rocks was made beautiful by Millais's brush. But Ruskin's indifference to Effie was intolerable. Millais wrote that Ruskin's behaviour was "sickening" and "heartless". He told a friend, "it would be quite impossible to stay here, if it was not for Mrs Ruskin, who is more delightful every day". We know from Effie's letters that she enjoyed her walks with Millais. They slithered along muddy paths, arm in arm, while Ruskin brooded at his desk. There is a tenderness between Effie and Millais that she never found with her own husband. 
It was Lady Elizabeth Eastlake who managed to untangle the web of half-truths and unhappiness, and release Effie into a new life. Emma Thompson takes this role in the film, playing Lady  Eastlake as a sort of fairy godmother. She asked bold questions – why are there no children? – and finally got some answers. Lady Eastlake overturns many stereotypes about buttoned-up Victorian attitudes. She was astonished when she heard that Ruskin had never consummated his marriage. Any wife was entitled to expect affection, children, and yes, sex. She took up Effie's cause, and explained that there was a way out. Effie could sue Ruskin for an annulment. It would be as if the marriage never happened. But Effie would have to put her virtue on trial and suffer a painful doctor's examination.
Lady Eastlake also kept her eye on Millais.  She had heard the gossip about the young  artist and Ruskin's beautiful, sad wife. Florence Nightingale and Elizabeth Gaskell exchanged barbed notes about Effie's behaviour in  Scotland. But Effie knew now that she had nothing to be ashamed of. She had been put in an impossible position by her husband.
And so she took the remarkable decision to leave Ruskin, and return home to Perth. He had already suggested that Effie was suffering from "a nervous disease affecting the brain". If Ruskin claimed that she was mentally ill, she could be put away, just another Victorian madwoman in the attic.
Emma Thompson's film ends with Dakota  Fanning gazing back at the life she is leaving.  It hints at a reunion with Millais. But Effie's true story does not finish there. For my book I wanted to find out what happened next – after all, Effie had another 45 years of life left in her.
My research took me deeper into Effie's experience, reading hundreds of letters that had not been seen outside her family for more than a century. I was particularly moved by Millais' note, written when he discovered in July 1854 that Effie was legally free. He sounds exhilarated and anxious. "The thought of being near you again," he wrote, "numbs my senses in an odd way, so that I almost fear what I look forward to with such pleasure."
Effie's diary reveals how she and Millais were finally reunited. He was still smitten, and she was hopeful. They were married on 3 July 1855 in the drawing room at her home in Perthshire.  Effie's first child was born less than a year later. They were a good match, not perfect, but successful. Millais rose to become President of the Royal Academy. From 1885, Effie was Lady Millais, wife to a baronet. John Ruskin had once told Effie that he wanted his bride to be "unobserved". But she knew her own ability to turn heads, and to network.  With Millais she found a fulfilled life.
Effie's behaviour has always divided opinion. As a girl, she was criticised for being "too forward for her years". Later, she was called "shameless and unwomanly". Dakota Fanning's performance will reignite the debate about the villains and victims in Effie Gray's marriage.  (Ruskin's parents, played by Julie Walters and David Suchet, certainly made matters worse.) The emotions are still raw, but Dakota presents a restrained response to Effie's predicament.  Emma Thompson's screenplay concertinas six years of Effie's life into 90 minutes.  But we are never allowed to forget that this film is about real women, real heartache.
'Effie Gray' is released on 10 October. Suzanne Fagence Cooper's 'Effie Gray'  is published by Duckworth
Reuse content