Frieze Art Fair and Frieze Masterpiece, Regent's Park, review: 'I loved the work of Istanbul artist Hüseyin Bahri Alptekin, who sadly died too young in 2007'
A fund of £150,000 has been dedicated to purchase works for the permanent collection of the Tate from Frieze London this year
3
Click to follow
The Independent Culture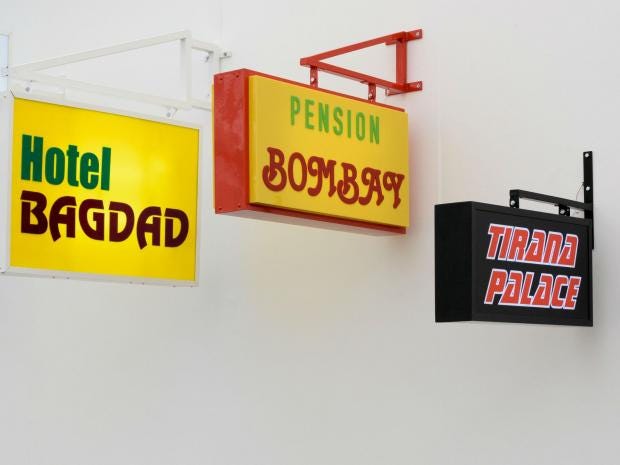 Another year, another Frieze Art Fair. It now signals the beginning of autumn and another frenetic season of parties, art deals and openings.  Reviewing an ephemeral event like a fair is difficult but I steeled myself to the pomposity and self entitlement of the art world to see if something good could emerge.
This year a fund of £150,000 has been dedicated to purchase works for the permanent collection of the Tate. What could be bad?  Its restriction is that it all has to chosen from works in galleries at the fair; the fund is also from WME/IMG, the company that recently purchased Frieze Enterprises.  It all seems a bit like a dog eating its own tail. I am not dispute that new works for the Tate is good though there are plenty of other needy museums in the UK
Portuguese artist Leonor Antunes is hot now, having had a big presence in the recently reopened San Francisco Museum of Modern Art. Her large hangings grace both the wonderful Mexican gallery Kurimanzutto stand (awarded the Frieze award for best stand) and Luisa Strina's stand, from which the purchase for Tate was made. Although Antunes is Portuguese, she seems at home with this historically great Brazilian gallery which has a long history of working with artists using interesting materials. Bravo Leonor and bravo Luisa.
I also loved the work of Istanbul artist Hüseyin Bahri Alptekin,who sadly died too young in 2007. The curatorial team chose a group of hotel signs that reflect the artist's love of both collecting and travel and seem appropriate in this increasingly migratory world. More poignant but probably out of the price bracket for the Tate was a set of coats and objects holding Alptekin's memory of four artistic residencies.  Don't miss the work on the Istanbul Rampa Gallery booth.
The final choices by the team are two works by Phillip Lai at Modern Art: plastic buckets showing past use. I felt less engaged but not horrified by the choice. 
Would I have selected something different for the Tate if I was on the committee? I loved a fragile mobile totemic work by LA artist Evan Holloway on the booth of the Los Angeles gallery David Kordansky. One can see the influence of both Paul McCarthy and Mike Kelly, but with its own voice it greets the viewer with both beauty and strangeness. 
Reuse content
Comments