According to the artist Gavin Turk, the world population on 24th January 2014 at 7.30pm, was seven billion two hundred and one million nine hundred and sixty four thousand and two hundred and thirty eight.
This number is lit up, giant sized, in blue neon on the 19th century façade of the Bowes museum in County Durham, which houses the opulent collection of John Bowes. Climb the grand stairway, past gilded marble columns, through an opaque glass door and then bam, you're in a dark room lit like a Soho side street.
It's Turk's first show of solely neon sculpture. Largely new work but a glowing lobster outlined in red, "Still Life With Lobster", dates from 1995. Turk's work references art, not nature: sixteenth century still life painting, Warhol's lobster, and Salvador Dali's surrealist lobster telephone. The spare form of this sculpture belongs to the condensed nature of Minimalist art. Turk mines work by other artists but the result belongs entirely to him.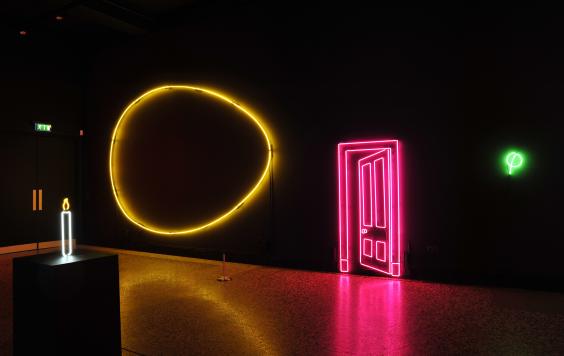 There's another seven billion neon number in this room, but it has increased by 2,500. In the time it took to walk upstairs, this many babies were born. Neon work by Arte Povera artist Mario Merz is an influence here, and his obsession with the Fibonacci sequence, a formula used to figure out the birthrate of breeding rabbits.
Light's a theme. There's a flaming neon match, a candle, an eyeball and the diagonal shadow of a red picture nail. It's light made of light. Turk enjoys a visual pun, like Magritte. This is not a match? Ceci n'est pas un pipe – Magritte's famous painting of a pipe.
The shadow on a red neon nail falls dramatically like shade from a pillar in a deserted piazza painted by de Chirico. Argon Candle is a lone neon candle on an individual plinth in the centre of the room - an illumination of the source of light, like kitsch electric candles in a church. There's also a reference to Marcel Duchamp's late work here.
The outline of a giant yellow banana hangs on the other wall to an equally huge egg. Turk claims the banana as a deflated egg. But some might recognise the banana from Andy Warhol's album cover for the Velvet Underground and Nico, in 1967. The banana links music and Pop art, hanging opposite Turk's signature egg, which glows golden yellow like the arches of Macdonald's.
Neon and consumerism have always been bedfellows. Its visual seductiveness made it the perfect medium for advertising signs and slogans. Turk follows the path of a desiring eye in "The Observing Eye", which flashes a sight line to the Greek letter Phi. Representing the Golden Ratio, it's a mathematical calculation for aesthetic pleasure.
Turk makes clever art – but not so clever that we feel excluded. Even if we don't get the reference, his work remains eloquent in its simplicity. This exhibition, curated by Greville Worthington, explores everything Gavin Turk has to offer but looking at it through the medium of neon.
'Seven Billion Two Hundred and One Million Nine Hundred and Sixty-Four Thousand and Two Hundred and Thirty-Eight' is at The Bowes Museum, County Durham to  21 April
Reuse content