"In a squalid yard behind the clamour of the Gare Montparnasse, a dingy staircase leads to Piet Mondrian's door," the journalist W F A Röell wrote in 1926, when he arrived at the studio of the great Dutch artist.
Inside, he found a space that was "geometrically impeccable." It was removed from the urban mayhem of Paris, indeed, from the outside world. Rectangles of bright, flat, primary colours hung on every wall, turning the studio into a four-dimensional version of one of Mondrian's own famous grid paintings. "This lonely ascetic offers a dazzling purity, causing everything to be bathed in a pristine glow," Röell wrote.
Mondrian had established his distinctive grid style in 1919; its seeming simplicity would exert an immense power over the art that came after. The grid paintings consist of red, yellow, blue, and white rectangles created by intersecting black lines. Rather than being brutal, they are pure, in a spiritual sense. They are self-contained, stunning in their way.
A new exhibition, Mondrian and Colour, has just opened at Turner Contemporary Gallery in Margate. Ostensibly, it explores Mondrian's extraordinary relationshipwith colour. He was greatly influenced by the Romantic writer Johann Wolfgang von Goethe's Theory of Colour (1810). But more compelling is the story of how the form of the grids emerged.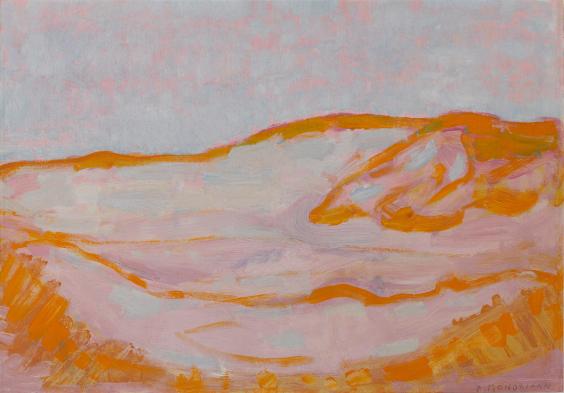 Here we see the artist evolve from a young man living in the rural Netherlands and emulating the realist style of The Hague School through his cubist period after he moved to Paris in 1911 to the accomplished verve of Lozenge Composition with Four Yellow Lines (1933), which is displayed here: a white square canvas tilted at a 45-degree angle, painted with four yellow lines, as the title suggests. It is mounted high on the gallery wall so that the viewer has to look up, which creates the sense of awe typically associated with religious art.
Mondrian was born in 1872. His artistic career spanned two world wars, or what he deemed "this moment of chaos." In the 1930s, his paintings were included by the Nazis on a list of "degenerate art" and he was exiled to London, and then New York, where he died in 1944. Despite his seemingly monastic lifestyle, he loved Josephine Baker, jazz, and the Charleston, and, according to the art critic Clement Greenberg, often danced alone in his studio.
Critics of contemporary art, particularly abstract art, often complain that it lacks skill, that anyone could do it. This exhibition shows in a remarkable way how Mondrian developed a staggering degree of technical sophistication in order to achieve the simplicity of the grids. The early works testify to the artist's monomaniacal pursuit of an idea that only emerged when he was nearing 50.
Mondrian's was a mystical kind of minimalism (a movement he predated and influenced). In fact, there are only five grid paintings on display here; the emphasis lies on the works that led up to the breakthrough of 1919. The exhibition has the narrative tension of a thriller; the crescendo of the grid paintings at the end is frustrating only because I would have liked to see more. Thankfully, a second exhibition, Mondrian and His Studios, opens at Tate Liverpool on 6 June, which includes a wider selection.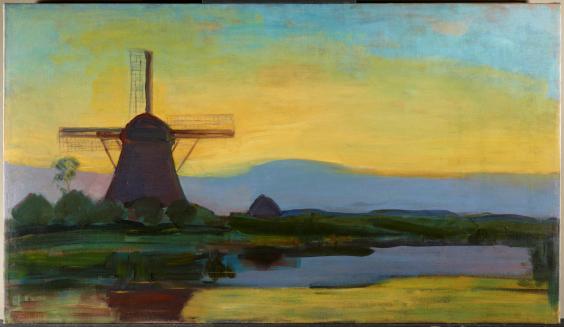 This exhibition begins in the 1890s in the Netherlands. Farmhouse with Wash on the Line (1897) is a small painting of white garments sagging on a washing-line, imperfect rectangles, faithful to the disorder of daily life. They appear like impure renditions of the later grid paintings. Moreover, the intersecting vertical and horizontal lines in thickly applied paint foretell Mondrian's later obsession with the balance of opposites. He wrote in 1941: "I felt that the tragic is created by unequivalence. I saw the tragic in a wide horizon or a high cathedral."
Mondrian plays with this sense of the tragic in the astonishing Summer Night (1906-7), my favourite of the early works. It shows a meltingly surreal (prior, of course, to surrealism) landscape of mauve sky and ill-defined trees, reflected in water. The moon is surrounded by a halo of light; the water directly below it achieves a sharp white clarity. Mondrian loved to paint in moonlight, "when the density of atmosphere obscures the details." This moon is akin to a sun, weakly radiant. It recalls Goethe's idea of "subjective halos," whereby a "bright image is surrounded by a circle of misty light."
Devotion (1908) is another striking early work. At first, it seems merely whimsical - but it has a transcendent quality. A young girl stares upwards at a pale flower that appears to revolve in space. Her face is shown in profile: her skin is luminous and she is outlined in a bold red-orange. Dramatically, her long hair streams behind her, seemingly on fire. Its colour merges with the background; the lines around her stream downwards too, recalling Munch's The Scream, painted around the same time.
The painting is visionary, rather than religious. It echoes the flowing lines of Art Nouveau, which in turn inspired the psychedelic art of the 1960s. These disparate movements all attempted to express a harmonious order of nature through art. Contrary to his later banishment of all subjective experience, here Mondrian has placed a human act of faith at the centre of his work. Like the LSD-inspired work of the Sixties, the painting seems almost hallucinatory.
The single self-portrait on display is wonderful. The artist wears his characteristic brown suit, hair slicked back. A mirror must have been positioned to his left because he is looking over his shoulder. In the background, there are the sketchy black outlines of rectangles. They are little more than a pattern - they could be part of the wallpaper. But they are a powerful visual marker of what will come. There is a sense of fate in Mondrian's early work, as if his own will led him inevitably to one artistic destiny. The self-portrait offers us a view of the man, but the rectangles around his head suggest his imagination turned outwards.
What follows is a series of works that each testify to Mondrian's absorption of the avant garde movements of the time. Paysage (1914) is a homage to Cézanne, replete with curved lines and fractured forms; Composition in Oval with Colour Planes II (1914) is clearly indebted to Picasso's cubist innovations - and yet it's dislocated from the material world, with no suggestion of still-life or subject. Abstraction is taking over: black lines form irregular rectangles, filled in with orange, blue, and pink. There seems to be a pause before the climax of the exhibition. And then, finally, Mondrian achieves his breakthrough.
The most magnetic of the grid paintings on display here is Composition II (1920). Mondrian had not yet settled on his love of white and the spaces between the black lines are grey, touched with smoky blue. The yellow is dim, as in low, church lighting. Indeed, the grids recall the windows of medieval churches, wherein each piece of stained glass is merely a means for the divine light of god to shine through.
Mondrian sought an antidote to the chaos and violence of his time in the strict aesthetic rules of the grids. But they are not clinical. On close inspection, the black lines are uneven; colour overlaps, albeit subtlety. The human errors have not been erased. Nor are they secular. Rather, there is mystery in their calculation, reverence in the way they are made. "Actually it is an expression of our modern age," he wrote of his own art.
Mondrian and Colour, Turner Contemporary, Margate (01843 233 000) to 21 September