Paul Gauguin began the first of his two extended visits to the post-paradisal world of Tahiti – French colonisers had succeeded in smudging out its innocence – in 1891, and the consequence of these visits was a tumult of paintings, some of which were very good indeed, and others less so.
This one is among the best of them and, unlike many of the others, it is in fine condition thanks to the fact that it has been within the custodianship of a museum. Hence the far-fetched price.
Gauguin, being a calculating, ex-financial man, with an eye ever inclined towards the Parisian art market (with which he was in regular contact thanks to a very good postal service), loved to mystify and to myth-make.
His Tahitian females are usually seductively impassive models of sexual allure, crouching panther-like as if ready to spring (as here). Or they brood. Or they stand, statuesque and bare-breasted, as if they were freshly awakened spirit beings of great natural beauty and startling youthfulness. Or they lie on their sides, dreaming dreams whose meanings are surely known only to the equally mystifying local gods, which are often represented in these works, though not here. In short, they are all near-perfect models of male commodification.
The baffling Tahitian phrase which Gauguin gives as the painting's title (Nafea faa ipoipo - helpfully translated into English: 'When will you marry?') is one that, according to Gauguin, a great self-publicist, was often tossed in his direction.
Paul Gaugin
Paul Gaugin
1/8 Paul Gaugin

French painter Paul Gauguin (1848 - 1903) seated in front of one of his paintings

Getty

2/8 Paul Gaugin

Self-portrait by the French painter Gauguin

Getty

3/8 Paul Gaugin

'Nafea faa Ipoipo' 1892) by Gauguin was previously displayed at a Basel museum, on loan from a family trust

EPA

4/8 Paul Gaugin

'Au-dessus de la Mer' by Paul Gauguin is on display during a preview of Sotheby's impressionist and modern art sale in New York, October 30, 2009

Getty

5/8 Paul Gaugin

'L'esprit des morts veille' (the spirit of the dead watch), an oil painting dated 1892

Getty

6/8 Paul Gaugin

'Nature morte a L'Esperance' by French artist Paul Gauguin

Getty

7/8 Paul Gaugin

Getty

8/8 Paul Gaugin

Getty
Here the European influence rubs up (almost literally) against the local: the woman who crouches in front is in Tahitian dress, the one who overlooks her in European. As so often with Gauguin, the painting pleases us by its general sinuousness: that lake, the shapely tree, the way its elements seem to meld together so smoothly and so harmoniously, as if squeezed down upon one another horizontally.
As we see in the painting, Gauguin was a master of harmonious colour relationships. His juxtapositions surprise and please but, unlike, say, the Fauves, who came shrieking so soon after, they never jar. This adds so much to their sensual allure. That colour warmth contextualises so pleasingly the inscrutable female gaze, as if offering it up to us on a heated plate.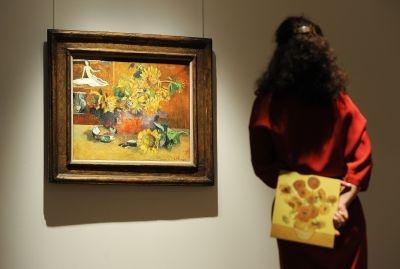 So she seems to be edging towards us, teasingly, pouting deliciously, and twisting her lovely feet as if they were twists of liquorice.
Unlike so many other fantastical Gauguin Tahitians, she may even be about to smile. Her older, stern-faced companion on the other hand, tricked out like a European, may yet restrain her for modesty – or morality's – sake. Gauguin may not get his catch after all.
Reuse content