The rustle of paper and the musty aroma of tightly packed pages is key, for many readers, to the appeal of picking up a physical book rather than a digital one, but Brits may just have found something equally sensuous.
Soundtracked books – ebooks with sound effects – started appearing on sale four years ago, but exclusive research from the market leader, Booktrack, shows Britain is now the second-keenest nation, after the US, to wrap its eyes and ears around this revamped medium. The new study shows the total number of people in Britain using the medium has increased 13 times since July, and reveals the Booktrack app has 2.5 million users worldwide.
Soundtracked books haven't been whole-heartedly welcomed by book buyers, though. Predictably, traditionalists have insisted that piped-in sounds distract from the written word and stamp on the imaginations of readers. One publishing insider told The Independent: "Readers want to immerse themselves and let their imagination run free, not be bombarded with interferences."
Culture news in pictures
Culture news in pictures
1/30 30 September 2016

An employee hangs works of art with "Grand Teatro" by Marino Marini (R) and bronze sculpture "Sfera N.3" by Arnaldo Pomodoro seen ahead of a Contemporary Art auction on 7 October, at Sotheby's in London

REUTERS

2/30 29 September 2016

Street art by Portuguese artist Odeith is seen in Dresden, during an exhibition "Magic City - art of the streets"

AFP/Getty Images

3/30 28 September 2016

Dancers attend a photocall for the new "THE ONE Grand Show" at Friedrichstadt-Palast in Berlin, Germany

REUTERS

4/30 28 September 2016

With an array of thrift store china, humorous souvenirs and handmade tile adorning its walls and floors, the Mosaic Tile House in Venice stands as a monument to two decades of artistic collaboration between Cheri Pann and husband Gonzalo Duran

REUTERS

5/30 27 September 2016

A gallery assistant poses amongst work by Anthea Hamilton from her nominated show "Lichen! Libido!(London!) Chastity!" at a preview of the Turner Prize in London

REUTERS

6/30 27 September 2016

A technician wearing virtual reality glasses checks his installation in three British public telephone booths, set up outside the Mauritshuis museum in The Hague, Netherlands. The installation allows visitors a 3-D look into the museum which has twenty-two paintings belonging to the British Royal Collection, on loan for an exhibit from 29 September 2016 till 8 January 2017

AP

7/30 26 September 2016

An Indian artist dressed as Hindu god Shiva performs on a chariot as he participates in a religious procession 'Ravan ki Barat' held to mark the forthcoming Dussehra festival in Allahabad

AFP/Getty Images

8/30 26 September 2016

Jean-Michel Basquiat's 'Air Power', 1984, is displayed at the Bowie/Collector media preview at Sotheby's in New York

AFP/Getty

9/30 25 September 2016

A woman looks at an untitled painting by Albert Oehlen during the opening of an exhibition of works by German artists Georg Baselitz and Albert Oehlen in Reutlingen, Germany. The exhibition runs at the Kunstverein (art society) Reutlingen until 15 January 2017

EPA

10/30 24 September 2016

Fan BingBing (C) attends the closing ceremony of the 64th San Sebastian Film Festival at Kursaal in San Sebastian, Spain

Getty Images

11/30 23 September 2016

A view of the artwork 'You Are Metamorphosing' (1964) as part of the exhibition 'Retrospektive' of Japanese artist Tetsumi Kudo at Fridericianum in Kassel, Germany. The exhibition runs from 25 September 2016 to 1 January 2017

EPA

12/30 22 September 2016

Jo Applin from the Courtauld Institute of Art looks at Green Tilework in Live Flesh by Adriana Vareja, which features in a new exhibition, Flesh, at York Art Gallery. The new exhibition features works by Degas, Chardin, Francis Bacon and Sarah Lucas, showing how flesh has been portrayed by artists over the last 600 years

PA

13/30 21 September 2016

Performers Sean Atkins and Sally Miller standing in for the characters played by Asa Butterfield and Ella Purnell during a photocall for Tim Burton's "Miss Peregrines Home For Peculiar Children" at Potters Field Park in London

Getty Images

14/30 20 September 2016

A detail from the blanket 'Alpine Cattle Drive' from 1926 by artist Ernst Ludwig Kirchner is displayed at the 'Hamburger Bahnhof - Museum for Contemporary Arts' in Berlin. The exhibition named 'Ernst Ludwig Kirchner - Hieroglyphen' showing the complete collection of Berlin's Nationalgallerie works of the German artist Ernst Ludwig Kirchner and will run from 23 September 2016 until 26 February 2017

AP

15/30 20 September 2016

A man looks at portrait photos by US photographer Bruce Gilden in the exhibition 'Masters of Photography' at the photokina in Cologne, Germany. The trade fair on photography, photokina, schowcases some 1,000 exhibitors from 40 countries and runs from 20 to 25 September. The event also features various photo exhibitions

EPA

16/30 20 September 2016

A woman looks at 'Blue Poles', 1952 by Jackson Pollock during a photocall at the Royal Academy of Arts, London

PA

17/30 19 September 2016

Art installation The Refusal of Time, a collaboration with Philip Miller, Catherine Meyburgh and Peter Galison, which features as part of the William Kentridge exhibition Thick Time, showing from 21 September to 15 January at the Whitechapel Gallery in London

PA

18/30 18 September 2016

Artists creating one off designs at the Mm6 Maison Margiela presentation during London Fashion Week Spring/Summer collections 2017 in London

Getty Images

19/30 18 September 2016

Bethenny Frankel attends the special screening of Disney's "Beauty and the Beast" to celebrate the 25th Anniversary Edition release on Blu-Ray and DVD in New York City

Getty Images for Walt Disney Stu

20/30 17 September 2016

Visitors attend the 2016 Oktoberfest beer festival at Theresienwiese in Munich, Germany

Getty Images

21/30 16 September 2016

Visitors looks at British artist Damien Hirst work of art 'The Incomplete Truth', during the 13th Yalta Annual Meeting entitled 'The World, Europe and Ukraine: storms of changes', organised by the Yalta European Strategy (YES) in partnership with the Victor Pinchuk Foundation at the Mystetsky Arsenal Art Center in Kiev

AP

22/30 16 September 2016

Tracey Emin's "My Bed" is exhibited at the Tate Liverpool as part of the exhibition Tracey Emin And William Blake In Focus, which highlights surprising links between the two artists

Getty Images

23/30 15 September 2016

Musician Dave Grohl (L) joins musician Tom Morello of Prophets of Rage onstage at the Forum in Inglewood, California

Getty Images

24/30 14 September 2016

Model feebee poses as part of art installation "Narcissism : Dazzle room" made by artist Shigeki Matsuyama at rooms33 fashion and design exhibition in Tokyo. Matsuyama's installation features a strong contrast of black and white, which he learned from dazzle camouflage used mainly in World War I

AP

25/30 13 September 2016

Visitors look at artworks by Chinese painter Cui Ruzhuo during the exhibition 'Glossiness of Uncarved Jade' held at the exhibition hall 'Manezh' in St. Petersburg, Russia. More than 200 paintings by the Chinese artist are presented until 25 September

EPA

26/30 12 September 2016

A visitor looks at Raphael's painting 'Extase de Sainte Cecile', 1515, from the Uffizi Gallery in Florence during the opening of a Raphael exhibition at the Pushkin State Museum of Fine Arts in Moscow, Russia. The first Russian exhibition of the works of the Italian Renaissance artist Raffaello Sanzio da Urbino includes eight paintings and three drawings which come from Italy. Th exhibit opens to the public from 13 September to 11 December

EPA

27/30 11 September 2016

Steve Cropper and Eddie Floyd perform during Otis Redding 75th Birthday Celebration - Rehearsals at the Macon City Auditorium in Macon, Georgia

Getty Images for Otis Redding 75

28/30 10 September 2016

Sakari Oramo conducting the BBC Symphony Orchestra, the BBC Symphony Chorus and the BBC Singers at the Last Night of the Proms 2016 at the Royal Albert Hall in London

PA

29/30 9 September 2016

A visitor walks past a piece entitled "Fruitcake" by Joana Vasconcelo, during the Beyond Limits selling exhibition at Chatsworth House near Bakewell

REUTERS

30/30 8 September 2016

A sculpture of a crescent standing on the 2,140 meters high mountain 'Freiheit' (German for 'freedom'), in the Alpstein region of the Appenzell alps, eastern Switzerland. The sculpture is lighted during the nights by means of solar panels. The 38-year-old Swiss artist and atheist Christian Meier set the crescent on the peak to start a debate on the meaning of religious symbols - as summit crosses - on mountains. 'Because so many peaks have crosses on them, it struck me as a great idea to put up an equally absurd contrast'. 'Naturally I wanted to provoke in a fun way. But it goes beyond that. The actions of an artist should be food for thought, both visually and in content'

EPA
But those in the pro camp make a strong argument. A study conducted by New York University, Reading with Sound, found that concentration levels actually benefited from the immersive experience. Paul Cameron, founder of the New Zealand-based Booktrack and the man who is dedicated to changing the way we read, says: "We have created a new entertainment medium that has not been encountered before, simply because the iPad didn't exist. Books are the only mainstream medium without synchronised sound but it really lifts the experience." On first listen, that experience appears to be a string of sound effects stuck together. Reading Dracula, my ears are greeted with the braying of horses, the crack of gunshots and startled cries. Trying it out as I sit beside Cameron in a busy London café with background noise audible over headphones, it feels more like trying to concentrate on a dot in the distance while the Rio Carnival rages in my peripheral vision.
But when I use the service in more leisurely environs, it presents a totally different experience. As Sherlock Holmes (one of Booktrack's most bankable assets) banters with Dr Watson by the fireside, the crackle of the flames seems to send warmth through the cold gleam of the iPad. Similarly, Toto's barking and the howl of the swirling winds that transport Dorothy to Oz in L Frank Baum's classic add atmosphere to a familiar tale as I read it travelling on a train through rugged Cumbria. For much of the prose, classical music plays and the same devices used in films are evident (sharp strings for tension, sweeping brass for long journeys through epic vistas). The app measures your reading speed to work out when to play the correct effects.
The medium has delighted self-publishers who have risen to prominence as ebooks have broken down the barriers to publishing. Fan fiction is one of the biggest categories in Booktrack's 16,000 titles and users are encouraged to use its stock sound effects – recorded by Peter Jackson's Lord of the Rings team – to "illustrate" their work, but they can also create their own. Cameron plans to add actual songs in future. "My dream is to have Lorde accompanying Hunger Games or Taylor Swift soundtracking a teen romance title," he says, adding that enthusiasts have been pairing music with reading for a long time (personally, the incongruous mix of Daphne du Maurier and electronica outfit Boards of Canada are perfect together).
For publishers, soundtracked books can provide a lively, marketable new revenue stream – and new opportunity to get more from their back catalogue. Prices are typically a little more expensive than ebooks, which in general have suffered something of a slowdown. The consumer research body Nielsen reported that ebooks' share of the UK books market jumped from 21 per cent in 2012 to 32 per cent in 2014, but fell back to 29 per cent in 2015. They were hindered by the phenomenal growth in physical adult colouring books and a lack of blockbuster young adult-fiction titles, which tempt adults to read books aimed at a more youthful audience (John Green's The Fault in Our Stars was an ebook blockbuster). Erotic fiction, led by EL James's Fifty Shades of Grey, continues to provide an ebook banker as the anonymity of what those getting hot under the collar are reading in public appeals.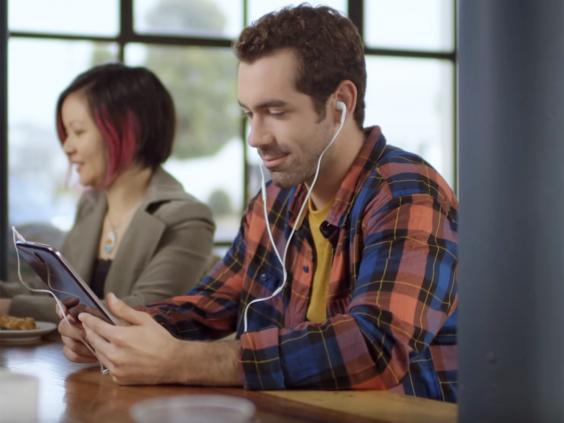 In its study Who's Afraid of the ebook Plateau? Nielsen found that readers have changed their views and habits in just a few years. The decline in the tablet and ereader market is shown by the fate of Amazon's Kindle, where shipments have rapidly slowed. In the UK, the Waterstones chief executive James Daunt ruffled feathers when – having dubbed Amazon a "ruthless devil" in 2011 – he reluctantly got into bed with said Satan a year later to sell Kindles. But this year Daunt admitted sales had been "pitiful" and pulled the devices out of stores. "We have gone almost as far as we can with what we have got. The heavy book buyers like it as they can take it on holiday and the Tube. Now the next thing is to take it beyond what the printed book can offer," says Neilsen's Jo Henry.
So if ebook popularity has faded slightly, how have soundtracked books captured a growing market? Their growth, it seems, goes hand in hand with a resurgence in audiobooks and podcasts. Both have been given a leg up by improved access through iTunes and landmark releases such as the now-classic Stephen Fry-read Harry Potter series and true-crime genre-reinventing podcast Serial. It appears that we still want in-depth, long-form stories, simply in new and different ways from the printed page alone. Some 10 per cent of those surveyed by Nielsen said that they were willing to pay extra for new and interactive ebook features.
One group rushing into the soundtracked books market are teachers. Booktrack, which is backed by the PayPal founder Peter Thiel, has more than 12,000 schools signed up to its classroom service and it claims pupils using the service read for 30 per cent longer, scoring 17 per cent higher on comprehension tests.
Will books without soundtracks one day seems as archaic as silent films? It seems unlikely, but the rise of soundtracked books speaks volumes about the way we like to be informed and entertained in an increasingly digital world.
Reuse content