Tomorrow, on what would have been his 202nd birthday, Charles Dickens will be recognised with the first statue ever to be erected in his honour in the country of his birth.
The responsibility for creating the monument has fallen on the shoulders of Martin Jennings and his bronze image of the great writer, seated by a pile of books and shrouded in a theatrical drape, will surely become a literary landmark.
Jennings is establishing himself as one of Britain's finest portrait sculptors, having previously created a wonderful likeness of John Betjeman, clutching his hat in the breeze at London's St Pancras station, and another of Philip Larkin, jauntily striding through Hull Paragon Interchange.
The Dickens statue, which will be unveiled tomorrow in the Guildhall Square in Portsmouth, the city of the author's birth, has been especially complicated. Not least because Dickens himself wrote about his funeral: "I conjure to my friends on no account to make me the subject of any monument, memorial or testimonial whatsoever."
Things you didn't know about Charles Dickens
Things you didn't know about Charles Dickens
1/7 Charles Dickens, 1812-1870

Dickens was interested in the paranormal and was one of the early members of The Ghost Club

Hulton Archive/Getty Images

2/7 Charles Dickens, 1812-1870

His letter-opener was made from a claw of his favourite cat, Bob

Getty Images / Hulton Archive

3/7 Charles Dickens, 1812-1870

Dickens is believed to have had epilepsy as a child, and referred to seizures in his novels including 'Bleak House', 'Oliver Twist' and 'Our Mutual Friend'

Getty Images / Hulton Archive

4/7 Charles Dickens, 1812-1870

Before becoming a novelist he worked as a journalist writing parliamentary sketches for The Morning Chronicle, during which time he called himself Boz, a family nickname he used for a number of years

Getty Images / Hulton Archive

5/7 Charles Dickens, 1812-1870

He loved nicknames and called his children 'chickenstalker' and 'skittles'

Getty Images / Hulton Archive

6/7 Charles Dickens, 1812-1870

The phrase 'What the Dickens' outdates the writer. It was originally used in Shakespeare's 'The Merry Wives of Windsor'

Getty Images / Hulton Archive

7/7 Charles Dickens, 1812-1870

Dickens had ten children with his wife Catherine Thomson Hogarth, who he separated from in 1858. He then had a relationship with actress Ellen Ternan
His descendants – 40 of whom will attend the unveiling – have taken the view that this request was designed to prevent the kind of garish toga-wearing funeral monuments popular in Victorian times and does not preclude a tribute made 144 years after his death. And so Britain has its first statue of one of the greatest novelists in the English language, to add to those in Philadelphia and Sydney.
The Independent was invited to see the work, in the company of Ian Dickens, the great-great- grandson of the author, as Jennings oversaw its completion last week at Pangolin Editions, a foundry near Stroud in Gloucestershire.
Under the sculptor's supervision, skilled men in red boiler suits and eye-goggles were using die grinder tools to remove signs of the weld of the dozen separate parts which form the 1.7m high bronze replicated from Jennings's clay original. "They're reading the marks I have left in the clay," says the artist, who does not like his sculptures to have a smooth finish.
His starting point for the project was to re-read Great Expectations and study Claire Tomalin's Dickens biography, which caused him to reassess the author.
"I realised it was his extraordinary energy that needed to be expressed in the piece," he said of a writer whose public readings would draw enormous crowds. "I was intrigued by his theatricality. Dickens was constantly putting on his own performances".
But the commission arrived at the start of 2011 with a brief to finish in time for the bicentenary of the author's birth on 7 February 2012 – a testing schedule.
Jennings, who works from a studio just outside Oxford, has put everything into the work. "It's the actual modelling of the clay that's most important – I want the piece to show evidence of having been made by hand, like some great big drawing."
In an economic downturn, raising money to commemorate a dead author became a thankless challenge. The bicentenary deadline came and went.
But Tony Pointon, chairman of the Charles Dickens Statue Committee, was undaunted. A physics professor at the University of Portsmouth, he became interested in Dickens and a potential statue after helping to restore the graves of Maria Beadnell and Ellen Ternan (the author's first and last loves), which had been left largely neglected in the city's Highland Road cemetery.
With the support of Dickens family relatives and Dickens societies around the world, the £140,000 cost of the project has been met (with a small overdraft), though the statue itself has only been one part of that cost. A significant amount was raised from collections in Portsmouth, with donations of £5 and upwards from locals who, Pointon says, wish to claim the bronze as "my statue".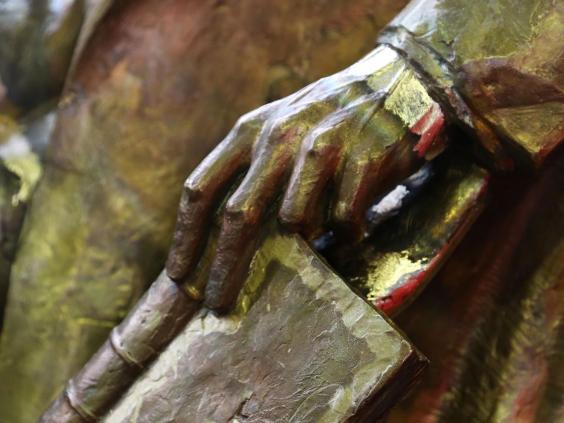 To capture the "theatricality" Jennings recognised in Dickensian novels where "characters are heightened, almost as if they were on a stage set", the sculptor created a figure that has its own sense of performance, swathed in a great cloth, like a theatrical curtain.
The statue is one and a quarter size and Dickens is seated, so the viewer can look this man of the people in the eye – and children can climb on his knee. This sedentary state does not signal repose. "I represented him as if he was in the green room of a theatre just before coming out to give a reading," said Jennings. "He's sitting down but I want to give the impression of someone who never sat for long or too comfortably. He's about to leap up."
The energy visible in the Betjeman and Larkin figures, both buffeted by the wind, is there in the fanned pages of the book which Dickens is putting down. "I wanted to express the rich abundance of his output and his fertile imagination, so there's a curl of books coming up alongside him."
The statue also has a social purpose. "I placed the emphasis on the book because in a city like Portsmouth the schools are aware of the importance of raising literacy levels and encouraging children to understand that reading and story-telling can set us free. So he sits there not only as a representation of himself but also as a spur for literacy and reading."
The statue's unveiling will involve a nine-year-old descendant of the author, Oliver Dickens, along with Esha Abedin, a pupil of the local Charles Dickens Primary School, and actors Edward Fox and Joanna David. Fox played Mr Brownlow in the most recent BBC television adaptation of Oliver Twist.
Ian Dickens is delighted with the likeness. "There are so many facets to capture – a great author, a social reformer, a man with fantastic energy and charisma who was the first superstar of his day. The sculpture has all that and more."
Jennings is also working on other remarkable pieces: a figure of the Victorian nurse Mary Seacole for the grounds of St Thomas's Hospital in London, and "The Women of Steel", a piece featuring two female figures in overalls with welding and riveting equipment which will stand in the city of Sheffield.
He is also making a statue of George Orwell, which is a private commission but will be situated outside the BBC's Broadcasting House headquarters. "Orwell is one of my heroes but I'm also very interested in the shape of the man: tall, thin, angular and with a tubercular chest."
Now we finally have one Dickens statue, Jennings hopes it will inspire more by other sculptors in places with ties to the writer like London and Rochester in Kent, where he died. "Different people have different understandings of a figure as great as Dickens," he said. "In the end it's just you and a dozen buckets of clay, an idea, a few photographs of the great man, alone in your studio and wanting to express something of the core of who he was."
Reuse content