There is a lot of guilt the former drug addict has to bear, says Paul Husband. "On a daily basis," he explains. "The guilt gets embedded, and comes back to you at the most inopportune times. For me, it's late at night, when I'm trying to sleep." I ask him for some examples of the guilt. "Oh, you know, the things I stole from my parents in order to score – the videos, the DVDs, the old vinyl albums – and all the lies I told."
While an addict's path to recovery path is invariably treacherous and punishing, it is hardly easier for family members, in Paul's case his parents Tony and Carole. Many rehabilitation programmes will actively encourage parents to close the door on their sons or daughters, the better to shock them into properly getting clean. Paul says his parents never did that with him; they couldn't. Instead, "they were understanding, supportive, loving. They forgave me, and drew a line under it all."
Paul has been clean from heroin for five years. The Manchester-born 38-year-old is in a healthy relationship, and a father of two. He works as a photographer. "If my parents had shut the door on me," he says, quietly, "I wouldn't be here now. No question."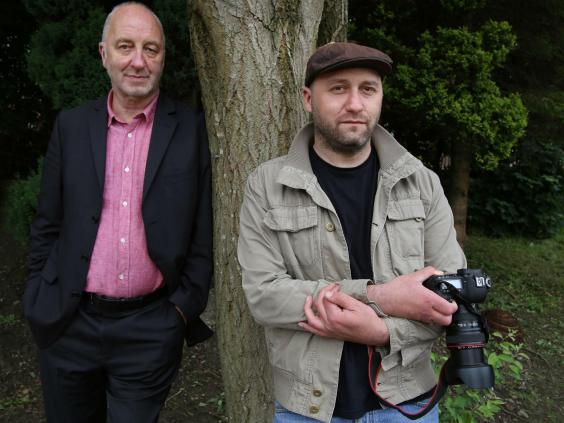 Paul's father, Tony Husband, has been a cartoonist for most of his professional life. He has had a cartoon strip in Private Eye – Yobs – for the past three decades, and he also contributes to The Times and The Spectator. His drawings are simple and minimalist, wilfully irreverent, drollery his signature style. But in 2014, he decided to mine darker subjects when he published a slim graphic novel, Take Care, Son: The Story of My Dad and His Dementia, about his elderly father's battle with the condition.
Encouraged by that book's reception – doctors have recommended it to the families of dementia patients, and he has given talks on the subject – he has now written another graphic novel, this one documenting his son's descent into the heroin addiction that almost killed him. Like its predecessor, From a Dark Place: How a Family Coped with Drug Addiction addresses something profoundly troubling with all the economy of his cartoon strips. Over the course of just 58 pages, he sketches – in both senses of the word – Paul's spiralling addiction, the distress that caused, and his eventual recovery. The true horror of a habit that lasted almost 15 years is only ever hinted at.
"I wanted to keep it simple because people respond to simplicity, I think," Tony says. "There was a lot of misery in our lives, but I didn't want to go overboard. I just wanted it to resonate."
I meet Tony, 67, at the Groucho Club in London. He has been a member for many years, and seems to know everyone here. Each time someone new comes through the door, he looks up as if anticipating encountering an old friend. A bear of a man, garrulous, deadpan and sweetly sentimental, Tony wells up several times during our conversation, brushing spilled tears from his cheeks.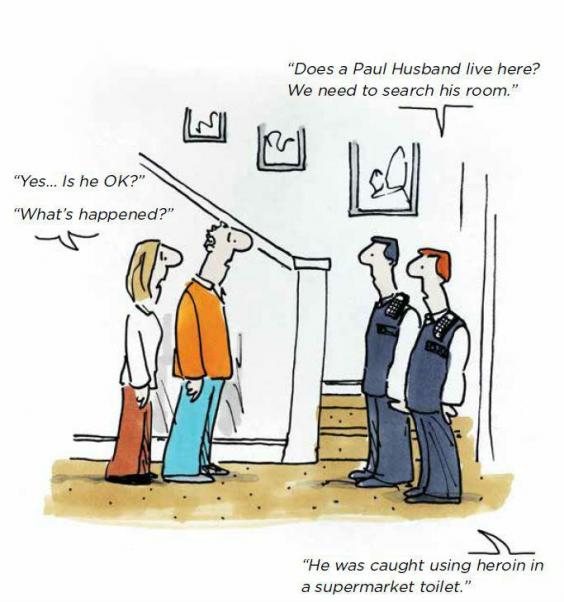 "As a parent, you wonder where you went wrong, what more you could have done to help," he says.
He suggests that Paul had been a happy child, good at music, promising at sports. But in his teenage years, he was bullied, and this, Tony believes, was the trigger for his addictions. But when I speak to Paul on the phone the following day, he believes otherwise. "It's just part of who I am. Maybe it's genetic, an addictive gene," he says, "but not so much environmental, I think. I mean, a lot of people are bullied, but they deal with it much better than I did. It's a mental thing, an emotional one. For me, drugs was always about escapism, and I always needed to escape."
 At 13, he was smoking weed, and shortly after was experimenting with LSD, speed and ecstasy. Transitioning from soft drugs to hard in the way the Daily Mail might have predicted, he was using heroin by 21. The next dozen years were a blur.
"To be honest, I always had fun on recreational drugs, but then I was a teenager; I would have had fun on anything," he says, laughing thinly. But unlike ecstasy, heroin was never fun. "No, that was more dependency, but it was a social thing. I was virtually an alcoholic when I started using, and my friends had been introduced to heroin. I suppose I felt a little left out, and wanted to remain a part of their scene. It was a good way to stay bonded."
But he became moody, paranoid. He stole from his parents, and spent all his Social Security on the drug. Increasingly, he became reclusive. Tony tells me of walking in on his son in his bedroom one day to see him dancing around a box of syringes in anticipation of shooting up, and how Paul's problems drove a wedge between Tony and Carole, who dealt with their son's problems in very different ways.
"Carole was always supportive of Paul, but she wanted us to be harder with him, and said I was always too soft, too forgiving," he says.
They tried various rehabilitation programmes, but Paul frequently lapsed. He attended AA and NA meetings, alongside SMART recovery groups, a science-based initiative helping people manage their recovery, which, he says, particularly resonated. But it was on one particular programme, the Lancashire User Forum, that something finally clicked. Here, he made new friends and developed new interests, one of which was photography. He proved a natural. He has since taken portraits of many Manchester acts – Elbow, Peter Hook, Morrissey – and they are painterly, and accomplished. His talent has clearly given him fresh purpose. He hasn't taken any drug for five years; his last drink was seven months ago.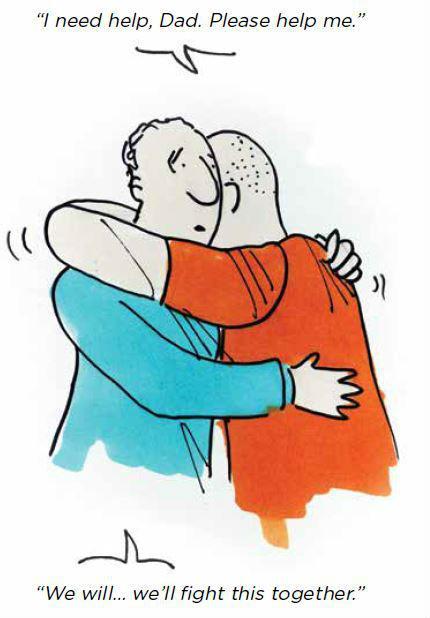 For Tony, this is the best possible news, and he radiates with pride over how far his son has come. He spends ten minutes scrolling through his phone showing me Paul's photographs. When a friend comes into the bar, he shows him, too.
"I'm still worried he might relapse, simply because ex-addicts often do," he says, "but he's doing amazingly well, and I'm so proud of him. I hope this book we've done together helps on his journey, and proves cathartic."
But Paul tells me it hasn't been cathartic yet. "Reliving it all has been pretty painful, actually."
Right now, he admits, its existence is making him anxious. He is worried that his ten-year-old daughter might get taunts in the playground about her father being an ex-junkie. He doesn't want that. But he does concede that his story is an inspirational one, and that by being able to help others he is doing a quietly heroic thing.
It falls to Tony to provide the optimistic coda. "When I wrote my book on my father's dementia," he says, "it ended with my father's death, because dementia always does end in death. With drugs, it doesn't have to, and in Paul's case, it hasn't." Relief puddles in his eyes. Once again, he apologises for the tears. "In Paul's case, it's a happy ending."
'From a Dark Place: How a Family Coped with Drug Addiction', by Tony Husband and Paul Husband, is published by Robinson, priced £8.99
Reuse content