Jessica Blair's 25th novel is out today, ready to delight her fans, who have so far snapped up somewhere in the region of half a million copies of her hugely popular period romances.
What a lot of Jessica's readership might not know, however, is that "she" is 92-year-old Bill Spence, former Lancaster bomber aircrew who flew 36 missions over enemy territory during the Second World War.
At his home in Ampleforth, on the edge of the North York Moors National Park, Bill never fails to be delighted when his "secret" gets out.
"I was on holiday in Scotland a while back and I went into the local library with a few promotional materials," he says. "I never leave home without a few leaflets, and I asked if they'd heard of my books. They were like, 'Jessica Blair! We had no idea you were a man! Everybody here loves your novels!'."
That's the usual response, although there have been a few people miffed that their favourite Catherine Cookson-style author isn't quite what she seems. "My daughter saw someone reading a Jessica Blair novel and told her that the author was her father. She closed the book and declared that she wasn't going to read any more," says Bill, laughing.
Culture news in pictures
Culture news in pictures
1/30 24 May 2016

Artist paints a reproduction of one of the vincent Van gogh's painting for the 'Loving Vincent' film in Wroclaw, Poland. 'Loving Vincent', the world's first fully painted animation feature film, will be about the life and death of the Dutch famous painter Vincent van Gogh

EPA

2/30 23 May 2016

John Oliver, Jimmy Fallon and Jennifer Lawrence during a taping of "The Tonight Show Starring Jimmy Fallon" in New York City

Getty Images

3/30 22 May 2016

French Moroccan director Houda Benyamina (C) poses with the Camera d'Or next to actresses Jisca Kalvanda (L), Oulaya Amamra (2ndL) and Deborah Lukumuena (R) at the Palme D'Or Winner Photocall during the 69th annual Cannes Film Festival

Getty Images

4/30 21 May 2016

Swedish artist Andreas Englund signs one of his murals at the Urban Nation museum for urban contemporary art, in Berlin

Getty Images

5/30 20 May 2016

(L-R) Autor Tom Brokaw, Legion of Honor's Grand Chancellor General Jean-Louis Georgelin, Actor Tom Hanks, Ambassador of USA in France, Jane D. Hartley and Doctor Gordon "Nick" Mueller attend Tom Hanks, Tom Brokaw & Gordon "Nick" Mueller receive the Legion d'Honneur Medal at Palais de la Legion d'Honneur in Paris

Getty Images

6/30 19 May 2016

Visitors study work by Tod Papageorge in the gallery areas at the "Photo London 2016" event at Somerset House in central London. Featuring work from some of the world's most respected photographers, the event is aiming to put London on the map as the global city of photography

Getty Images

7/30 18 May 2016

A view of the building that will house planned Urban Nation - Museum for Urban Contemporary Art in Berlin. The street art museum is scheduled to open in 2017

EPA

8/30 17 May 2016

Kate Morais looks at the 'Colossal statues of a king and a queen' (283-246 BC) - which are reflected in a display cabinet glass - which stand over five meters tall during a preview of the 'Sunken Cities: Egypt's Lost Worlds' exhibition at the British Museum in London. This is the museum's first large scale exhibition of underwater archaeological finds and tells the story of two lost Egyptian cities and their recent discoveries beneath the Mediterranean, excavated off the coast of Egypt near Alexandria between 1996 and 2012

Getty Images

9/30 16 May 2016

Kurt Cobain's Univox electric guitar played and destroyed by Cobain at Nirvana's 13 July 1989 concert at Maxwell's in Hoboken, New Jersey is displayed during Julien's Auction Music Icons Press Exhibition at Hard Rock Cafe, Times Square in New York City

Getty Images

10/30 15 May 2016

Cast of the "From The Land Of The Moon (Mal De Pierres)" attend the premiere during the 69th annual Cannes Film Festival at the Palais des Festivals

Getty Images

11/30 14 May 2016

Jamala representing Ukraine with the song "1944" celebrates with the trophy after winning the final of the Eurovision Song Contest 2016 Grand Final in Stockholm

Getty Images

12/30 13 May 2016

A mural on a restaurant wall depicting US Presidential hopeful Donald Trump and Russian President Vladimir Putin greeting each other with a kiss in the Lithuanian capital Vilnius. Kestutis Girnius, associate professor of the Institute of International Relations and Political Science in Vilnius university, said: "This graffiti expresses the fear of some Lithuanians that Donald Trump is likely to kowtow to Vladimir Putin and be indifferent to Lithuanias security concerns. Trump has notoriously stated that Putin is a strong leader, and that NATO is obsolete and expensive"

Getty Images

13/30 12 May 2016

People visit the artwork titled Seven Magic Mountains by artist Ugo Rondinone, near Jean, Nevada. The artwork was recently completed in the desert south of Las Vegas

AP

14/30 11 May 2016

Justin Timberlake attends the "Trolls" Photocall during The 69th Annual Cannes Film Festival

Getty Images

15/30 10 May 2016

Curator Ben Russell poses with a 2.4 meter robot called Cygan, built in 1957, on display at the Science Museum before announcing a new robot exhibition for 2017

Getty Images

16/30 9 May 2016

A Palestinian artist paints a graffiti on a wall of the United Nations school of Beit Hanun, in the northern Gaza Strip

Getty Images

17/30 8 May 2016

Jon Snow collects the award for best news coverage on behalf of Channel 4 during the House of Fraser BAFTA TV Awards 2016 at the Royal Festival Hall in London

PA

18/30 7 May 2016

Illustration View of the 'Empires' exhibition of Huang Yong Ping as part of Monumenta 2016 to Grand Palais from 8 May till 18 June 2016

Getty Images

19/30 6 May 2016

People, including Russian servicemen, attend a concert of Mariinsky Theatre in the amphitheatre of the Syrian city of Palmyra, Syria

Reuters

20/30 5 May 2016

A child looks at an artwork titled 'Bi-lateral Relations' by Uruguay artists Fernando Foglino and Valentina Cardellino during the Latin America and Caribbean Art Festival Visual Art Exhibition 2016 at the World Art Museum of the China Millennium Monument in Beijing. The exhibition runs until 26 May, and is part of joint activities to mark the China-Latin America and Caribbean Cultural Exchange Year

EPA

21/30 4 May 2016

(L-R) David Furnish, Lady Gaga and Macy's CEO Terry J. Lundgren attend Love Bravery by Lady Gaga and Elton John Launch at Macy's Herald Square in New York City

Getty Images

22/30 3 May 2016

The Hofburg palace is illuminated by a projection of Viennese artist Viktoria Coeln for the project Dystopia Eutopia in Vienna, Austria

AP

23/30 2 May 2016

A visitor looks at paintings by Yemeni female artists displayed at a gallery during an exhibition entitled Women Creativity for Peace in the capital Sanaa

Getty Images

24/30 1 May 2016

A man looks at an art piece during the Oshtoora festival in an open desert north Fayoum, Egypt. Oshtoora festival, or "A temporary sate," is held only once a year in a different locations within Egypt. The festival is based on expression of music, arts, and cultures in an open natural environment

AP

25/30 30 April 2016

Actress Lupita Nyong'o attends "Eclipsed" To Launch A Dedications Series In Honor Of Abducted Chibok Girls Of Northern Nigeria at Golden Theatre in New York

Getty Images

26/30 29 April 2016

Kabuki actor Shido Nakamura (in red) performs in a final dress rehearsal for the kabuki theatre show 'Hanakurabe Senbonzakura' in Tokyo, Japan. The latest digital technology kabuki theatre piece 'Hanakurabe Senbonzakura' is part of the Niconico Chokaigi festival in Tokyo. The festival was organized by video website Niconico, combining Kabuki, a traditional Japanese theatre art and cutting edge animation technology, co-starring kabuki superstar Shidou Nakamura and the popular virtual idol Hatsune Miku

Getty Images

27/30 28 April 2016

Members of the Australian ballet perform in the scene from "Scent of the Love" during the dress rehearsal for the national premiere of Symphony in C that comprises of five short ballet works at the Opera House in Sydney

Getty Images

28/30 28 April 2016

The statue of Christ the Redeemer is illuminated in Brazilian flag colours, including a projected face designed by Brazil based Italian-French lighting artist Gaspare Di Caro, to celebrate 100 days until the start of the Olympic Games Rio 2016

Getty Images

29/30 27 April 2016

A visitor looks at an artwork during the opening of the exhibition Lumieres d'Afriques (Lights of Africa) at the Charles Donwahi Foundation in Abidjan. The exhibition conceived by African Artists for Development (ADD) displays artworks including photographs, paintings and sculptures by 54 African artists, one from each country of the continent, who have created their pieces inspired by the theme The Illuminated Africa. The exhibition runs from 27 April to 6 June 2016

Getty Images

30/30 26 April 2016

A general view of the new Georg Baselitz exhibition in London. White Cube presents Wir fahren aus, a major exhibition of new works by the German artist Georg Baselitz. The exhibition, which will span the entire gallery space, includes large-scale paintings, bronze sculpture and an extensive body of works on paper. Baselitz's first solo exhibition at White Cube Bermondsey draws together two familiar strands within the artist's practice: portraiture and the process of remixing, whereby images are repeated and reinterpreted over time using different techniques and mediums. The exhibition is open to the public 27 April and 3 July 2016

Rex
So how did Bill Spence come to be Jessica Blair? Jessica's biography in her books reads simply "Jessica Blair grew up in Middlesbrough, trained as a teacher and now lives in Ampleforth. She became a full-time writer in 1977 and has written more than 50 books under various pseudonyms."
Which, aside from the gender-specific pronouns, is spot on. Bill was indeed born in the north-east in 1923, and he did train as a teacher. Then Bill signed up for the RAF and became a bomb-aimer on Lancasters. He flew missions into Germany, France and Norway.
"I suppose I saw a lot of action," he says. "After the war there wasn't much call for a bomb-aimer. I spent a while with the RAF after the war, and never really got into teaching. I was bitten by the writing bug."
After publishing short stories and articles for newspapers and magazines, Bill released his first book in 1959. Dark Hell was a war novel which drew on his experiences. He chose one of his middle names for his byline of Duncan Spence, and began a writing career that has seen him adopt many different guises.
"After the first novel, I really wanted to get into Westerns," he says. "I wrote under the names Jim Bowden, Floyd Rogers and Kirk Ford, and did 30-odd Westerns."
But it was his love of local history and a fascination with the whaling industry that once dominated nearby Whitby that set him on the road to his most successful incarnation, Jessica Blair. In 1980, under his own name, Bill had a book out called Harpooned, a history of whaling.
He says, "I'd done all this research, so I started putting together a historical novel about the subject, and eventually that became my first Jessica Blair book, The Red Shawl."
Bill was contacted by Piatkus – then an independent publisher, now part of Little, Brown. It liked the book, and its female lead character, but had just one problem – its author was a 70-year-old man, not usually the sort of person who wrote romantic sagas.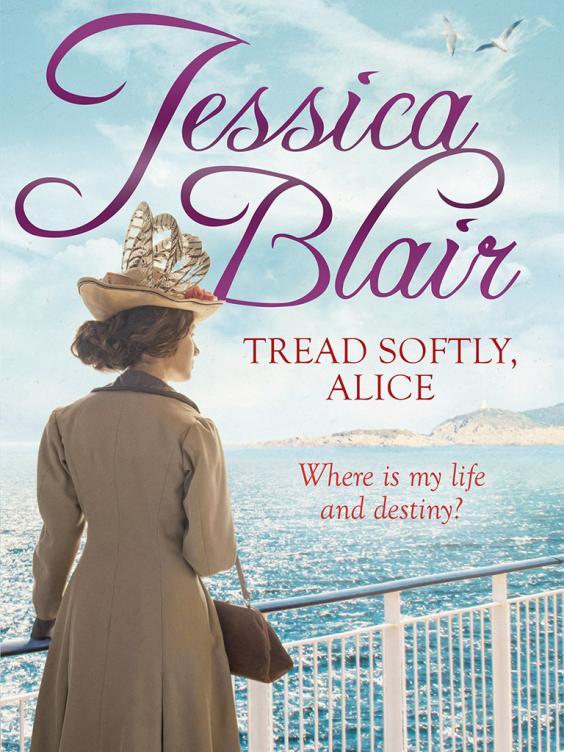 "They asked me if I'd mind it if it was published as though it had been written by a woman," says Bill. "They came up with the name Jessica Blair. I didn't mind at all – I've had books out under all sorts of names. I can see why they did it. Though I do have quite a few male readers as well!"
That was in 1993, and tomorrow the 25th Jessica Blair novel, Tread Softly, Alice hits the shelves. It's a tale, says Bill, of a woman in love with two brothers, set against a backdrop of the Siege of Mafeking, the North Yorkshire countryside and the Scottish Borders.
Bill says he got an insight into the female psyche thanks to his wife Joan, who died in 1999. He says, "She'd say things like, 'Oh, a woman wouldn't think like that or do this, she'd do that instead'. Now I ask my daughters for advice as they're all grown up."
Although he'll turn 93 in April, Bill has no plans to retire Jessica. He's currently finishing the 26th Blair novel, due for publication next year. After all, her fans, male and female, would be aghast if she simply stopped.