George RR Martin is still keeping us waiting for sixth Game of Thrones book The Winds of Winter and in the meantime, all sorts of fascinating theories have been emerging about possible plotlines.
One major idea involves the fate of The Wall, protected by the Night's Watch for 8,000 years but now in serious jeopardy after the presumed death of Lord Commander Jon Snow (yes, we're still refusing to admit this is certain) at the hands of his own men.
Readers reckon that The Wall will crumble and fall leaving Westeros at huge risk following Snow's dramatic stabbing at the end of fifth novel A Dance with Dragons and the TV show's last season.
Snow was killed by a group of Watch members angry at his decision to side with the wildlings while fighting the White Walkers, or The Others, at The Battle of Hardhome.
Readers' favourite lines from Game of Thrones
Readers' favourite lines from Game of Thrones
1/10 Jon Snow

'We are only human, and the gods have fashioned us for love. That is our great glory, and our great tragedy.'

HBO

2/10 Tyrion Lannister

'Never forget what you are, for surely the world will not. Make it your strength. Then it can never be your weakness. Armor yourself in it, and it will never be used to hurt you.'

3/10 Tyrion Lannister

'Death is so terribly final, while life is full of possibilities.'

HBO

4/10 Ned Stark

'A ruler who hides behind paid executioners soon forgets what death is.'

5/10 Tyrion Lannister

'A mind needs books as a sword needs a whetstone, if it is to keep its edge.'

HBO

6/10 Cersei Lannister

'When you play the game of thrones, you win or you die. There is no middle ground.'

HBO

7/10 Barristan Selmy

'They say night's beauties fade at dawn, and the children of wine are oft disowned in the morning light.'

HBO

8/10 Ned Stark

'If you would take a man's life, you owe it to him to look into his eyes and hear his final words. And if you cannot bear to do that, then perhaps the man does not deserve to die.'

9/10 Tyrion Lannister

'Let them see that their words can cut you, and you'll never be free of the mockery. If they want to give you a name, take it, make it your own. Then they can't hurt you with it anymore.'

HBO

10/10 Jorah Mormont and Daenerys Targaryen

'The common people pray for rain, healthy children, and a summer that never ends,' Ser Jorah told her. "It is no matter to them if the high lords play their game of thrones, so long as they are left in peace.' He gave a shrug. 'They never are.'

HBO
The reasoning behind fans' latest prediction is that if the Walkers are going to be the main threat to Westeros, it must be them who break through The Wall, forcing everyone else to join forces urgently and save the land from falling into eternal darkness.
Apolon points out in the iDigitalTimes that the Horn of Joramun, the legendary horn that can destroy the wall with forces of fire, is missing and could easily end up in the wrong hands.
Theorists reckon that Daenerys 'Mother of Dragons' Targaryen will either triumph and take the Iron Throne or die fighting the Night's King and his Walkers.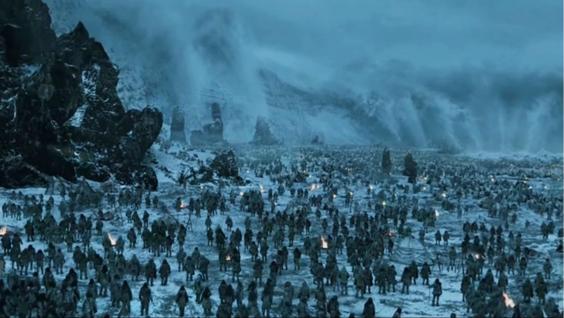 Of course, we *actually* know nothing, or very little. Martin has hinted that there will be a big plot twist for one character and teased the ending.
"I've said before that the tone of the ending that I'm going for is bittersweet," he told the Observer. "I mean, it's no secret that Tolkien has been a huge influence on me and I love the way he ended Lord of the Rings. It ends with victory, but it's a bittersweet victory."
The season six premiere of Game of Thrones is expected next spring, with readers hoping to see The Winds of Winter on shelves before then to avoid a spoilers minefield. As of yet, there is no official release date and the long wait continues.
Reuse content