Ancient Greece has been brought to life at the British Museum thanks to a marathon reading of one the Iliad by some of Britain's most acclaimed actors.
Whether Homer would have approved of the Elgin Marbles being housed in Bloomsbury we will never know, but thousands flocked to the London institution to hear more than 60 artists take part in reading his epic poem among the historic treasures housed there.
The performance began in the museum's Great Court on Friday morning before moving to the Almeida Theatre in the north of the capital, where it is due to end at 1am Saturday morning after 16 hours of readings.
Rupert Goold, artistic director of the Almeida Theatre, said putting on the event was "overwhelming" and jokingly compared it to organising Live Aid. "You don't know who's turning up or what it'll be like," he said. Academic Simon Goldhill, professor in Greek literature and culture at King's College, Cambridge, introduced the work in front of an image of Homer, and read a passage of the text in its original language.
The first actor to take the stage was Simon Russell Beale, who last year starred as King Lear at the National Theatre, and he read for 30 minutes to a rapt audience.  No one moved from the benches, where there was seating for 100 spectators, for several hours and hundreds more gathered around to watch as the day went on – including some of the actors themselves while they were waiting for their turn to participate.
Tobias Menzies, who was reading later at the Almeida, was one of those who showed up early. "It feels appropriate to bring a text like this to the Great Court," he said.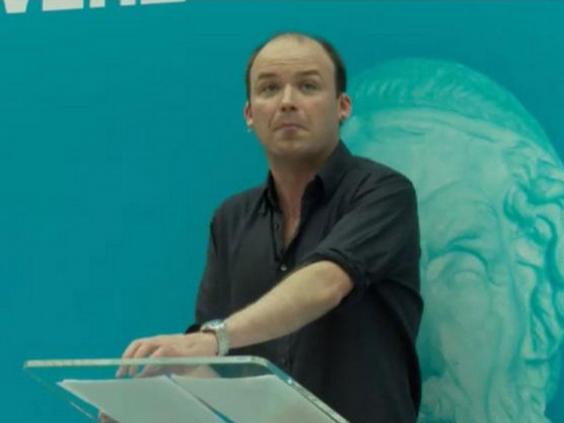 Brian Cox, who played Agamemnon in Troy, the 2004 film adaptation of the events depicted in the Iliad, also took part in the event, as did Ben Whishaw, Sinead Cusack, Rory Kinnear, John Simm and Samuel West. Tim Piggott-Smith was the last reader.
PhD student Emma Shearer said the event was an interesting way of reinvigorating the text, especially with live web streaming and a Twitter feed to enable others outside to enjoy it. "I really enjoyed it and like that it's in the main hall, a very public space. Visitors have to engage with it."
Reuse content