Diana Henry is a prolific food writer – and her last book came out only very recently. A Change of Appetite informed of a delicious way to eat a little more lightly, more healthily. I loved it for its non-preachy style and have cooked from it often. But suddenly along comes another, and it couldn't be more indulgent.
For a poultryvore, that is, because it's all about one subject: chicken. If, like me, you could eat wings, wafer thin slices, drumsticks, or just good old roasts every day, this is an utter delight. It is, as Henry shrewdly points out in her introduction, "the meat most people – even those who aren't keen on meat – will eat". Chicken is almost infinite in its variety (although mercifully there isn't a preparation for chicken sashimi, which I've heard one or two people mention recently, in this book).
Henry sets out her instructions – before we get on to the 120 recipes within – with advice about choosing a good bird, worth spending money on, one which will reward you with tender flesh, useful scraps, and bones for making stock. One would hope by now that the era of cheap, fish-whiffy chicken is over, and certainly anyone who buys this book is probably already very interested in the provenance of their bird.  There's a terrific section on what to do with leftovers, incidentally.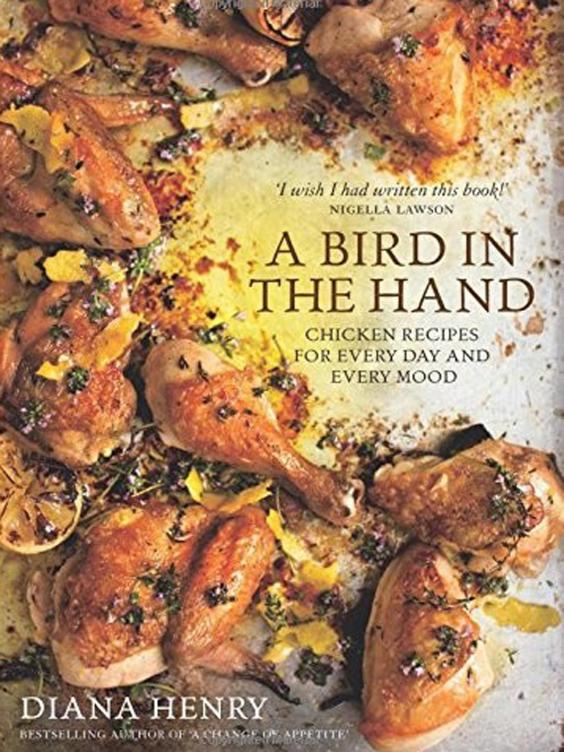 Her tone is a welcoming mix of efficient and chummy (of fried chicken wings Henry warns of the health hazards of deep-frying, before adding in the next breath, "I bloody love it"). You'll be taken from wham-bam quick snacks and suppers, like those Korean wings and Bourbon and marmalade glazed drumsticks, through unexpected, exotic preparations, including Brazilian chicken and prawn xinxim and "Roopa's lemon grass and turmeric chicken with potato salad and date and tamarind chutney" to classic roasts.
I had planned to cook my way through the book in order to put the subtitle "chicken recipes for every day and every mood" to the test, but I ran out of time. Not before I got waylaid by the side sections, such as "chicken loves booze", which has become a rapid favourite and a method – at last – for sensible use of those bottles gathering dust in the kitchen (Marsala, Calvados, vermouth).
Not every recipe has an accompanying photograph, but those that do make you want to snatch up your purse and run to the butchers for a Bresse chicken. It should be pointed out, though, that less lovely cuts like boneless thighs get plenty of love too – although a royal chicken korma was a bit time consuming and the resulting dish was a tad "quiet" compared to my local, very good, takeaway.
If you and your family and friends love nothing more than fighting over crisp chicken skin or picking away at a juicy carcass, there's so much to enjoy. And when I say I have put it on my bookcase next to Simon Hopkinson's Roast Chicken and Other Stories, there is no higher praise.
Reuse content