Ghachar Ghochar by Vivek Shanbhag, book review: This novella packs a punch
The novel written by Shanbhag, who has been compared to Chekhov, is the first of his works to translated into English
5
Click to follow
The Independent Culture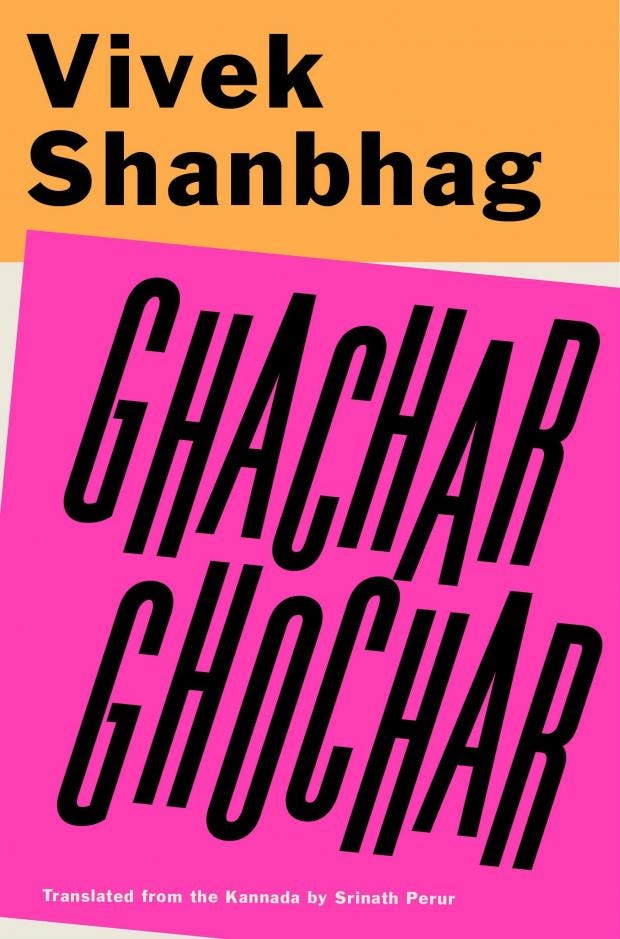 Think of great Indian novels since Salman Rushdie set a certain tone with Midnight's Children back in 1981 – Vikram Seth's A Suitable Boy, Rohinton Mistry's A Fine Balance, Arundhati Roy's The God of Small Things or, most recently, Jhumpa Lahiri's The Lowland – they tend towards large tomes, written in English.
Now, however, the arrival of a new work has shaken up the status quo: Vivek Shanbhag's gripping Ghachar Ghochar. This slim volume – at just over 100 pages, it's more novella than novel – nimbly translated by Srinath Perur from the south Indian language of Kannada, tells a story that packs a powerful punch, both in terms of the precision of its portrait of one Bangalore-based family, and, by extension, what this tells us about modern India.
The first of Shanbhag's works to be translated into English, his perceptive commentary regarding class anxieties and social ambition has won him comparisons to Chekhov and, yes, the astuteness of his depiction of the various tensions and alliances between family members echo the concerns explored in 19th-century Russian literature.
Shanbhag's protagonists are a "joint family": the unnamed narrator, his wife, his parents, his uncle and his sister. "It is natural to wonder, I suppose, why the six of us should want to live together," the narrator muses. "What can I say – it is one of the strengths of families to pretend that they desire what is unavoidable." So perfectly put is this last line, it belongs up there with the now infamous opening of Anna Karenina, the clipped, exact prose of Perur's translation nevertheless ably conveying the rich depth of meaning therein.
Central to Shanbhag's story is the family's recent change in fortunes (a metaphor, of course, for the broader economic boom recently experienced by India on a larger scale). Previously they were living day-to-day in a four-room, ant-infested house in a "teeming lower-middle-class area": "The whole family stuck together, walking like a single body across the tightrope of our circumstances." Their newfound wealth, derived from the narrator's uncle's successful spice company, brings with it obvious material changes to their lives, but it's the psychological vicissitudes it engenders that Shanbhag's really interested in. In order to protect their new circumstances, the family closes ranks with a ruthlessness that, although born of past desperation, is still shockingly brutal and cold-hearted.
Brevity serves Shanbhag's storytelling to great effect, not least because much of what makes the narrative so gripping lies in what he leaves unsaid. As such, with the twist of a single sentence the narrative transforms from an innocuous tale of social mobility to a horror story of a bourgeois family the members of which, regardless of external forces, are ghachar ghochar – a nonsense term used to refer to something tangled beyond repair. Made up to describe a child's knotted kite string, it ultimately comes to refer to something much darker and all the more snarled. Shanbhag is the real deal, this gem of a novel resounding with chilling truths.
'Ghachar Ghochar' by Vivek Shanbhag, translated from the Kannada by Srinath Perur, is published by Faber, £10.00 
Reuse content
Comments