The journal of a Guantanamo detainee who remains incarcerated despite being cleared for release in 2010 makes a sobering, often chilling, read. Mohamedou Ould Slahi has been imprisoned without charge for more than 13 years. Arrested in his native Mauritania, Slahi was rendered by the US to Jordan and Afghanistan, then to Cuba in August 2002. There, he was reduced to a number – "prisoner 760".
Slahi's "crime" was to travel to Afghanistan as a student in 1991 and 1992 to join al-Qaeda's fight against the communist-led government. As he points out, at the time the US supported the cause. The fact that the Bush administration sanctioned the use of torture at Guantanamo Bay is already well known. TheTortureReport.org was published in 2010 – Slahi's editor, Larry Siems, is one of its lead writers. Slahi's searing account of his ritual humiliation and mistreatment offers further compelling evidence of illegal rendition and interrogation under President Bush.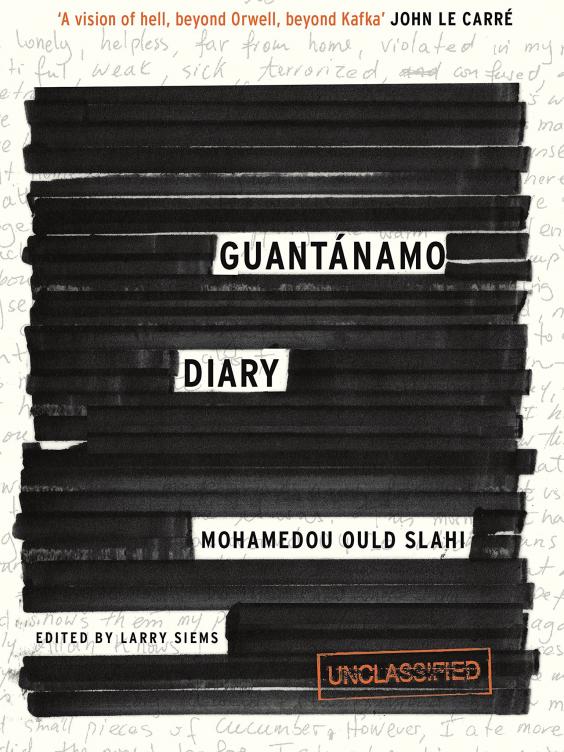 It is the detail that convinces. Slahi describes being shackled, blindfolded, made to stand for long periods, stripped naked, denied water and subjected to sleep deprivation, loud noise and threats of violence. In one passage he describes being sexually abused by female interrogators. Another time, he is transported out to sea, forced to drink salt water until he vomits and then is beaten in the face and ribs while immersed in ice to hide the bruising. In 2004, Slahi made false confessions to keep his interrogators happy.
In 2005, finally allowed pen and paper, Slahi wrote his prison diary in English, his fourth language. His turn of phrase, obviously picked up from his jailers, "for Pete's sake", "dead right", "that's very convenient" and "if you're buying, I'm selling", are strangely endearing. They remind us of Slahi's humanity and his sense of kinship with his abusers. Despite the cruelty of solitary confinement, Slahi finds solace in unexpected places. Deprived of any sensory material, he reads repeatedly the tag on his pillow. Slahi's humour also shines through. When the guards decide he is to be nicknamed "Pillow" and he has to give them names of characters from Star Wars, Slahi comments wryly: "I was forced to represent the forces of Evil, and the guards were the Good Guys."
Books highlights of 2015
Books highlights of 2015
1/6 God Help the Child by Toni Morrison - 23 April

A new book by this American Nobel Laureate is always going to be an event, and this one has excitement building around it already: it is the story of the way in which the legacy of childhood trauma can shape, and damage, adult life.

AP

2/6 The Buried Giant by Kazuo Ishiguro - 3 March

Ishiguro's first novel in a decade is being billed by his publishers as urgent, relevant, troubling and mysterious, and its central characters are called Axl and Beatrice. We'll have to wait to find out more

Matt Carr/Getty Images

3/6 So You've Been Publicly Shamed by Jon Ronson - 12 March

The idea for Jon Ronson's latest offering was sparked by his online identity theft in 2012. Ronson confronted the imposters and began a probing inquiry into public shaming on social media. It looks funny and seriously hard-hitting.

Tim P. Whitby/Getty Images

4/6 Mr & Mrs Disraeli: A Strange Romance by Daisy Hay - 8 January

A biography of a fascinating couple, gleaned from letters found in the Bodleian Library archives. He was one of the foremost politicians of the Victorian age, she the daughter of a sailor on her second marriage. Their passionate letters through courtship and marriage will surely make fascinating reading.

5/6 The Guantanamo Diary by Mohamedou Ould Slahi, edited by Larry Siems - 20 January

A diary written by a Guantanamo detainee, this book promises to be a powerful and unsettling read. Mauritian-born Slahi has been imprisoned for 12 years and has yet to be charged for any crimes.

Getty Images

6/6 Reasons to Stay Alive by Matt Haig - 5 March

A rumination on depression, Matt Haig's book takes the novelist into personal territory while keeping an eye on the bigger picture: "In the Western world suicide is the leading cause of death among men under the age of 35." Joanna Lumley calls it a "small masterpiece".

AA Pix/Alamy
Guantanamo Diary was published last week in 13 countries, accompanied by a high profile campaign. Slahi's story deserves to be widely read. It took more than six years for the manuscript to be cleared and, even then, the US government added some 2,500 black bar redactions. One can only hope that Slahi will be released and see justice done.
guantanamodiary.com
Reuse content