Kevin MacNeil , The Brilliant & Forever: 'Alpacas are human, too', book review
The Brilliant & Forever is a weird, original and moving book about a literary festival on an unnamed Scottish island where everyone is an aspiring writer, including the talking alpacas
Click to follow
The Independent Culture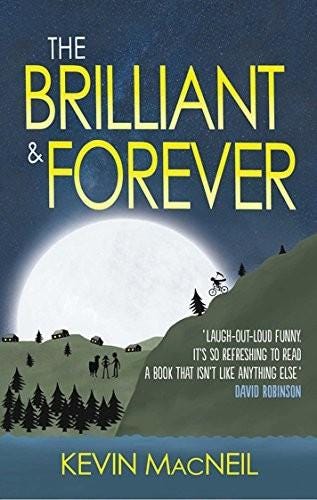 I'm very wary of novels that purport to be about the power of storytelling.
Isn't it too easy, too glaringly obvious, that everyone who writes and reads already believes wholeheartedly in that premise?
But when the subject is tackled with as much empathy, joy, and humour as Kevin MacNeil has done here, it's impossible to resist.
The Brilliant & Forever is a weird, original and moving book about a literary festival on an unnamed Scottish island where everyone is an aspiring writer, including the talking alpacas, who are treated as second class citizens by the humans.
The 15 best opening lines in literature
The 15 best opening lines in literature
1/15 Pride and Prejudice, by Jane Austen

"It is a truth universally acknowledged, that a single man in possession of a good fortune, must be in want of a wife."

chipkidd.com

2/15 Anna Karenina, by Leo Tolstoy

"All happy families are alike but an unhappy family is unhappy after its own fashion."

npr.org

3/15 A Tale of Two Cities, by Charles Dickens

"It was the best of times, it was the worst of times, it was the age of wisdom, it was the age of foolishness, it was the epoch of belief, it was the epoch of incredulity, it was the season of Light, it was the season of Darkness, it was the spring of hope, it was the winter of despair, we had everything before us, we had nothing before us, we were all going direct to Heaven, we were all going direct the other way."

Waterstones

4/15 Wuthering Heights, by Emily Brontë

"I have just returned from a visit to my landlord – the solitary neighbour that I shall be troubled with", which pitches you straight into the story."

Penguin Books

5/15 Middlemarch, by George Eliot

"Miss Brooke had that kind of beauty which seems to be thrown into relief by poor dress."

Penguin Books

6/15 Nineteen Eighty-Four, by George Orwell

"It was a bright cold day in April, and the clocks were striking thirteen."

AP

7/15 The Great Gatsby, by F. Scott Fitzgerald

"In my younger and more vulnerable years my father gave me some advice that I've been turning over in my mind ever since. Whenever you feel like criticising any one, he told me, just remember that all the people in this world haven't had the advantages that you've had."

cracked.com

8/15 Peter Pan, by J.M. Barrie

"All children, except one, grow up."

read.gov

9/15 One Flew Over the Cuckoo's Nest, by Ken Kesey

"They're out there. Black boys in white suits up before me to commit sex acts in the hall and get it mopped up before I can catch them."

listed.com

10/15 Jane Eyre, by Charlotte Brontë

"There was no possibility of taking a walk that day."

rarebookschool.org

11/15 One Hundred Years of Solitude, by Gabriel Garcia Marquez

"Many years later, as he faced the firing squad, Colonel Aureliano Buendía was to remember that distant afternoon when his father took him to discover ice."

Harper Collins

12/15 The Metamorphosis, by Franz Kafka

As Gregor Samsa awoke one morning from uneasy dreams he found himself transformed in his bed into a monstrous vermin."

minabach.com

13/15 The Adventures of Huckleberry Finn, by Mark Twain

"You don't know about me without you have read a book by the name of The Adventures of Tom Sawyer, but that ain't no matter. That book was made by Mr. Mark Twain, and he told the truth, mainly."

Penguin Books

14/15 The Old Man and the Sea, by Ernest Hemingway

"He was an old man who fished alone in a skiff in the Gulf Stream and he had gone eighty-four days now without taking a fish."

npr.org

15/15 Catch 22, by Joseph Heller

"It was love at first sight. The first time Yossarian saw the chaplain he fell madly in love with him."

gonereading.com
In a rare display of human-alpaca camaraderie, our unnamed narrator is best friends with Archie, a talented writer, despite having hooves and a spittoon to catch his constant dribble. The pair are also best friends with Macy (a human), and the three of them form the moral centre of the novel, as well as providing many of the laughs with their knockabout, self-deprecating banter.
The trio is entering the Brilliant & Forever literary competition, a day-long event in which readers, both locals and outsiders, tell stories, hoping to win the coveted book deal and lump sum awarded by the judges. 
The first third of the novel is the build up to the big day, and MacNeil delivers his story with extraordinary energy, creating a vivid and visceral picture of the strange world he has created.
In the lightness of MacNeil's prose, there are faint echoes of authors such as PG Wodehouse and Douglas Adams, and the wild flights of fancy reminded me of a rather more obscure author, Mark Leyner, an unfairly forgotten American author with the most lively and outlandish imagination I have ever come across.
As the festival begins, MacNeil gives us each competitor's story in full, and these range from the ridiculous to the profound, from the pretentious to the vacuous. MacNeil has a good time poking gentle fun at the machinations of the publishing industry here, as well as the vanities of writers, and the constant struggle to say something meaningful in what one writes.
If all this sounds a little light, there is a serious, simmering undercurrent in the relationship between humans and alpacas, a metaphor for the alienation of specific groups of people that is very pertinent in today's society, and one that MacNeil plays with a subtle hand.
Ultimately, this is a book about how everyone has a story worth telling, and one worth hearing too. Terrific stuff.
The Brilliant & Forever, by Kevin MacNeil. Polygon £9.99
Reuse content
Comments