Quicksand: What it Means to Be a Human Being by Henning Mankell
Quicksand: What it Means to Be a Human Being by Henning Mankell; Trans. Laurie Thompson, book review
The writer who created Kurt Wallander leaves behind striking posthumous essays and reflections on life, words, and cancer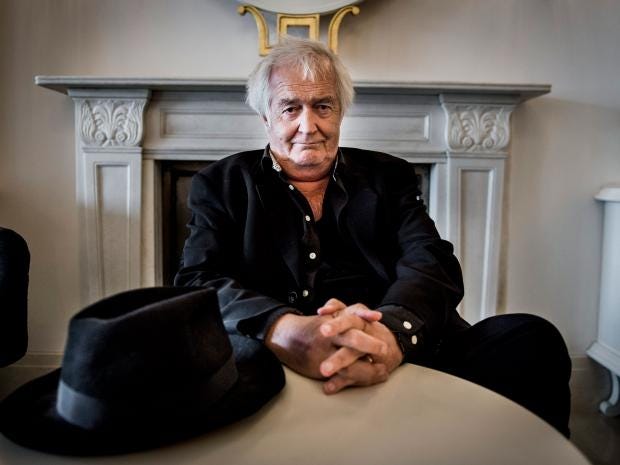 In December 2013, Henning Mankell was involved in a car accident on a motorway in Sweden. From this point, although he finds no logical reason for doing so, he dates the cancer that was to kill him in October 2015. The disease must already have been at work for some time, but in imaginative and instinctive terms the motorway crash indicated the beginning of the change of status from agent to patient, a shift which was confirmed over the next few weeks when neck pain, at first attributed to a disc problem, was discovered to be a symptom of stage-three lung cancer. The transition from a holiday with his wife in the south of France to a first course of chemotherapy in Gothenburg is rapid and peremptory.
Quicksand is the book that resulted from Mankell's extrication of himself from the subsequent state of paralysing panic and depression. It is an honourable and courageous piece of work, mustering the resources to "live decently", as he puts it, in a dark moment. He died in autumn 2015. We hear of the course of his treatment, but the book reaches back to his childhood, through his many travels in Europe and East Africa, and also touches on his work as a writer and man of the theatre. It also expands into the broader sphere of human endeavour, from the earliest art revealed in cave paintings, to the Voyager spacecraft pressing on past the limits of our solar system, and back home to the problem of storing nuclear waste.
Culture news in pictures
Culture news in pictures
1/30 27 May 2016

An image of an indigenous Australian man is projected onto the sails of the Sydney Opera House during the opening night of the annual Vivid Sydney light festival in Sydney

Reuters

2/30 26 May 2016

A woman walks on steps lined with plastic cups, an art project of four college students, in Wuhan, China

Reuters

3/30 25 May 2016

A view of the Pyramid of the Louvre museum covered with a gigantic black and white trompe l'oeil photo of the Louvre building by French artist JR in Paris. The exhibition 'Contemporary art JR at the Louvre' runs from 25 May to 27 June

EPA

4/30 24 May 2016

Artist paints a reproduction of one of the vincent Van gogh's painting for the 'Loving Vincent' film in Wroclaw, Poland. 'Loving Vincent', the world's first fully painted animation feature film, will be about the life and death of the Dutch famous painter Vincent van Gogh

EPA

5/30 23 May 2016

John Oliver, Jimmy Fallon and Jennifer Lawrence during a taping of "The Tonight Show Starring Jimmy Fallon" in New York City

Getty Images

6/30 22 May 2016

French Moroccan director Houda Benyamina (C) poses with the Camera d'Or next to actresses Jisca Kalvanda (L), Oulaya Amamra (2ndL) and Deborah Lukumuena (R) at the Palme D'Or Winner Photocall during the 69th annual Cannes Film Festival

Getty Images

7/30 21 May 2016

Swedish artist Andreas Englund signs one of his murals at the Urban Nation museum for urban contemporary art, in Berlin

Getty Images

8/30 20 May 2016

(L-R) Autor Tom Brokaw, Legion of Honor's Grand Chancellor General Jean-Louis Georgelin, Actor Tom Hanks, Ambassador of USA in France, Jane D. Hartley and Doctor Gordon "Nick" Mueller attend Tom Hanks, Tom Brokaw & Gordon "Nick" Mueller receive the Legion d'Honneur Medal at Palais de la Legion d'Honneur in Paris

Getty Images

9/30 19 May 2016

Visitors study work by Tod Papageorge in the gallery areas at the "Photo London 2016" event at Somerset House in central London. Featuring work from some of the world's most respected photographers, the event is aiming to put London on the map as the global city of photography

Getty Images

10/30 18 May 2016

A view of the building that will house planned Urban Nation - Museum for Urban Contemporary Art in Berlin. The street art museum is scheduled to open in 2017

EPA

11/30 17 May 2016

Kate Morais looks at the 'Colossal statues of a king and a queen' (283-246 BC) - which are reflected in a display cabinet glass - which stand over five meters tall during a preview of the 'Sunken Cities: Egypt's Lost Worlds' exhibition at the British Museum in London. This is the museum's first large scale exhibition of underwater archaeological finds and tells the story of two lost Egyptian cities and their recent discoveries beneath the Mediterranean, excavated off the coast of Egypt near Alexandria between 1996 and 2012

Getty Images

12/30 16 May 2016

Kurt Cobain's Univox electric guitar played and destroyed by Cobain at Nirvana's 13 July 1989 concert at Maxwell's in Hoboken, New Jersey is displayed during Julien's Auction Music Icons Press Exhibition at Hard Rock Cafe, Times Square in New York City

Getty Images

13/30 15 May 2016

Cast of the "From The Land Of The Moon (Mal De Pierres)" attend the premiere during the 69th annual Cannes Film Festival at the Palais des Festivals

Getty Images

14/30 14 May 2016

Jamala representing Ukraine with the song "1944" celebrates with the trophy after winning the final of the Eurovision Song Contest 2016 Grand Final in Stockholm

Getty Images

15/30 13 May 2016

A mural on a restaurant wall depicting US Presidential hopeful Donald Trump and Russian President Vladimir Putin greeting each other with a kiss in the Lithuanian capital Vilnius. Kestutis Girnius, associate professor of the Institute of International Relations and Political Science in Vilnius university, said: "This graffiti expresses the fear of some Lithuanians that Donald Trump is likely to kowtow to Vladimir Putin and be indifferent to Lithuanias security concerns. Trump has notoriously stated that Putin is a strong leader, and that NATO is obsolete and expensive"

Getty Images

16/30 12 May 2016

People visit the artwork titled Seven Magic Mountains by artist Ugo Rondinone, near Jean, Nevada. The artwork was recently completed in the desert south of Las Vegas

AP

17/30 11 May 2016

Justin Timberlake attends the "Trolls" Photocall during The 69th Annual Cannes Film Festival

Getty Images

18/30 10 May 2016

Curator Ben Russell poses with a 2.4 meter robot called Cygan, built in 1957, on display at the Science Museum before announcing a new robot exhibition for 2017

Getty Images

19/30 9 May 2016

A Palestinian artist paints a graffiti on a wall of the United Nations school of Beit Hanun, in the northern Gaza Strip

Getty Images

20/30 8 May 2016

Jon Snow collects the award for best news coverage on behalf of Channel 4 during the House of Fraser BAFTA TV Awards 2016 at the Royal Festival Hall in London

PA

21/30 7 May 2016

Illustration View of the 'Empires' exhibition of Huang Yong Ping as part of Monumenta 2016 to Grand Palais from 8 May till 18 June 2016

Getty Images

22/30 6 May 2016

People, including Russian servicemen, attend a concert of Mariinsky Theatre in the amphitheatre of the Syrian city of Palmyra, Syria

Reuters

23/30 5 May 2016

A child looks at an artwork titled 'Bi-lateral Relations' by Uruguay artists Fernando Foglino and Valentina Cardellino during the Latin America and Caribbean Art Festival Visual Art Exhibition 2016 at the World Art Museum of the China Millennium Monument in Beijing. The exhibition runs until 26 May, and is part of joint activities to mark the China-Latin America and Caribbean Cultural Exchange Year

EPA

24/30 4 May 2016

(L-R) David Furnish, Lady Gaga and Macy's CEO Terry J. Lundgren attend Love Bravery by Lady Gaga and Elton John Launch at Macy's Herald Square in New York City

Getty Images

25/30 3 May 2016

The Hofburg palace is illuminated by a projection of Viennese artist Viktoria Coeln for the project Dystopia Eutopia in Vienna, Austria

AP

26/30 2 May 2016

A visitor looks at paintings by Yemeni female artists displayed at a gallery during an exhibition entitled Women Creativity for Peace in the capital Sanaa

Getty Images

27/30 1 May 2016

A man looks at an art piece during the Oshtoora festival in an open desert north Fayoum, Egypt. Oshtoora festival, or "A temporary sate," is held only once a year in a different locations within Egypt. The festival is based on expression of music, arts, and cultures in an open natural environment

AP

28/30 30 April 2016

Actress Lupita Nyong'o attends "Eclipsed" To Launch A Dedications Series In Honor Of Abducted Chibok Girls Of Northern Nigeria at Golden Theatre in New York

Getty Images

29/30 29 April 2016

Kabuki actor Shido Nakamura (in red) performs in a final dress rehearsal for the kabuki theatre show 'Hanakurabe Senbonzakura' in Tokyo, Japan. The latest digital technology kabuki theatre piece 'Hanakurabe Senbonzakura' is part of the Niconico Chokaigi festival in Tokyo. The festival was organized by video website Niconico, combining Kabuki, a traditional Japanese theatre art and cutting edge animation technology, co-starring kabuki superstar Shidou Nakamura and the popular virtual idol Hatsune Miku

Getty Images

30/30 28 April 2016

Members of the Australian ballet perform in the scene from "Scent of the Love" during the dress rehearsal for the national premiere of Symphony in C that comprises of five short ballet works at the Opera House in Sydney

Getty Images
In the last of these cases, Mankell predicts that a future ice age will entomb and depopulate Scandinavia and that those who come after will lack the language to understand the deadly legacy still buried under their feet. "When thunder rumbles there will be nothing to suggest that it is not due once again to a god riding round with a hammer in his hand… Time itself has lost its memory." This is perhaps the most nearly visionary moment in the book – a glimpse of the human capacity to create what fellow humans may not be able to understand or escape. The unintended enigma darkly mirrors the miraculous inventions of whichever remote cave painter began to make images not only of the visible world but of what only existed in imagination – such as a man with a lion's head.
Quicksand, then, is a work of considerable scope. It is written as a series of 67 short, informal essays, with titles such as: "The future is hidden underground", "Paris in flames, 1348", "Luminous teeth" and "The secret of cave painters revealed".
To anyone who grew up absorbing bits of striking information, it offers a good deal of pleasure. The book feels as if it might have been, though apparently it wasn't, a series of newspaper columns. And in the outward-facing directness of these pieces lies the problem, one foreshadowed in the subtitle, "What it Means to Be a Human Being". This makes it sound like a self-help book – as, in a sense it is, since it enabled Mankell to focus his attention positively during his illness. There is a good deal more information than reflection here, and rarely a sense of meditation working to animate the subject. These matters are, in a sense, closed. The author is delivering a summing up.
Mankell, of course, wr ites in the awareness that his time may be short. He entertains hope but is realistic and acknowledges that by surviving into his mid-sixties he has enjoyed a long life compared with previous generations. But, for him, there is not the space for reflective leisure claimed by the great Renaissance essayists such as Bacon or Montaigne, or by 20th-century figures such as Walter Benjamin (dead at 48) or Theodor Adorno. We can sense at times that his energy is failing.
And yet that difficulty may have preceded the period of this book's composition. On a spectrum which places the primacy of the aesthetic at one extreme and of utility at the other, Mankell is towards the useful end: for him there are truths that need to be told – about colonialism in Africa, for example, or the exploitation of women, or the despoliation of the planet. It would be hard to disagree with him, but we can read about these matters in a hundred places and what those sources often have in common with Mankell is a lack of (or impatience with) nuance and texture in language and circumstance.
This seems not to be a problem of translation: the tone of Mankell's work is consistent in English versions of his books. He seems to value clarity above all. He is a moralist who knows what he thinks, a left-wing humanist and human-rights activist, balancing the pessimism endowed by mortality and experience against the optimism created by action. This is hardly an eccentric position. But it begs the question of whether his work is sufficiently individual and particular in itself to endure. One could make a reasonable case that his crime novels about Kurt Wallander, sober, earnest and ambitious as they are, succeed better as TV adaptations than on the page, because Mankell is ultimately interested in language as a means to an end. When, as is likely to happen eventually, the current identification of crime fiction with the analysis of society and its ills ceases to be given a free pass, his merits may become clearer.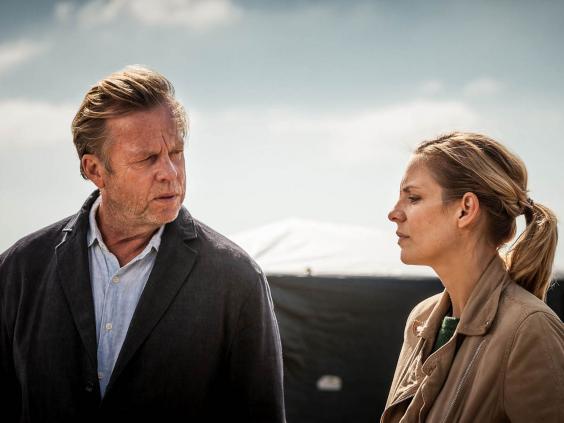 Anyone wanting Mankell's autobiography will come away disappointed. Childhood, including desertion by his mother, crops up several times, but not for its own sake, as do Mankell's teenage escape to Paris, his work in the theatre and time spent in Mozambique. Yet his personal life, which includes four marriages, is largely excluded. This is an entirely legitimate choice, but it's interesting to see how much of the present work begins in or returns to the author's liking for his own company, wandering around strange cities.
Mankell decides to spend a month in Crete during winter in order to read. He abandons a visit to Dario Fo and Franca Rame at their theatre in Milan and travels on to Budapest. These glimpses are rarely developed: we begin to see that Mankell may think of himself as not all that interesting, which is a pity, since clearly, in the range of his activities and commitments, he was in many ways a remarkable man.
Harvill Secker £18.99. Order at £16.99 inc. p&p from the Independent Bookshop
Comments