Sitting in the balcony of the London Coliseum, watching our team prepare the stage for our next performance, I am prompted to reflect on my first year leading English National Opera, looking back on what has been a very public, dramatic and difficult period for this company. English National Opera sits on the fault lines of a debate about public funding of the arts in an age of austerity, about the future of an art form which is perceived as remote and elitist, and about how an opera company should look in the 21st century. It is easy to read the headlines over the past year and be dismayed, both for the future of ENO and for the future of opera. I take the opposite view. The past year has shown that there is a complex and serious debate about how we can evolve as an art form and as a company, with many opportunities to be explored and many challenges to be answered. 
ENO is at the centre of the debate because it was founded to be the people's opera. Lilian Baylis, when she set up our company in 1931, had a vision that there should be a place where anyone and everyone could enjoy this extraordinary art form without grandeur or pretention; a place where they could hear opera sung in their own language. This mission is as important now as it ever was. We have to be the first to adapt to changing audiences, the first to adapt to a changing cultural landscape and the first to challenge ourselves to be better than we have been in the past.
Because of the reduction in our public subsidy our position has become particularly acute. Next financial year, ENO will receive a third less in public funding (£5m less) than it did three years ago – a cut of approximately 15 per cent in our total operating budget. The scale of this financial challenge means that we have had to re-examine everything that we do and everything that we want to be.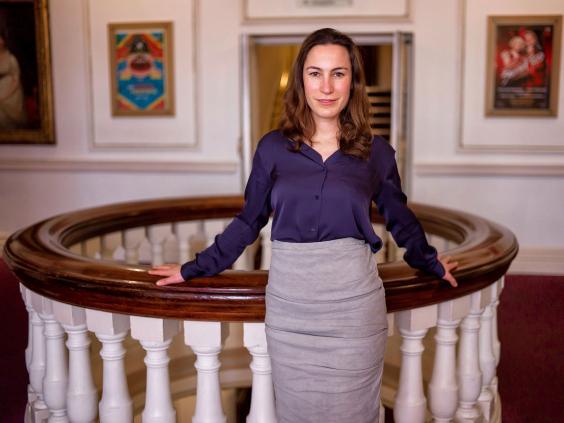 I am often asked if I am an "opera buff". By the standards of the world in which I now work, I am not (although perhaps in 10 years I might make a claim!). But many of the people who make up our audience today are not "opera buffs", and nor should they be. Our audience members have so many choices in what to do with an evening – to watch a series on Netflix, to meet friends for dinner, to go to a late night at a museum, or to one of the hundreds of live performances on each night in this city. We should not take their time, or money, for granted. It is our task to persuade them of three things – that opera is the most exciting art form of all, that seeing it live is an incomparable experience and that ENO is where they should see it. 
And we need to persuade them of this in the midst of a cacophony of competing information. Opera is not expensive. Opera is not posh. Opera can speak to people in a way no other art form can. Challenging these prejudices is what makes our future at ENO so exciting. We have the opportunity to have an open conversation about how we can persuade audiences of the necessity of experiencing opera – its excitement, its relevance and its affordability. 
So why opera? Opera is an art form which can make everything else seem flat afterwards: nothing ever consistently comes close. In the words of Mark Wigglesworth, our music director, "opera is a dramatic portrayal of the fundamental concerns of the human condition, expressed through the unique combination of music and movement, poetry and design". It is this combination that makes it so vital. The late conductor James DePreist said music is "a mirror of our better selves – as something to which we can relate on a very personal and emotional level. We can admire it architecturally. We can admire it in terms of its harmonic structure. But fundamentally there is a visceral reaction, and that visceral reaction is sheer magic".
At ENO, our unique combination of music and theatre brings that magic to life. In the past few weeks more than 50,000 people have experienced this: from a towering peak of the operatic repertoire in Norma, to the extraordinary meditation on religion of Philip Glass's Akhnaten, to a splendidly quirky Magic Flute. Yes, another company could do each of these works; but I feel that only ENO, at our home at the London Coliseum, could have provided such brilliantly contrasting performances, featuring world-class singers and conductors supported by our artistic heart – our permanent orchestra and chorus. 
In the past months we have had to make many decisions, some of which have felt like a Sophie's choice. For example, how can we maintain our artistic standards, ensure our employees and artists are remunerated as they deserve, and give ourselves the freedom to grow, all while continuing to engage audiences with our work? Throughout the past year I have spoken to many friends of ENO – from audience members to patrons, from critics to artists – and I have talked with members of the company. Some of these conversations have been difficult, but all of them have been inspiring. All of us at ENO – whether company members, associates or audience – believe that there is a wonderful future for the company, but to get there we must adapt to a changing world while preserving our core values. 
We will maintain our home, for our core season, at the London Coliseum. This amazing theatre has been our home for 48 years. The large auditorium can lead to questions about suitability when we explore less well known repertory, but it also gives us an opportunity – whether for Akhnaten or The Pirates of Penzance, The Mastersingers of Nuremberg or Madam Butterfly – to present opera to as many people as possible in a glorious, beautiful auditorium. We must maintain our main stage work at the centre of what we do. Our history, our artistic ethos, and our standards flow from the work we present here. However, our future must include more work outside the Coliseum: nurturing new talent, whether directors, composers or singers; exploring new ways of staging works across the repertory; appealing to new audiences; and engaging with diverse communities. I am looking forward to working with our new artistic director (whom we are in the process of appointing) as we make these changes, taking Lilian Baylis's original vision and reimagining it for today's audiences. 
I resigned my job at the management consultancy McKinsey to take on a huge challenge at ENO. I did this not because I knew exactly what the solution was for the company – many brilliant and intelligent people have led this company, have sat on its board and already work here. I took this job because I was desperate that ENO should not fail – and because I believe that its loss would cause irreparable harm to our cultural landscape and our cultural life here in London and England. Part of this belief springs from a selfish wish – that when I am 65, some three decades hence, I will still be able to experience the visceral thrill of a performance at ENO, and to be delighted and moved by it as I think on the human condition.