Has the last bassoon been blown in Bradford? The National Children's Orchestras of Great Britain is struggling to find young instrumentalists in Scotland and the north of England, raising fears that classical music will become the preserve of a white, south-eastern elite.
The UK's premier symphony orchestra for children, which offers talented youngsters aged 7-14 training from professional musicians and high-profile performance opportunities, the NCO's alumni include the Scottish violinist Nicola Benedetti.
Constituting five age-banded orchestras and six regional orchestras, the NCO has a mandate to offer opportunities to talented youngsters across the UK.
But the Orchestra has revealed that the geographical location of applicants has become hugely disproportionate, with children from the south dominating auditions, whilst some instruments hardly represented in the north.
This year, 67 per cent of viola applicants came from London and the South East. There are no bassoon-playing members from the north of England.
Scotland failed to generate a single brass instrumentalist application. All harp applicants were from London and the south east, bar one from Wales.
This year's NCO intake is 71 per cent white, with mixed-race children accounting for 12 per cent and Chinese youngsters the next biggest ethnic group, at nine per cent.
Nearly 70 per cent of the successful applicants from state schools relied on private tuition to improve their musicianship.
Roger Clarkson, NCO's principal music director, said: "We don't want a situation where there are no children playing oboes coming forward to audition from north of the River Trent. I'd like to see that changed. Without question we have to have support and funding in place from schools as well as parental support."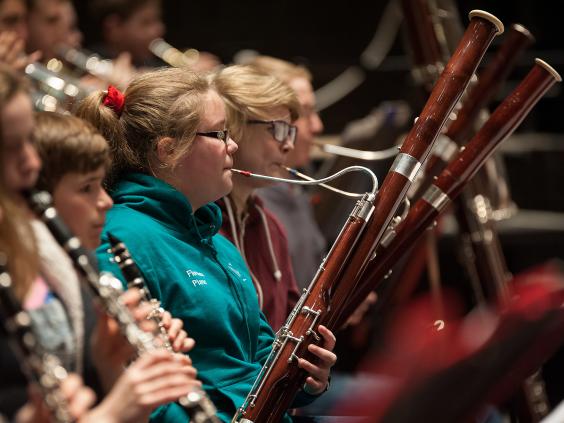 Industrial trends have contributed to a north-south divide in music provision.
"We had incredibly talented players from brass bands. Every coal mine in the north had a brass band. Now there are other musical opportunities for children like DJing," he said.
Formed in 1978, the NCO has regional orchestras operating in London, the south-east, south-west, east and north. Might talented bassoonists be "bussed" from the musically over-populous south to beef up the northern ensemble?
"You'd be reliant on parents making a three-hour drive from Kent to Leeds for a rehearsal," said Mr Clarkson. "The practicalities aren't very promising."
The NCO is working alongside partners in the Music Education Hubs and Arts Council-funded In Harmony programmes, to begin to address the imbalance.
Natalia Luis-Bassa, who studied oboe at Venezuela's world-famous El Sistema youth music programme, will conduct the main National Children's Orchestra at its annual Royal Festival Hall Winter show next month.
Mr Clarkson, who has visited El Sistema, said: "Venezuela is seen as a third-world country but they devote $28m to El Sistema. We appear to be penny-pinching. It's about priorities. Regrettably music provision seems to be top of the list of items to cut here."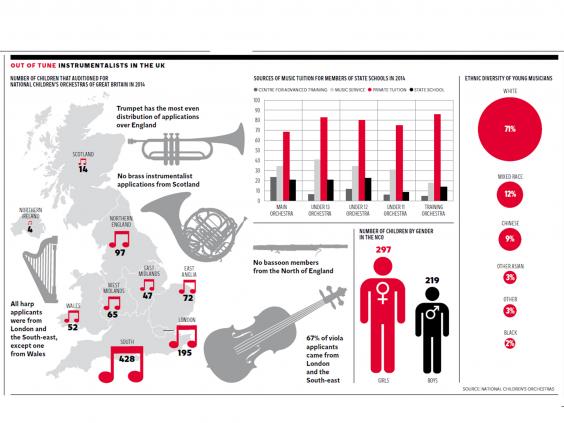 The NCO provides bursaries to assist children from deprived backgrounds take its courses. "We need to raise £500,000 a year to keep afloat," said Mr Clarkson, who warned that the north was not the only UK region where young musicians are in short supply. "Down in Cornwall the funding has been slashed."
The NCO this week announced the death of its founder Vivienne Price. Six months ago she was caught up in a controversy about the orchestra's direction, which has now been resolved as she wished."
Mr Clarkson said: "Vivienne's vision will continue down the years. I made some decisions she didn't agree with but the orchestra must move with the times. It cannot be allowed to become stagnant."
The NCO's five national orchestras offering approximately 550 places to children aged 7-14. The regional network of orchestras, which includes associate players, provides over 600 young musicians with the best orchestral tuition and opportunities.
Reuse content